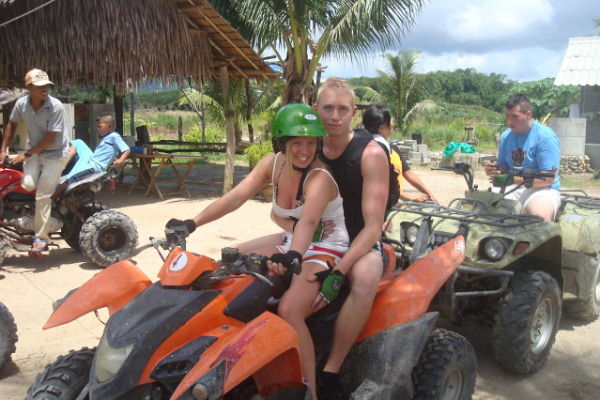 ATV in Krabi is a great way to spend the day, and whether you're a beginner or an experienced rider, there are routes to please all levels of riders, through rivers and along mountain edges.
The ATV base camp is located in the beautiful wildlife sanctuary in Phang Nga Province, 40 minutes from Gillhams Fishing Resorts.
On arrival at the ATV base camp you can talk to the instructors about your level of experience with ATV riding before being walked through what to do and what to expect on your chosen route. Your tour will start with a two-hour ride through the jungle, along rivers and around mountains with breathtaking views of the wildlife sanctuary.
Once your ride is over you will be served a buffet style lunch alongside the river in a fruit plantation. After lunch you take a short walk through the jungle where you will find the waterfalls with small plunge pools for you to swim and relax for an hour.
After your walk through the jungle you will be driven to the monkey cave temple and will be able to explore the caves and feed the wild monkeys that inhabit the ancient temples.
After the temple you will be transferred back to Gillhams Fishing Resorts.
08:30 Pickup from Gillhams.
10:30 Two-hour ATV ride with experienced instructors.
12:30 Thai lunch served in fruit plantation.
13:30 Walk along jungle trails to the waterfalls and take a swim.
15:30 Visit monkey cave temple.
17:30 Return to Gillhams Fishing Resorts.