Welcome to Gillhams Fishing Resorts. Fishing in Thailand at its best, everyone is made to feel welcome here. We cater for single anglers, families, couples and group bookings. We can also take exclusive complete resort bookings, whatever your plans we can provide your dream holiday, we do not have set check in days or minimum stays.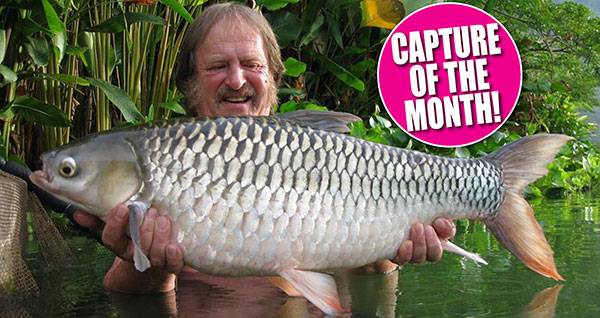 Congratulations to Ron Buss for catching this beautiful and elusive Hovens Carp, which earns him our Capture Of The Month! For more info check out May's Newsletter!
16 Attainable World Records (all in the same lake!)
At least 16 IGFA World Records are attainable at Gillhams Fishing Resorts, to date we hold three current and three past world records.
IGFA World Record for Mekong Catfish (260lb)
IGFA World Record for Siamese Carp (134lb)
IGFA World Record for Chao Phraya (previous)
IGFA World Record for Mrigal Carp (17lb 10ozs)
The Most Sought-After Monster Fish In The World.
The top six lake monsters are
Arapaima (500lb)
Chao Phraya catfish (130lb)
Giant Freshwater stingray (200lb)
Mekong catfish (300lb)
Siamese carp (183lb)
Wallago leeri (110lb)
With many other big fish species from around the world several of which are rapidly approaching 100lb, making Gillhams Fishing Resorts the number one freshwater fishing destination in the world.
Why Experts, Enthusiasts and Beginners Come Fishing In Thailand at Gillhams Fishing Resorts
Gillhams Fishing Resort is famous for huge fish in stunning surroundings, plus top class lakeside bungalows and swimming pool. our lakeside restaurant serves a wide and varied array of meals Thai and European. Whether you are a specialist angler, someone who just loves fishing or an absolute beginner you are welcome at Gillhams.
49 Species of Big Fish mean that during your stay you should catch your dream fish (6 species are in excess of 100lb, with numerous fish over 200lb up to 500lb)
Top Quality Equipment Provided to help you make the most of your fishing adventure.
Professional Guides will assist you to the level required, they will help you get to grips with Gillhams' freshwater fishing lake and fish.
Catch Yourself a Personal Best Fish All Year Round!
We are open every day except Christmas day, however we do advise to book well in advance to avoid disappointment.
The fishing at Gillhams is predominantly using bait, we do not allow lure or fly fishing in the main lake. We have a separate lake for fly and lure fishing; this lake has a wide variety of exotic fish from around the globe, these are smaller specimens than the main lake providing good sport on light tackle.
Please send us your enquiry stating how many nights accommodation you require and for how many people, also how many days fishing and for how many people we will be happy to send you a quotation.