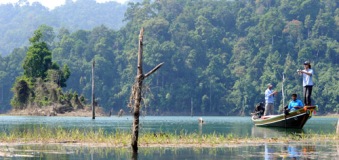 Thai Fishing offers guided fly and lure fishing tours in the rivers and large lake in a near by national park, Thailand . With over ten years' experience of organizing fishing trips in this beautiful region of Thailand, we are proud to say that we personally and meticulously tailor our fishing tours for anglers of all levels. The fishing in the large jungle lake is the best wild fly and lure freshwater fishing in Thailand !
Lure Fishing for Giant Snakehead
Thai Fishing offers top class Giant Snakehead fishing in Thailand on this large wild lake in the National Park . Fighting a Big Giant Snakehead, which has one of the most powerful strikes of any fresh water fish, is the ultimate fishing adventure in Thailand . For a truly once-in-a-lifetime fishing experience we recommend that your fishing a minimum of three days.
The best time to fish for Giant Snakehead in the jungle lake is normally, early morning and in the evening. In general, the Giant Snakehead we catch is from 2 kgs and up. There have been caught Giant Snakehead of 11 kgs!!!
Fly and Lure Fishing for Thai Mahseer
Thai Fishing offer the ultimate guided fly fishing trips in Thailand for the strong Thai Mahseer. In the rivers of the National Park you will not only have the best Mahseer fly fishing in Thailand , but also the most beautiful location in Thailand For an optimum fishing experience we recommend fishing trips of at least three days. Fly Fishing in Thailand for Thai Mahseer is similar to fly fishing for trout in New Zealand or English chalk streams.
The Thai Mahseer is very shy, but you can often spot them (sight fishing) in the clear jungle rivers. The Thai Mahseer will take nymphs, streamers and dry flies. The power of the Thai Mahseer is truly amazing: they hit hard and customers often compare the speed of the Thai Mahseer to the famous saltwater Bonefish.
Accommodation Options
When fishing in the lake (fishing for Giant Snakehead ) you will stay in local style floating bungalows.
When fishing in the rivers, you can choose to move higher up the rivers in the national park and camp overnight. Sleep in a hammock and camp near the river. Thai Fishing is the only fishing company who has great experience with camping in the jungles of the national park. Fishing in places where few people have been fishing before. The other option is that you return to your bungalow at the end of the fishing day.
For more information and bookings please visit:
thai-fishing.com