Hello again and welcome to another newsletter about the fishing in Thailand at Gillhams Fishing Resorts, by the time you read this newsletter Christmas will be on us. Gillhams Fishing Resorts would like to wish everybody a happy Christmas and a prosperous new year and hope all your angling dreams come true in 2014.
The Gillhams Christmas day venue is all booked in Ao-Nang, we think that this could be one of the best ones yet. With lots of friends and returning customers over for the festivities, so while everybody back home is watching only fools and horses reruns and all the other crap they show each year. We will be partying on the beach feasting on turkey and all the trimmings, with shows such as traditional Thai dancing, live music, fire show, lady-boys and boxing (sounds like an average weekend).
Stuart is getting ready to take a back seat and has handed over the newsletter to Geoff and myself Sean, this months newsletter is a bit short due to Geoff and I being extra busy with day to day tasks. Sorry if we missed some of you out of the newsletter, but time has been short plus many people don't send us their fish pictures.
So that's it November is over and soon 2013 will be a memory. England is approaching quickly and we hope to see some of our old and new friends at the shows booking your 2014 holiday to Gillhams. This year we are attending the following fishing shows: Brentwood 25th/26th January, Zwolle, Holland 8th/9th February. Farnborough 22/23rd February, Forum International de la Carpe et du Silure, Montluçon France 1st/2nd March. Coventry 8th/9th March.
Once again we will be offering discounts when booking a holiday at the show, also the famous Gillhams raffle will be taking place with two holidays drawn at every show. We had one of the last shows lucky raffle winners over this month, Mark Osborn and his family after buying his ticket at The Big One in Farnborough.
Were currently updating the bungalows with the first one ready for Christmas, fitted out with hand made furniture, LCD flat screen TV and enclosed shower units. Also the new filter is nearly finished, we have built it on underground on the hill overlooking the lake. With just the waterfall feature left to construct we should be finished by the end of January.
In our previous newsletter we spoke about the lake getting back to normal after the lake extension and the fish are really proving this. Some of our rarer species are showing themselves, and the Siamese carp are coming back on the feed with many of them up in size due to the big plankton blooms in the lake at the moment. As we enter December we have had three different Siamese carp out over 100lb in 24hrs with the biggest at 130lb. The average size Siamese carp are now 60lb+ making Gillhams one of the leading big carp waters in the world, plus all the other huge array of species we have.
The anglers who visited us for the exotic fishing Thailand has to offer had some good fishing in Krabi this month with a total of 581 fish of 23 species, made up as follows: 48 arapaima to 484lb, six arawana to 10lb, five alligator gar to 45lb, 213 Amazon redtail catfish to 90lb, one Amazon stingray of 20lb, 81 Asian redtail catfish to 48lb, 14 black pacu to 26lb, six big head carp to 38lb, one Chao Phraya catfish of 100lb, two giant gourami to 6lb, one giant snakehead of 8lb, four giant featherback to 11lb, one hovens carp of 11lb, 18 Mekong catfish to 190lb, two mrigal to 9lb, six spotted sorubim to 35lb, eight spotted featherback to 9lb, 148 Siamese carp to 130lb, one shovel nosed tiger catfish of 8lb, three tambaqui to 50lb, six wallago attu to 22lb, five wallago leeri to 28lb, one zungaro of 8lb.
Fishery owner, roofing contractor and most importantly ex fireman and servant to the community of Wolverhampton, Steve Greenway, came this month accompanied by his friend and fishing partner Chris.
Stuart and Steve had heard about each other back in the good old piking days of the 80s when Madonna was the number one artist in the pop charts and you still saw white dog poo on the streets (well you did up North) However until now they had never met so it was good for them both to catch up and reminisce.
Those of you who have been here before will know when it rains here, it bloody rains, and the lake can soon overflow until we open the sluices. One night after a lot of rain Chris stood at the edge of his swim, or what he thought was the edge of his swim. He very quickly disappeared underwater as he stepped into the lake, all that could be seen was Chris's head torch as he hit the bottom of the lake.
Unfortunately for Chris he ended up with an infection in his feet which meant they swelled up to twice their size, we were thinking we could save money on elephant trekking, the customers could just look at his feet, poor sod. It also put a damper on his holiday and had an effect on his sense of humor. I asked him one day if he was having a good holiday and he said yes, so I asked him if he wouldn't mind telling his face! To be honest he must have been in some pain and was having daily antibiotics via a drip at the clinic.
Both Steve and Chris had arapaima to 300lb before they moved down the lake after Mekong and Siamese Carp. Steve carefully walked out his lines marking them off along the bank, so he knew he was on his baited spot every cast and was soon into the carp. However 'happy Chris' although in the next swim, blanked for 3 days, bless him, that was until the day before they left when Chris hooked an absolute monster of Siamese carp of 130lb.
Steve had set his sights on a Mekong Catfish and finally got one on his last day, and after a long fight the fish was finally landed at a respectable 190lb. Being an ex fireman Steve was always up for a piss take, and the look on Stuarts face whenever he met me and cried "brother" to which Stuart replied "soft northern monkeys" and us two giggling like schoolgirls!
Young Nathan took a liking to Steve, you could even say perhaps he liked him just a wee too much. He invited him and only him; to share a caravan with him at his other job in the Scottish highlands, for a few days fishing or that's what he said they would do? I mean this place is far away from anywhere, somewhere where no one can hear you scream! Perhaps that's a story that can be told in forthcoming newsletters!
Little Jimmy Alexander came this month on a package provided by Sportquest Holidays. I never got to ask Jimmy how tall he was, but he is what you would affectionately call a PORG (person of restricted growth).  A wee man from Scotland with a big heart, who could always find work with Ken Dodd and his diddymen. I will never forget when he caught an Amazon redtail, we had to put a chair in the water for him to stand on, and even then the water still came up to his chest!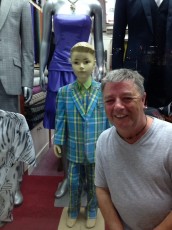 Many people come here and pick a swim and stick to it for the rest of the holiday, but not Jimmy, if he wasn't catching he was moving. He even moved to four different swims in one day! Gillhams is a lot of things but it has never been what you would call a fishery for the roving angler, but it was when Jimmy came to town.
We even managed to find the perfect suit for him in a shop window in Ao Nang, not sure what the tartan was but it was on a child's mannequin and would have fitted Jimmy a treat… Jimmy landed a total of eight fish with his best fish being his main target species, a 65lb Siamese carp.
Husband and wife team, Eric and Laura Van Heppana, a chemist and a nurse from Holland joined us for their second trip to Gillhams. Always good fun to have around and this time was no exception. During their stay, one of the guides ie… Me …suffered from a severe bout of nappy rash on my gluteus Maximus (my arse) in fact you could say my normal silky peach bum looked like a gibbons, all red and blotchy. Of course knowing Laura was a nurse I turned to her to give a diagnosis and for some reason she wouldn't entertain looking at my normal pristine derrière and in fact completely turned down the chance to rub some sudo cream on it for me….and there's me thinking nursing was the caring profession!
After a couple of days this couple soon got into their fishing, and were catching Siamese carp, in fact they had six Siamese carp between them on two consecutive days. So you can imagine my surprise when on the 3rd day in their swim at precisely 07.35am, Eric with a long face, said whilst I was riding past "fishing is slow today" Jesus! Eric give it a chance you only been fishing 35 minutes!!
Eric and Laura had a passion for our bait buckets, when we are busy buckets are at a premium but everyday when we asked for spare empty buckets, Eric and Laura insisted they needed 8 buckets, why god only knows.
This couple have fished for big fish before with Eric having a 450lb Marlin to his name but on their previous visit the arapaima had eluded him but not this time, in fact he had two in one night and lost a further one also. This of course meant that every time Eric had a take in the darkness he was convinced it was an arapaima and in most cases it was a Redtail!
Eric also travels the world pursuing his other passion to study wildlife, thanks to Terry Eustace Stuart ended up with egg on his face. Let me explain; a couple of years ago Terry who fancies himself as an expert on birds made some elaborately painted bird feeders. He claimed that the many species of humming birds that he noticed every day could be encouraged to visit the feeders; Terry even showed the kitchen staff how to make a special drink that would increase the amount of humming birds visiting the resort, after six months of doing this not one of the birds visited the drinking station. Eric was asking Stuart what kind of birds had he seen around the resort, Stuart proudly announced in the long list humming birds. Eric immediately replied that there are no humming birds in Thailand, Stuart trusting Terry's expertise argued that their were. During the argument Sean Googled the answer and proceeded to kick Stuart under the table, Eric was correct there are no humming birds in Thailand. Stuart gave terry some old fashioned Gillhams piss taking when he arrived later this month.
I must at this point say that the majority of guides at Gillhams are English and shouldn't be subjected to on any occasion to have to land fish and be met with the sight of a Dutchman wearing budgie smugglers/ speedos. Eric had been told about this on his last trip but still insisted in wearing the skimpiest swimming trunks which left nothing to imagination. Could all our future customers from the European Countries, for example France, Germany, Italy, Holland and Belgium please note that swimming shorts should be at least at knee level…thank you
The total catches for Eric and Laura's stay was 38 fish of five species with Eric landing the biggest fish with an arapaima of 280lb.
(Unfortunately we don't have any pictures of Hank)
Just here for a three day trip were Hank and Yvonne Suylen from Holland.
Hank, a typical Dutchman, so laid back and just happy to be fishing landed 4 Siamese carp with the biggest being 65lb and in his words after his first fish "my day is complete and any other fish will be a bonus"
Interesting guy to talk to as well, just a few years ago he started making boilies as a hobby, making around 100kg a week. He now does it as a living and his company produces three and a half tonnes of boilies everyday!! He distributes all over Europe and is receiving a massive demand from Japan. And how many people does it take to make the product? He employs one person and himself and they turnout that many boilies …amazing!
On his last evening Hank was after arapaima but although hooking into 4 he lost everyone before setting off on his travels to Koh Lanta. His total catch was seven fish of three species.
It was lovely to see our old friends, Steve (Teabelly) Cook and his long suffering wife Filomena (Fil) this month. They came armed with goodies and a special present for me, a T shirt with the words " caution Northerner sleeping/working emblazoned on the front and the back of the shirt the words  'No 1 guide' although they said it was a printing error and should have said 'no 11″ which sad as it is I'm inclined to agree….bit cheeky though, as we only have 7 guides anyway.
Steve manages a market hall of 130 stalls and Fil…well Fil looks after Steve….god is this man spoilt!! It appears Fil has taken over from Steve's mum as she looks after his every need!
It would be hard to match Steve's last trip here as he landed 4 arapaima in consecutive nights of 130lb, 280lb, 360lb and 490lb and in truth we couldn't, but that didn't matter to Steve he just enjoyed himself all the same, whether that be fishing or visiting his now favorite steak restaurant Carnivore in the town where he went four nights running.
While Steve was fishing, Fil found out I had the 1st two series of the TV show 'Homeland' on my computer and it's was something she had always wanted to watch, so a bit of downloading and Fil watched all of series one and some of series two in the matter of three days …about 15 hours of TV just popping out now and then from her room to bring her master a cup of tea.
Old friend Terry 'poppa' Eustace came again this month along with his nephew Andy Williams.
There is not much can be said about Terry that hasn't already been said already but suffice to say he is never lost for words. However, he was this trip, as Terry the angling legend, the tackle guru, the grandfather to UK angling and major sponsor of Gillhams I might add, was sorting out a tangle in his line,  Sally Sandcroft, a new customer that day and obviously had no idea who Terry was, came walking past his swim and seeing Terry in a muddle said " someone doesn't know what there are doing do they!" Terry's face was a picture, slightly crimson in colour and looking like he had just sucked a lemon. To make matters worse Sally walked past a second time and said " you are never to old to learn!" It was, shall we say pure angling classic!!
Terry's nephew Andy is a successful businessman and by his own admission had not caught many big fish. Andy was one of the nicest customers to guide always polite and wanting to help. He wanted above all else an Amazon Redtail and he did just that with a fantastic Amazon Redtail of 75lb and backed that up with smaller ones as well
Nick Roberts a Hornitculteral consultant, tree surgeon to you and me , joined us this month. Nick was here last year but spent most of his holiday hobbling around as he fell landing a fish only to find out when he got home that he had been walking around on a cracked femur!
Nick is the spitting image of Al Murray the pub landlord, all "cor blimey geezer" and "it's all a bit shabby" a true cockney who always had a smile on his face. He even told me when he was struggling for a fish that " he would catch them on his terms and the fish were not going to determine when they were caught" an interesting theory to say the least!
To be fair to Nick he fell victim of the "just have a few days in Bangkok before I go fishing syndrome" so came to us a bit worse for wear and just before his 59th birthday so after a few days celebrating he soon got into the Siamese carp catching nine To 85lb, in total Nick caught 20 fish of three species.
Dave and Elizabeth Straw came for 21 nights and sixteen days fishing this month for their first trip to Thailand. Dave's a very keen catfish angler spending many weeks every year on the Spanish banks hauling in giant slugs, Dave love for wells catfish and Spain shinned through everyday of his holiday as every fish he landed was put up against the wells catfish and was even greeting the resort cleaners every morning with the Spanish word ola forgetting what country he was in.
While Dave fished his wife Elizabeth would relax reading books and watching the wildlife and popping round to Dave several times a day with cups of tea and magnum ice creams. Dave's mission for this trip was to target arapaima, Mekong catfish, Amazon redtail catfish, Stingray and Siamese carp. Dave's fishing went well and even though he never caught his stingray or Mekong catfish he did manage to land three arapaima to 480lb, eight Siamese carp to 130lb, six Amazon redtail catfish to 54lb and a bonus fish with a alligator gar of 45lb.
Once the fishing was over Dave and Elizabeth were off sightseeing and visited many sights including, tiger temple, waterfalls, elephant trekking and private boat tours around the islands. When it was time to go home Dave had managed 24 fish of six species and is already in talks with Elizabeth for a return trip next year.
Mark Osborn our raffle winner from The Big One fishing show in Farnborough claimed his prize this month bringing with him his girlfriend, brother Alan and his mum and dad Bob and Shirley. When Mark bought his raffle ticket he never expected the phone call that night that he had won the holiday as he's never won anything before. His first call was to his brother asking him if he fancied a fishing holiday to Thailand and got the reply moneys low I cant afford it before being told he had won the holiday and wanted to take the family with him including his mum, dad and girlfriend.
While here Mark along with his dad and brother fished most days even if it was just the morning before heading out on day trips but still kept the holiday family orientated with elephant trekking, kayaking, temples, island hoping and days on the beach with some shopping. While here all three caught some nice fish but Mark's dad just wanted one more days fishing at the end of there stay so as the family had planned a day out island hoping Bob had a master plan. As the family got ready for the boat trip Bob started complaining about a bad stomach saying that maybe it was better to stay at the resort and rest so Bobs wife Shirley decided that it would be a good idea, so of they all went leaving Bob at the lake within minutes of his family leaving Bob was suddenly feeling better jumping around punching the air while baiting up his rods getting ready for one final day on the lake, which led to his personal best Siamese carp of 65lb (haha top angling). Mark and his family caught a total of 15 fish while here including Siamese carp, Amazon redtail catfish, alligator gar and Asian redtails.
Mick Caddy came out for his first trip to Gillhams this month with his wife Jean. Mick found out about Gillhams from one of his best pals Ron Buss, who was also joining him until he took a hard fall and busted his knee while on a fishing trip in France also with Mick. Mick fished every day and when he wasn't asleep behind his rods he was constantly cracking jokes and taking the piss. While here the target species were Amazon redtail catfish of which he caught four to 55lb and Siamese carp and managed 21 carp to the magical 100lb beating Ron's pb by 5lb bless him. In total Mick caught 29 fish of six species and even managed to finish up early on a couple of occasions and take Jean out for a meal.
Matt Wilmott and his best mate Ben Twelftree came out for six days fishing and ended up staying for the best part of three weeks. It was quick to tell that Ben was very accident prone as on there first night they sat on the balcony having a couple of beers watching the final hour of fishing when Ben needed another beer, as he went to go inside the room a massive bang followed by language that's best not to print echoed around the lake as he walked straight into the glass doors thinking they were open. As if the doors weren't enough when they started fishing some how Ben even managed to get the hook stuck in his ear while casting. There wasn't many fish in the lake the boys didn't want to catch, Matt wanted an arapaima after first reading about them as a kid. Matt is a very keen fish enthusiast keeping many different tropical freshwater and salt water fish at home, and even breeds many types of reptiles hoping one day he can start his own business breeding and selling fish and reptiles. Matt managed four arapaima while here with his biggest being 230lb, while Ben ended up with Siamese carp to 60lb. in total they caught 23 fish of seven species before having to head back home and start saving for the next visit.
Well that just about sums up another month here in paradise, bookings for 2014 are going through the roof. If you are planning a trip we suggest you check availability first, once you are given a date book ASAP to avoid disappointment. We hate turning away clients but will never oversell the places here, this ensures there is always enough room and swims for anglers to move if they wish. For all enquiries please contact us or phone 0066 (0) 861644554.
A couple of points to remember if you are phoning Thailand is + 7 hours GMT, phoning out of hours you will wake the big bloke up and risk a verbal ear bashing! Secondly many people contact us via the web site, if you make a mistake with your email address then we cant answer you. We get several enquiries a month with wrong email addresses to reply to, if you don't get an answer within 48 hours please resend your  enquiry.
Happy Christmas and best wishes from all the team here at Gillhams Fishing resorts.