The Resort Is Located In a Stunning National Park With Modern Lake Side Bungalows, On Site Restaurant, Infinity Pool and FREE WIFI!
Gillhams Fishing Resorts is located in the beautiful coastal area of Krabi Southern Thailand. The resort has free Wi-Fi for our guests use.
Our resort is built in a stunning national park area 3km from Tha lane Bay.
Our fishing lake, restaurant and well equipped bungalows (see floor plan) are surrounded by limescale karsts, covered in protected tropical rain forest 5km from a beautiful sea kayak centre, and 19km from the lively seafront town of Ao-Nang.
Krabi has been developed by the Tourism Authority of Thailand as a family destination.
Be assured that unlike other destinations in Thailand you will not be pestered and harassed in Krabi province as the local authorities have strict rules to keep this beautiful part of the country as a family destination. It is not, and will never be, allowed to be yet another sex tourist destination.
Ao-Nang boasts many top class restaurants, pubs and clubs plus unspoiled white sand beaches.
Surrounded By a Stunning National Park
In the surrounding national park there are hot springs and waterfalls with stunning emerald pools to take a refreshing swim after your walk through unspoiled forests.
Close by we have some of the best elephant trekking in southern Thailand.
Nearby there is horse riding under western management, golf courses, shopping for copy designer named goods and souvenirs, boat trips to surrounding deserted islands and white water rafting.
There is an endless list of activities and you could spend a vacation here doing different things every day, or you can just laze around catching some of the biggest freshwater fish in the world!
Our twelve-acre fishing lake was completed in March 2007 and is set in an additional seven acres of tropical gardens.
There is an on site restaurant built at the lakeside with stunning views over the lake including a pub style bar with satellite TV and pool tables. We use an English chef for a full western menu plus a Thai chef for a full authentic Thai menu.
Overlooking the lake, for our guests' private use, we have a large 7m x 15m infinity pool built to take in the amazing views. The pool is situated near the bungalows in the private gardens.
High Quality, Air Conditioned, Lake View Bungalows Built To Western Standards.
We have constructed to western standards fourteen high quality two-bedroom fully air conditioned bungalows within 12 metres of the lake. They are fitted with ceiling fans for those who do not like air conditioning. All have hot showers, mini bar with fridge and personal safe.
The bungalows have large covered shaded balconies overlooking the lake and your own fishing area. You do not have to fish outside your bungalow, and if you wish to fish other areas of the lake there are plenty of fishing areas available.
The bungalows are constructed on one side of the lake in tropical gardens. This side of the lake, as well as the top end, is private for the use of the guests in the bungalows only, keeping you in total privacy in a tropical paradise.
The venue is discreetly fenced all round with a paved walkway around the lake.
Full time 24-hour security is provided to ensure total privacy and safety.
There will be one bank for limited day ticket fishing by appointment. Only if we have more than ten guests fishing there will be no day tickets sold.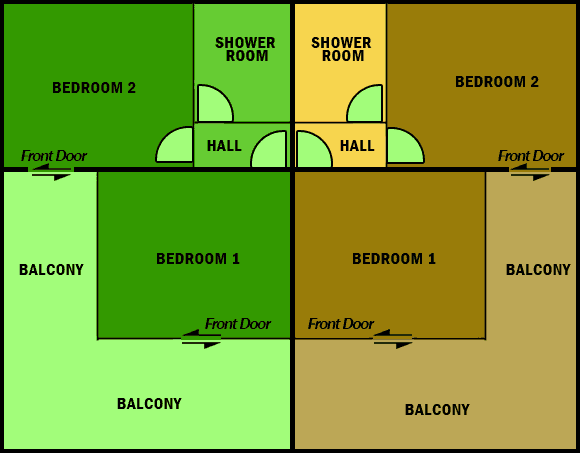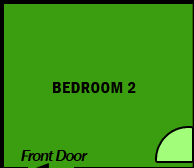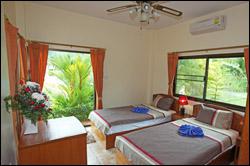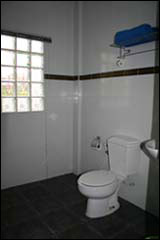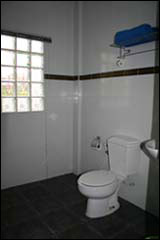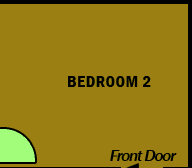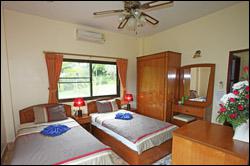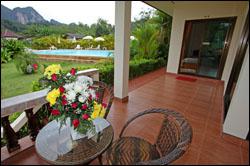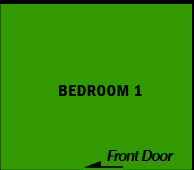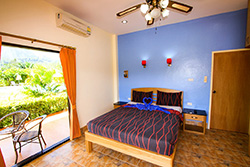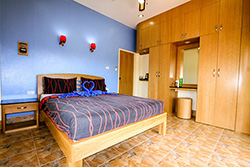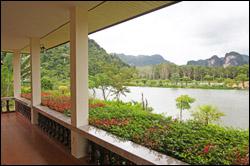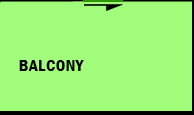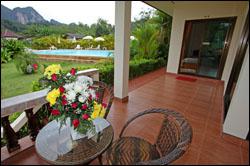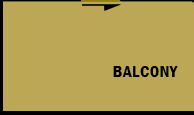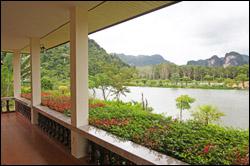 Move your mouse over the rooms on the floor plan to have a look.