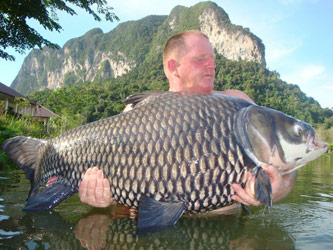 My name is Stuart Gillham and I am the managing director of Gillhams Fishing Resorts. I have fished since the age of four, progressing from catching rudd and roach in a local farm pond. Over the years my desire to catch big fish became an obsession. I have fished all around the world, be it river, lake or ocean, bait fishing or fly fishing, to becoming a well-known specialist angler who, by the way, was the first angler to ever catch a 40lb pike and 40lb carp in the UK! (To this day, only one other angler has ever achieved this unique feat). At one time in the distant past, I also equaled the most 30lb carp ever caught in a UK fishing season.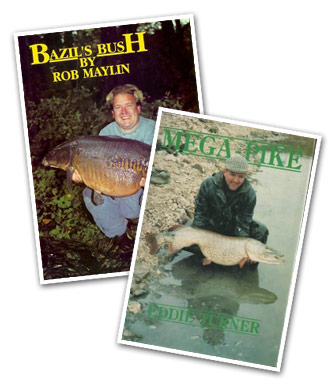 I have written chapters in two books (Bazil's Bush by Rob Maylin and Mega Pike by Eddie Turner). Also, with my good friend Rob Maylin, we bought out the famous top selling films Harefield Hauling parts 1 and 2. Along with numerous writings in various fishing magazines I became a well-known and respected big fish angler, and I am fortunate to have many of the top anglers in the UK as my friends.
Also some of the top fishing tackle companies belong to my list of true friends. Their help and assistance helped made our resort what it is today, and we have the best fishing tackle available to us for your use.
My other partner is my son Sean Gillham who, from the moment he could walk, has fished alongside me. Sean was in fact on the front cover of the very first edition of the UK weekly carp paper "Carp-Talk" with a picture of him with a 40lb carp, making him at that time the youngest angler to catch a 40lb carp.
Gillhams Fishing Resorts is a family-run business, and both Sean and I are experienced big fish anglers. Benz, who is my partner, is in control of the day-to-day running of the resort, and she is assisted by Noi, Sean's partner. Together with Benz, we traveled Thailand in search of the perfect location for a fishing resort, finally deciding on Krabi province due to its natural beauty and popularity as a family destination, but it took us a further six months to find the perfect location.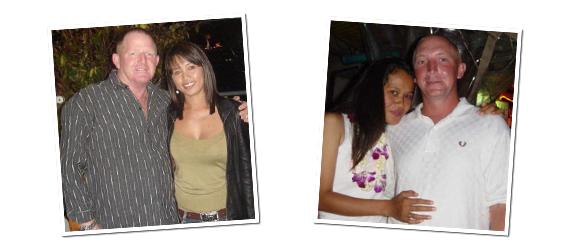 During 2010 my daughter Becky Gillham decided to up sticks and join us in Thailand, In the UK Becky worked in the family scaffolding business alongside brother Sean and myself. Becky is no stranger to big fish having grown up in a fishing family, fishing with me since she was six years old. On her days off Becky is a regular out on the lake, Becky's personal best from our lake is 260lb arapaima. Away from the resort she has landed numerous species such as sailfish and tarpon to 170lb.
As Becky used to work for us in the UK as the company sectary, it was a simple transition to take over the admin side at the resort. The bonus of Becky joining us was the fact that she is a damn good cook, traditional European dishes are Becky's strong point. Many of the dishes are prepared by Becky, plus she has taught the Thai staff how to cook European food. With Becky on board Gillhams is truly a family business, with five family members involved in Gillhams all aspects of ensuring you have a dream holiday are well and truly covered.
We purchased our land in 2006, and then began the daunting task of the excavation of a nine-acre lake. This was a frustrating task but, after sorting through various idiots, we finally found a local contractor to supply experienced staff and top quality equipment. Without two local brothers, Den and Deol, this lake would not have been dug. Various engineers and site managers had failed, but I would recommend these two to anyone.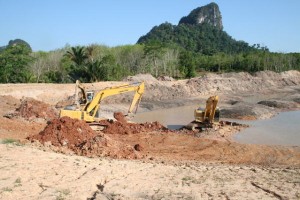 While the lake was being dug, we rented lakes from our good friends the Chow family, our lake was complete by March 2007. Benz' family introduced us to Lec, one of Thailand's top fish suppliers. Lec travels the length and breadth of Thailand purchasing specimen sized fish for us. Some days he drives over 700 kilometers chasing rumors of big fish. If the rumor is true he will purchase the fish for us and transports it back to Gillhams Fishing Resorts. Many times poor Lec wastes his time and money chasing false rumors,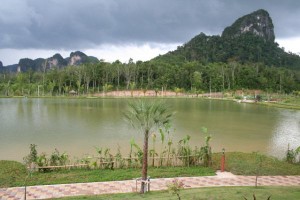 All our red tail catfish, Mekongs and Chao Phraya catfish come from a fish farm near Bangkok, owned by Thailand's most respected fish farmer, Mr. Toe. He is without exception regarded as the no. 1 fish breeder in Thailand, and his fish are the most sought after fish in the country. Toe has become a loyal and trusted friend, and his advice and assistance with planning our fish's environment has been invaluable.
Without these people we would have given up our dream but with their help, dedication, generosity and knowledge, the lake is now complete and stocked with some of the biggest fish in the world, ready for our clients to enjoy some of the best freshwater fishing in the world in probably what is one of the most beautiful locations in Asia.
We are looking forward to make your dreams come real. Our commitment is to give all our guests the holiday of a lifetime in a beautiful, safe and friendly surrounding.
Thank you for reading this introduction.