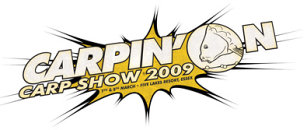 Happy New Year to all of you who are following this fishing in Thailand series. For those of you thinking of a fishing holiday in Thailand, now is probably your best time to book as tourism worldwide is struggling, and the airlines are slashing fares. Make a date to visit the Five Lakes show 7/8th March 2009, and come and see us on the Gillhams Fishing resorts stand. We are offering a 10% discount to all holidays booked and paid for at the show, plus an additional 5% discount to anyone presenting this newsletter from Big Carp magazine. Also there we are offering a prize of a week's holiday with flights for two at the show, so even more reason to visit the show of the year.
Thank goodness Christmas is over – as always I ate and drank too much, so I am now at my top weight ever! If I was a fish I suppose I would be called Gutbucket and be the most sought after carp in the land! The Christmas bash went well – 48 people turned up, 40 got drunk, and the ever-young Linda danced the night away. Last man standing was Stephen Richworth Baker, and we can't say exactly what Penny did to keep the DJ playing, but she did a good flash dance. My favorite band played for three hours, but I don't think the fish approved of 'Smoke on the Water' 'cos everyone blanked the next day, and there wasn't an arapaima landed for the next five days. Now Christmas Eve also had its moments, and our night out went with a bang – so did someone else's, but that's another story. New Year's Eve was very quiet and tame, so we will change that next year and make a big party here. We have had a few pool parties here lately, which have now resulted in a rule change – no more Speedos allowed at Gillhams unless worn by topless women!
The airport fiasco is finally over, and all flights are back to normal. There are some cheap deals around at the moment, so get booking – see flights section on our website. Lee Jackson's party finally left on 13th December instead of the 3rd, and they made the most of it by drinking us out of wine and having pool parties dressed as women! As for fishing, they fitted in a bit between dressing up, getting wasted, and toast racks! Now there is a tale the toast rack thing that goes back to Jacko and Woodsie's youth when they used to go away for weekends with female friends. Apparently the amount of times they scored was shown off by how many racks of toast appeared in the morning! Looked to me like Len won hands down the way his breakfast was smiling. We went out a few evenings to show them the sights of Ao-Nang – top night was the Punch and Judy show; 'That's the way to do it!' That's another tale that one, as a certain girl who used to be a boy spoke in a squeaky voice, and we all got her/him talking like the puppets. This was kept up for half an hour, after which her voice changed back to a male, and she announced, "That's enough lads, I'm done," in a very deep voice! You had to be there, but we were crying with laughter. I do believe it was after this night that the old gits' club was formed, when they all started dressing up as women! There are many pictures floating around of these events, which we can send to interested parties who want a half price Linear ticket or Tackle Box discounts.
The weather has been a bit up and down – very hot for a few days, then rainstorms. The fishing just starts to improve, then the weather changes and the fishing declines. We even had one storm that put 18ins on the lake in a few hours. With that amount of cold brown water entering the lake, it took a few days to settle before the band made the fish hide again! Most people's target fish are arapaima, and the catch rate has dropped a bit this month due to angling pressure, but there have been three landed of around 400lbs. Mind you, one was a repeat, so only two different fish, but who minds a repeat when they are that big? Unfortunately arapaima cannot be weighed safely as a traditional weigh sling bends them, and when arapaimas bend their backs, it snaps a blood vessel and they bleed to death over a five-week period. We have worked with these fish for a long time, weighed many fish in the past, and on top of that any that die are weighed, and we have never been more than 10lb out on an estimate. We have been asking various manufactures to help us produce a sling like the ones used for weighing and moving dolphins, i.e. two poles to form a stretcher-type unit that will not bend a fish, but so far not one has answered our pleas. So any manufacturer out there who wishes to help, please contact us, and there will be a free fishing trip for whoever comes up with the product that safely weighs our monsters! The Siamese carp as ever have been feeding well, especially on the Gillhams special boilies in golf ball size. In the total there have been four over 70lbs and five over 60lbs. The red tail catfish have been feeding as usual, with five over 70lbs up to 80lb, but towards the end of the month they have gone missing, probably due to a skin shedding session. The most popular bait has been banana chunks – leave the skin on and hair rig a section. The carp love them, as do several other species. Now I wonder if the carp at home would as well? Another strange bait that has catching has been chunks of soap, especially for pacu (a vegetarian piranha) and carp. Now please do not try this bait on your local waters, as the soap we use here is actually made up of harmless animal fats and palm oil seeds, and is not available in Europe.
Now when I set up Gillhams I thought it would be a doddle after running my own scaffold company for 27 years. How wrong could I be? Why do anglers fish all year at home hoping for one big fish, then come here and whinge when they don't get one every day! We have the biggest freshwater fish in the world here at Gillhams, many of them way over world record size, or even bigger than they have ever been recorded at. So why do some nerds expect them to give themselves up in a day? We even have guys catching an arapaima of 150lb and complaining that it's small! In Brazil one arapaima every year is a result; fish of 100lb are considered huge, and very few exist above 150lb. Another thing that amazes me is guys fishing blind. Are the waters at home so easy now that they don't have to plumb the depth and work out special spots, or is that why they struggle here? Dick Walker once said 90% of the fish are caught by 10% of the anglers – how true!
Anyway enough of Gillhams ramblings, and on to the fishing. Between day tickets and fishing holidays in Thailand 47 anglers fished the lake, and between them they landed 466 fish of 17 species, made up as follows… 38 arapaima to 400lbs, two Mekong catfish to 110lbs, 213 Siamese carp to 75lbs, 76 red tail catfish to 80lbs, seven alligator gar to 25lbs, two Asian red tail catfish to 20lbs, 33 black pacu to 35lbs, three Chao Phraya catfish to 55lbs, 23 spotted sorubim to 30lbs, three Julian's golden prize carp to 30lbs, seven spotted featherback to 9lbs, 37 rohu carp to 15lbs, two striped catfish to 10lbs, 15 striped snakehead to 5lbs, two barramundi to 8lbs, two arawana to 6lbs, and one mad carp of 3lb.
As mentioned earlier, I had my old mates Lee Jackson, Dave Woods and Len Gurd here; Len owns the very popular Linear fisheries, and he also used to own the original video company. My old mate Rob Maylin and I made the Harefield Haulin' films with Len around 15 years ago, so it was nice to get old Len out of retirement to make a film on Gillhams. Watch out for this one, as it has Lee Jackson with a 250lb arapaima on it. Now after my stint on Harefield I went to Len's other water, Elstow, as his head bailiff, and it was down to Len that I had my first English 40lb carp, which made me the only angler to have caught a UK carp and pike over 40lb at the time. So it was really nice for me to pay Len back with his biggest ever freshwater fish in the shape of a 400lb-plus arapaima, which took the old fella over two hours to land. This fish was over 7ft long, and had a girth of over 5ft. Jacko had the tail end, and his arms just went at full stretch to half of the fish's body. Woodsy had six arapaima to 160lbs, and red tail catfish to 65lb, and Jacko had Siamese carp to 60lb. For sure the old gits' club would have caught more, but it's hard to run to your rods drunk in a tight skirt, high heels, and a wig. Seriously, the lads came for a holiday and fun with some fishing thrown in, and surely that is what it is all about really – FUN! Tony Morrel also got caught up in the airport closure, adding to last month's impressive tally, with two more arapaima to 150lb, red tail catfish to 75lb, Siamese carp to 40lb, plus an elusive Julian's golden prize carp of 20lb.
Next guest in was Yip from Singapore, and as usual with our Singaporean guests he was a joy to fish with, plus a good angler. Yip had some nice carp and catfish, but the highlight of his trip was his 110lb Mekong catfish, which took poor Yip well over an hour to land. Another fish that hates the rain, Mekong catfish, pound for pound, are probably the hardest fighting freshwater fish on the planet, plus the ugliest looking beast you will see. They always look as if they are upside down due to their eyes being so low on their face! (Very similar in appearance to Terry Eustace!) This month has seen two landed, but expect these figures to improve as the dry season kicks in. Also from Singapore on a five-night three-day fishing trip were Tim and Bob with their non-fishing better halves. Their target fish was arapaima, and although they hooked and lost a couple, unfortunately they failed to land one. However they made up for it with 14 Siamese carp – the best two fell to Tim at 65lb, believe it or not on a float-fished deadbait, and a 70lb carp on the yellow peril.
Christian Anderson (not Hans!) came for a week with his family, fishing on our 'rent the bungalow for a family holiday and fish odd hours between sightseeing and days out' option. This is a very popular option for families on holiday, as the missus and kids are happy with a holiday in paradise, and hubby still gets to fish for zoo creatures. Christian in short sessions landed two arapaima to 150lb, with nine fish in total of five species. He lost a few arapaima as well – this is normal as around 60% of all arapaima come off, due to the way they feed, which is to inhale their food in one large gulp, and gallons of water rush to their mouth, so 50% of the time the hook is outside the mouth. The other 10% are lost when they jump and shake their heads, throwing the hook or parting the hook link.
Jeff the scaffolder and his mate Steve came for a short stay, and extended it, as do a lot of visitors once they see how good it is here. Now Jeff is one of the instigators in getting Speedos banned here! His were 100% gay – I bet he doesn't strut around the scaffold in Kent like that! They landed 39 fish between them, with both of them achieving their goal of an arapaima, the best to Steve at 220lb. At the same time as Jeff was parading in his Speedos, a day ticket guy, Clive, was also sporting his checkered Speedos, making the resort look like an Asian gay convention! Mind you, the sort of kit Lee Jackson, Len and Woodsy had been wearing the week before was enough to get anyone wondering what sort of resort Gillhams must be! Clive came for a day, then booked a second day and has vowed to return in 2009 for a full on fishing holiday. As long as he dresses sensibly, we will welcome his return. I always thought Speedos were the German national costume until this month! He landed 15 fish in two days, his best two being a 75lb Siamese carp and a 130lb arapaima.
As we got closer to Christmas a few returning clients started to arrive, and first in line was Richard Larkin. He had been here last year on a short trip with Siam Fishing Tours and decided to return to fish Siam for longer this Christmas, bringing with him his charming mother Ann as a birthday present. Mind you, Ann does not fish; she just came for the peace and quiet of Gillhams and to photo Richard's fish! Poor old Richard returned to desperately try for that arapaima that eluded him last year. Now the arapaima certainly do not like Richard, as apart from losing a couple, his only chance came when he was playing a Siamese carp. Just as a day ticket angler Henrik walked by, who had packed up, Richard, being the true gentleman he is, offered Henrik the other rod. Yes, you guessed it – Henrik landed a 120lb arapaima on Richard's rod. Richard wasn't phased one bit by his misfortune, saying his arapaima would come in the end, and he who waits longest gets the biggest. Before poor Richard's holiday had ended, he dislocated his shoulder and could not continue to fish. Unperturbed he went on to book three weeks next Christmas now if its true about he who waits, he will be awarded his prize of a 500lb arapaima next year (we wish). Richard ended up with 33 fish before his forced stoppage, and weighing an extra 50lbs himself! While we are on the last gasp arapaima catches we had a Dutch guy here for a 24-hour stay, and as he was packing away with just one rod to wind in, his fortunes changed in the shape of a nice 200lb arapaima to make the short session one to remember.
Now while poor old Richard desperately wanted any arapaima, another returning client, Mark, with his friend Bob from Peterborough, checked in, only for Mark to fish opposite Richard, and the first day pull out three arapaima and complain the first two were too small and not worth a picture at 30lb and 90lb! He went on to catch the 30lb fish's mother at 400lb – seriously, the 30lb fish was born here last year, and as we only had two spawning pairs, so it's odds-on the 30 was this one's baby as we have never stocked any arapaima below 80lb. With a 60lb carp the next day, plus a rare Julian's golden prize carp of 30lb, the two lads ended up with an impressive tally of fish over four days. Bob, who is a well known match angler in Peterborough, had never caught a fish over 20lb, so catching 15 fish over that size ensured another happy chappy, and another returning client for sure.
Another really nice guy and good fisherman to visit this month was Fleming from Denmark. He desperately wanted an arapaima, and was literally shaking with excitement from the moment he arrived. He fished for three days, and got his prize with two arapaima to 120lb, and a nice 75lb red tail catfish along with several other fish. Jon and Kate were a couple who came here after following Gary Newman's exploits in the Anglers Mail. They came for ten days, their first ever trip away over Christmas, and both agreed it is a trend they will continue. By the time you take the expense of Christmas at home away, it actually makes Gillhams a cheap break, plus we don't have the Sound of Music or Jingle bloody Bells playing. They had eight species between them, and Jon got his target arapaima with fish to 150lb. He wanted a catfish over 50lb, but unfortunately the big red tails avoided him and the Mekong catfish kept their nuts down, but he did manage a nice Chao Phraya catfish around 55lb. Poor Kate was the pest control officer with the up and down weather; the fish never really got into feeding mode, but they both agreed the holiday was great fun, and took in some elephant trekking, island hopping and day trips to break up the fishing.
Christmas regular Dan Cox returned to find the fishing a bit slower than last Christmas, but still managed a nice 150lb arapaima and Siamese carp to 60lb. No big red tails this trip, but by the time he got here they were off the feed shedding their skins to make more room to grow (I wish I could do that!) My daughter Rebecca and boyfriend Mike came over with another regular Joe Burkett, aka Fishcake. Not a lot of fishing was done between partying, and in Fishcake's case, other unmentionable acts of vulgarity! Mike did achieve his ambition to catch an arapaima with a nice 150lb fish, leaving Becca's 200lb record intact. Becca only fished for a couple of hours for some mid-20 Siamese carp, choosing to chill out round the pool and catch up on gossip with us. Fishcake never got close to breaking his record 98lb Siamese carp, and the arapaima kept away from him, as did any respectable fish, animal or person – they probably wondered what they might catch! Fishcake had around 20 fish of several species, but no monsters; he saved those 'til the evenings!
Space is running out to report all the captures, so sorry to all of those I have missed out. As I sit writing this report some nice carp are coming out, and the way the weather is settling down to blue skies and temperatures in the 90's, it is only a matter of time before the fish get on the munch again. The lake is not going to be so crowded now that Christmas is over, so the fish will get some peace. Hopefully if we get a couple of quiet days Sean and I can head off to the big National park near us, chasing some Thai mahseer. They are nowhere near as big as the Indian ones, but in a crystal clear jungle river winding through unspoilt forest, they will be a challenge. So everyone come to our stand at the Five Lakes show on the 7th and 8th of March, enter the free competition for a week's holiday for two with flights to Gillhams, and if not book and pay at the show for a 10% discount. Show me a copy of this newsletter in Big Carp magazine for an extra 5% discount on top. Now that makes one hell of a deal – up to 15% off the best fishing resort in the world, with a chance to win a free holiday. Mine's a lager, so see you at the show. Visit us at www.gillhamsfishingresorts.com or phone Stuart on +66861644554.
Best wishes for 2009 from all at Gillhams Fishing Resorts.