Welcome to another month of captures here in paradise at Gillhams Fishing Resorts. We would like to thank all our readers and everybody that follows us on social media for all your support. Once again we would like to thank everybody who's made the long journey out to us here in paradise. We've had some amazing people here, dreams have come true, personal bests smashed and normal fishing back in people's home countries well and truly ruined due to visiting Gillhams Fishing Resorts, but more importantly some amazing memories have been made.
Gillhams Fishing Resorts will be attending the 2019 Carp Society Winter Show, November 23rd & 24th at Sandown Park Racecourse, Esher Surrey.
Gillhams Fishing Resorts will be offering special show prices, so come by the stand and have a chat with the Gillhams team and get that fishing trip of a lifetime booked or give a loved one a Christmas present they'll never forget.
Please remember that non-fishing partners stay for no extra charge, including breakfast when accompanying their fishing partners. We hope to see many of our regulars and of course meet many new anglers in search of the ultimate fishing holiday venue.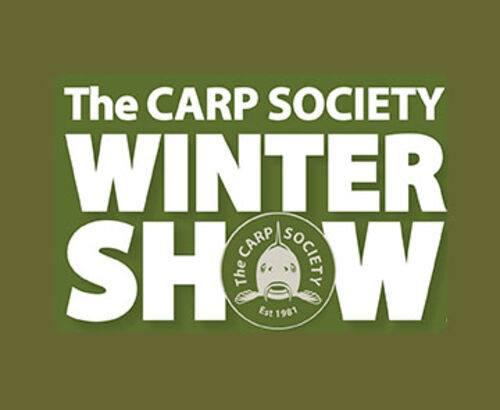 Gillhams Fishing Resorts' private three-bedroom pool villa is near completion and will be the perfect place for groups or families that would like some privacy to lounge around in their own infinity pool overlooking the lake. The work started at the beginning of June and will be completed the beginning of October. Look out for updates throughout the next few weeks in our newsletter and social media pages. We're already taking bookings for the villa from November 2019 onwards with the villa already getting very popular. If you would like any information or prices for the new villa please email us, and we'll be more than happy to answer any questions or quote for your holiday.
We welcomed in August the two lucky winners of the Prince and Princess of the catch competition run by Angling Direct in the UK. Ten-year-old Logan Mayes was accompanied by his grandmother Susan and seven-year-old Sophie Williams was accompanied by her mum and dad David and Linzi. The competition was run with the children having their favourite catch shot from 2018 uploaded to social media, and then it was left to the public to vote for their favourite photo to select the winners. In our opinion it was a huge task for the children to fish here, as our adult anglers find this a serious challenge to battle with the monsters that swim in our lake.
The pair of them started fishing at the small lake for the first couple of days, with Sophie being assisted by her angling father David and Logan working with our guide Yut alongside his grandmother. The pair of young anglers had a great time on the small lake, but even this was a tough task, with the strength of fish vastly different in comparison to UK fishing. Both kids showed they have a lot of skill for their ages and will in the future continue to flourish further with their angling. Logan had some great fish during his sessions on the small lake with the pick of them being a lovely Mekong catfish. He also caught arawana, pacu, Julian's prize carp, tilapia and a rare visitor in the shape of a Nile perch. Sophie had a serious amount of fish for herself from the small lake. She loved the Julian's prize carp, and she added to her multiple catches Siamese carp, tilapia, arawana, amazon redtail catfish and pacu.
The kids moved on to the main lake for the remainder of the trip, which we wouldn't normally allow, but as they were assisted by the adults, they got to experience what the big lake at Gillhams has to offer. Logan got to experience the power of an Amazon redtail catfish while helping the guide wind in the fish and was extremely happy to help with a Chao Phraya catfish late on his last day to top off his holiday. Sophie got to witness an incredible 130lb Siamese carp, with dad Dave taking the battle and Sophie helping turning the real handle, it was a great treat for the young angler to witness something like that. She also had an awesome Amazon spotted stingray and a couple of Asian redtail catfish to top off her trip of a lifetime here in paradise.
So that's enough of all the nonsense… Let's get down to business and find out what's been caught and which species have been landed. The anglers who visited us had some great fish over the past month with a total of 567 fish caught of 18 species, made up as follows: 19 arapaima to 340lb, six arowana to 10lb, seven alligator gar to 45lb, 89 Amazon redtail catfish to 85lb, 68 Asian redtail catfish to 48lb, three bighead carp to 28lb, two black shark carp to 15lb, 2o black pacu to 45lb, seven Chao Phraya catfish to 170lb, three Hoven's carp to 20lb, 24 Julian's golden carp to 55lb, 34 Mekong catfish to 280lb, six peacock-eye stingray of 40lb, twelve red bellied pacu to 22lb, two ripsaw catfish to 45lb, one rohu of 18lb, 262 Siamese carp to 170lb and two wallago leeri to 25lb.
Our good friends and longterm visitors to Gillhams Fishing Resorts, Dean and Jenni Handley from the UK, come to see us. Some of you who have visited us at the fishing shows in England will more than likely have met them, as they help us out on the stands every year. This time Dean and Jenni came out for four weeks and split their fishing with a week in Chaing Mai halfway through. Taking in as much local culture as they could in Chaing Mai, Northern Thailand, the couple visited one of the many food markets so that Dean could try the local delicacy of fried cockroaches, crickets and any other insect that crawled through the surrounding jungles. They also visited a local temple, and Dean, having his own tattoo studio in England, Images In Ink, decided to have a traditional tattoo done by one of the resident monks at the temple. They made a visit to one of the snake shows where Dean was picked out of the crowed to take part in the show and have scorpions put all over his body including his face. It was just as well he already had his insect fix at the food market, otherwise the show operaters may have been angry when Dean started eating the stars of the show.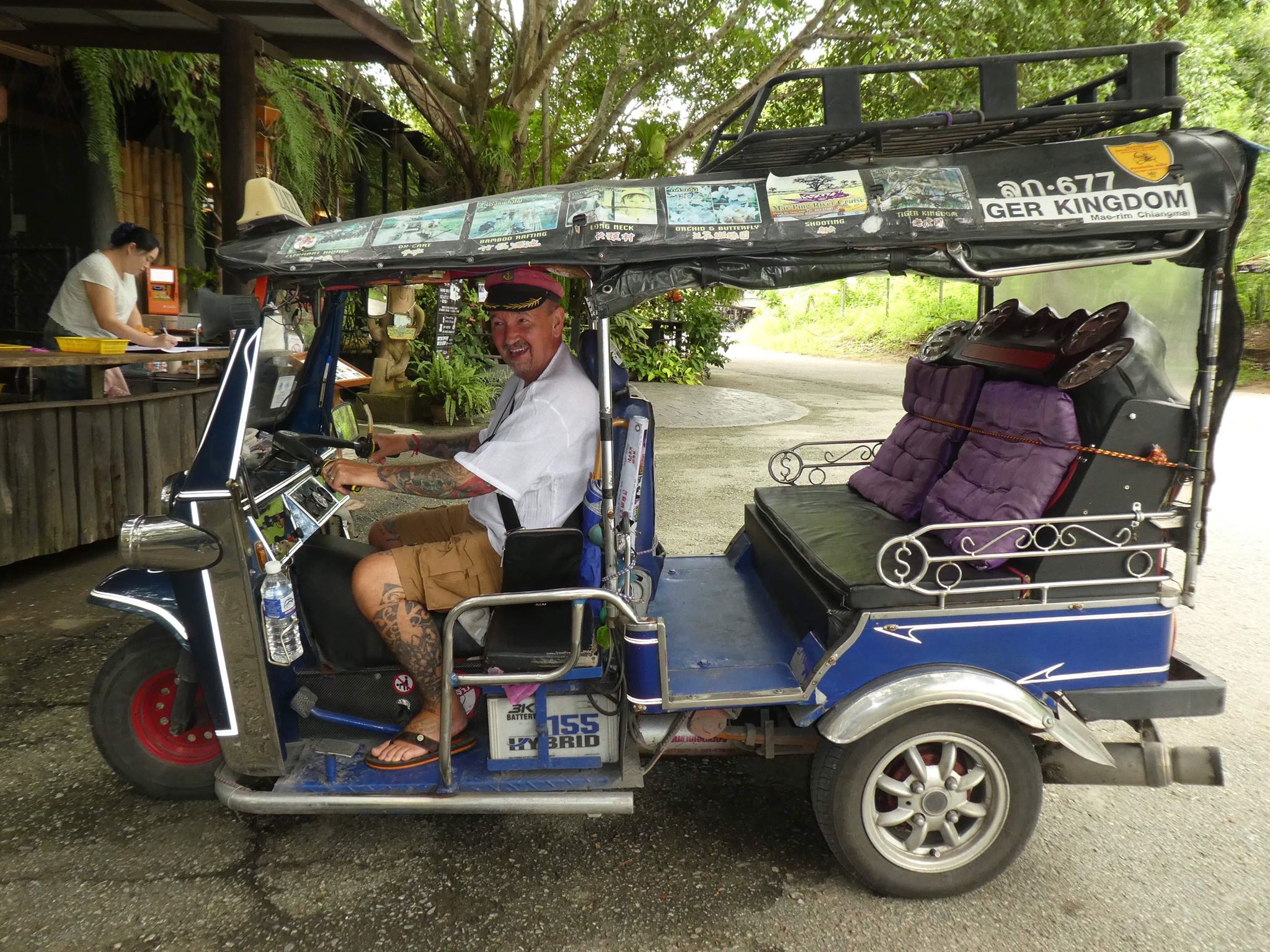 Once back at the resort it was back to business. Dean and Jenni
have both caught multiple species each over the years, and with Dean having landed 22 and Jenni on 17, it is a seriously impressive tally. When they return, they are always looking to add to their totals, and they set about their fishing with that in mind.
This trip was no different… It was Jenni who upped her tally this time. She added three new species for herself, firstly with an Amazon spotted stingray, then she caught a Chao Phraya catfish from the top lake, which she had dearly wanted for many years and finally a barramundi to take her tally to 20. Jenni also improved on a couple of personal best records, firstly with a Julian's prize carp, which broke the 50lb barrier, and then a cracking Hoven's carp, which we weighed at 22lbs. Dean and Jenni caught many other fish during their stay, with Siamese carp, gourami, Asian and Amazon redtail catfish to complete a brilliant extended stay with us here in paradise. It was really strange when they left, as it felt like a family member was sadly leaving us. We look forward to seeing you guys again next year here in Thailand and show season back in Blighty.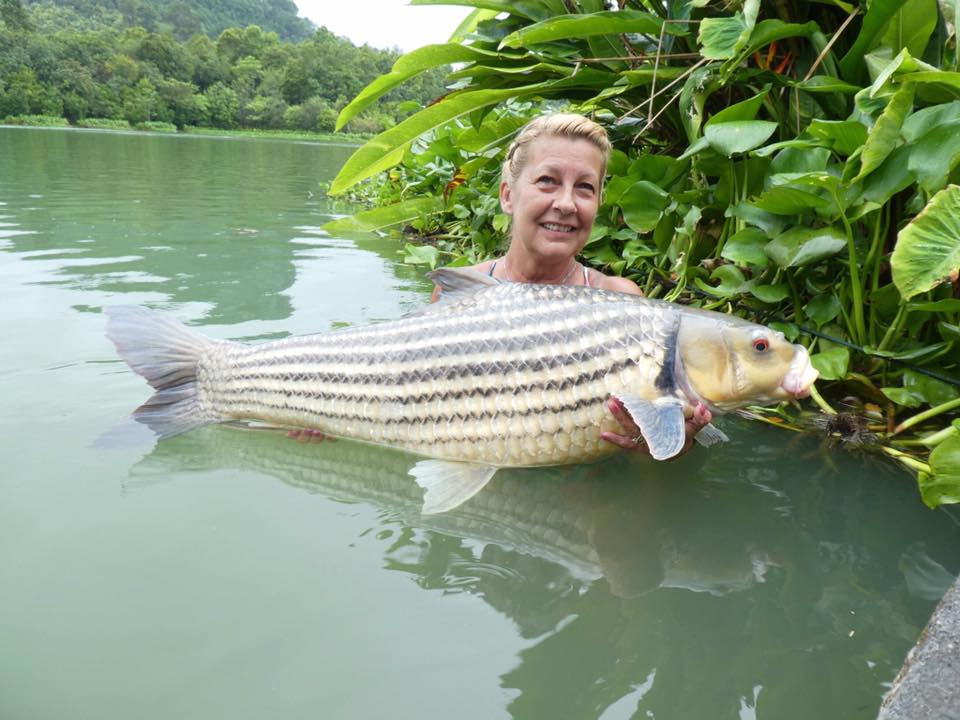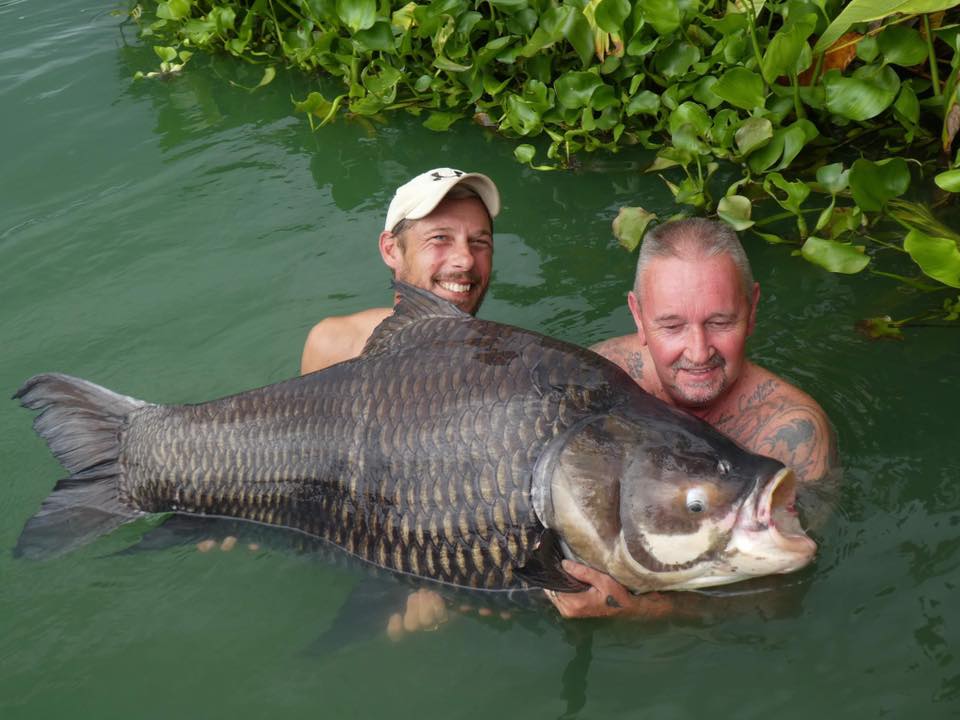 Marc Pickering and wife Alison visited us again in August. You might have seen a couple of posts on social media with Marc landing a couple of personal best captures. Marc's been fishing here at Gillhams now for over ten years and regularly makes a couple of visits each year, which was why it was great that after all those years of fishing here at Gillhams Fishing Resorts, they still have personal records and new species to catch. Marc landed his biggest ever Julian's prize carp at 40lbs and caught his first Chao Phraya catfish of 90lbs.
Marc fishes his own routine here with the way he baits up, sets his rigs and approaches his swim and tends to stick in a swim if he's comfortable and work it for the duration of his time here. He did this again this trip and caught five more 100lb-plus carp to add to his ever-increasing tally, which amazingly now stands at over 40 captures of 100lb-plus Siamese carp, with 31 of those being different fish and a PB of 184lb weighed. Marc's biggest Siamese carp of this trip stood at 154lbs. Marc also managed another Chao Phraya catfish a few days later, raising his new PB to 100lbs.
While Alison is a very competent angler, she chooses to relax and has her own routine at the resort. Now and again she may choose to head to the top the lake and fish for a little while, but she loves her photography, her time up at the spa and reading around the pool, as well is being by Marc's side. For both Marc and Alison, a trip here is rest and relaxation from their busy schedule back home in the Midlands, and you couldn't find a more happy, easygoing couple who are just enjoying their life together.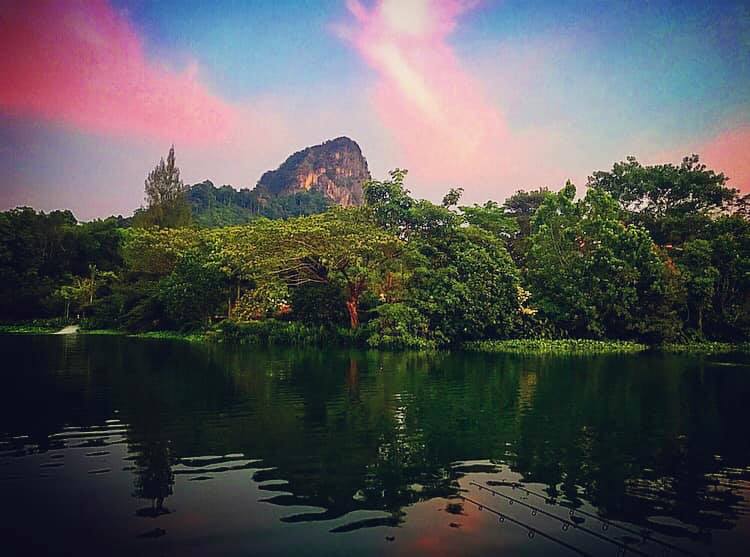 Keith Barnard and wife Nicola from Surrey in the UK had a nice break here at Gillhams Fishing Resorts while on the yearly trip and fourth visit. Nicola spends as much time around the lake as possible, spending her days alongside Keith in his swim. Nicola's as keen as Keith to see him catch fish and told us that being away from the action gave her a fear of missing out on the excitement and anticipation that comes with fishing here at the resort.
We shared a post of Nicola celebrating catching her first fish, a cracking Siamese carp, which gave her and Keith immense pride at what she had achieved. During their holiday, we've had a brilliant group of guests staying at the resort, bringing such a great atmosphere, with the majority being returning customers and all of them getting along brilliantly – it really had a family feel to the resort. Every evening, everyone shared together their tales, efforts, catches and losses from their day. The restaurant had a real buzz in the evening after all their long days fishing.
Keith fished really well, sticking and working a swim for 10 days, targeting mainly Siamese carp and hoping to tame an alligator gar, before changing location for his last three days. Keith stuck to a plan, which resulted in many cracking captures, the pick of them for being two new species – a 100lb Chao Phraya catfish and an alligator gar caught in unlikely circumstances. With a shout of, "Fish coming towards you, Keith!" his line tightening at the same time as the call, all indications showed that he had unfortunately been picked up by the fish from the far bank, but after ten minutes the guides noticed the fish opposite was being netted and Keith's line was still tight and moving. Slow pressure was then applied to the rod, and Keith was actually hooked up to his own fish, which was his target that he thankfully landed. To add to those two new species, Keith had plenty of Siamese carp, a nice pacu and an Asian redtail catfish.
A move of swim also paid off for Keith for his last three days, with Amazon and Asian redtail catfish being successfully caught and Nicola also getting her wish, not once but twice catching two Amazon redtails in quick succession to give the pair of them another trip to remember.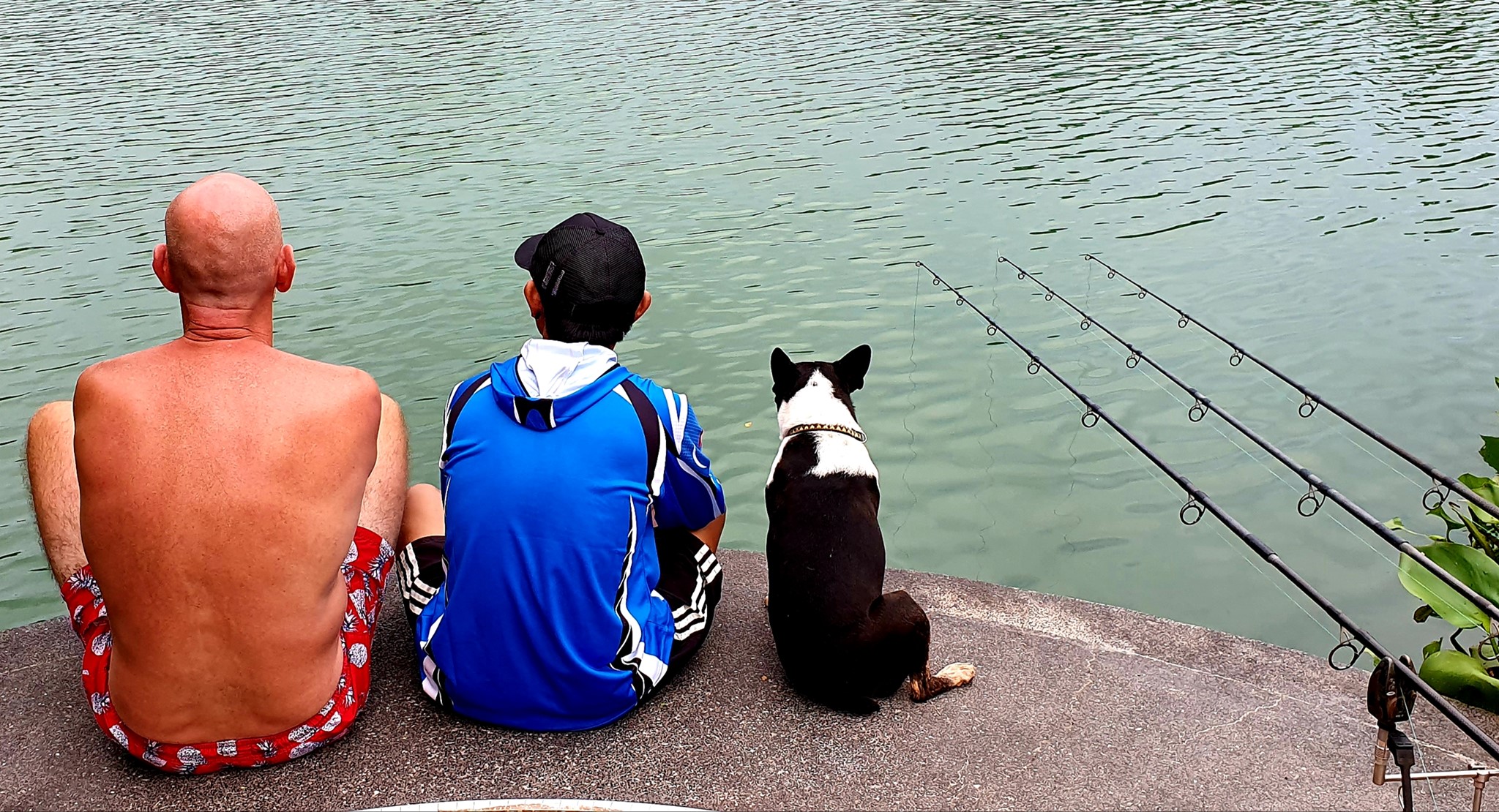 Dan Hursey, wife Dawn and son Reece from Kent in the UK made another return trip with all three fishing together as a trio, taking it in turns for bites. After a great start to the trip, Dan set the family an ambitious challenge of trying to land a metric tonne/ 2200lbs of fish. We do love it when our customers set the bar high, and with the three of them fishing here for a few years now, they know this is a hard challenge, but also a seriously achievable one, with a lot of patience, willpower, good angling and also some welcome luck received from the fish gods. With only a couple of days to go, they were close to their tally but still a little short, with an impressive 1,300lb-plus of Siamese carp and 500lb of Mekong catfish keeping the momentum going for them.
They have ended up with a great new album of fish to remember this year's trip and by the look of them all when they left us, they will all need another holiday to recover from all their hard work and fish battles, as they looked shattered. I think it's safe to say this was their best trip so far. The three of them ended their holiday with the following species to take them to a grand total of 2,261lb of fish landed, exceeding the ambitious target on their final day.
It was young Reece who took them over their target weight by landing a 155lb Siamese carp on the afternoon of the last day and giving him a great PB. Unfortunately the fish was camera shy, and before they could get in the water to celebrate the catch, the carp had other ideas and forced its way out of the net to swim off in to the depths. The other species they caught to help them to achieve the fantastic weight were Mekong catfish, Asian redtail catfish, arapaima and pacu. Thanks again for being great company, and congratulations on a fantastic achievement. We're looking forward to seeing you back again next year.
Thanks for joining us, but unfortunately that's all we've got time for. We'll see you again next month with more captures and stories of what's going on over here in paradise. As always, we would like to apologise to anybody who we missed out of the newsletter, as we can only write about so many. For those of you planning a return or first trip, please send us your enquiry via our enquiries page or email us at gillhamsfishingresorts@gmail.com
Tight lines from all of us at Gillhams Fishing Resorts. We hope your next fish is the one of your dreams, which it probably will be if you come to Gillhams!