Hello and welcome to another month of fishing here in paradise and to the final write-up of 2016. Gillhams Fishing Resorts would like to wish all our customers and followers a merry Christmas and prosperous New Year. Many thanks for your support; we hope all your dreams come true in 2017.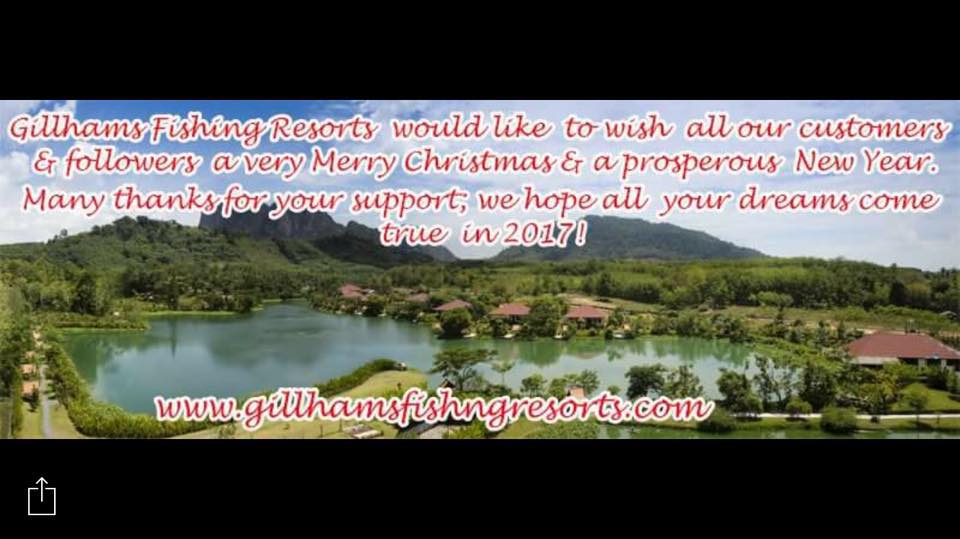 Every year we try to make changes to the resort and keep it looking fresh. By doing this we make sure that Gillhams Fishing Resorts truly is the best fishing resort in Thailand. Over the last couple of years the biggest jobs were the new salas, pathways, room upgrades and of course the lake extension. This year has been no exception, and anybody who has been over in the past few months or following our newsletters or Facebook page will know about the new spa and cooking school of which more will be revealed in next month's newsletter as it comes close to completion. The next thing people will notice on their arrival will be the gardens, all around the resort the gardens have been getting a big makeover especially by the restaurant and outside the main office in the car park. We already have 2017 upgrades in place, which include the restaurant and bar, bathrooms in the bungalows and even poolside suites, all of which will be revealed later next year.
IT'S THAT TIME OF YEAR AGAIN! Gillhams Fishing Resorts will kick off our show season at the Brentwood Carp Show on Saturday 28th and Sunday 29th January 2017. Come and visit us on stand number 65 located in the main hall. We will be offering discounts for cash payments on bookings taken the day at the show. Once again we will be running the Gillhams raffle, a £1 ticket could win you a holiday in paradise.
We are also attending the following shows: Carp Zwolle, Holland February 3/4/5, Carp Reims, France February 25/26, Northern Angling Show, Manchester April 1/2, The Big One, Farnborough April 8/9.
Stuart's pike fishing came to an end as November finished, until his next stint in February. Stuart had a great October/November with three 30s at 33lb 4oz, two at 30lb 4oz, and also ten 20s, two at 29lb 8oz, two at 28lb 8oz, 27lb 12oz, 27lb 8oz, 24lb 4oz, 23lb 8oz, 21lb 8oz and 20lb 8oz. Stuart is already missing his pike fishing and fishing mates and even the crisp fresh winter mornings. Stuart would also like to thank Free Spirit Fishing for providing the best pike fishing rods on the market. While were on the subject of Free Spirit Fishing we would like to Thank Simeon Bond of Free Spirit after giving Gillhams Fishing Resorts the best Christmas present. We have received 80 new Free Spirit Cat Tamers, 20 Free Spirit marker rods and new Spomb rods. Stuart has also been working on the design of Free Spirit's new four-piece Cat Tamer travel rods, which will be available in 2017 and also here at Gillhams Fishing Resorts.
The month of celebrations started with Christmas Eve where we had a table booked at a local restaurant set alongside a crystal clear river opposite the thick rich banks of the jungle. After the meal it was time to hit the town and knock as much drink as possible back before heading home and opening presents. As Christmas Day started, and everybody was rising a the crack of 11am and heading down to the restaurant to line their bellies with a traditional English breakfast before retreating to the pool with bags of beer and cider. At four o'clock everybody met down the restaurant, loaded into the mini buses and headed off to Ao-Nang villa where a very impressive spread was laid out consisting of all the delights you would expect to see on your plate at a Christmas dinner including a few Thai specialties. Once a few drinks had been drunk while watching the sun go down from the cocktail bar, it was time to hit the buffet while listening to the live music and watching traditional dancing and a fire show.
The next celebration was of course New Year's Eve, and at the resort we arranged a big BBQ buffet for all the guests before heading back down to the town. On arrival it was hectic as all different nationalities from around the world partied side by side with local Thais, drinking buckets of cocktails and waving goodbye to 2016 and welcoming the New Year.
That's enough of what's been going on around the resort, so let's get on with the lake and see who's been over and what's been out this month.
The anglers who visited us for the exotic fishing Thailand has to offer had some good fishing in Krabi this month with a total of 597 fish caught of 25 species, made up as follows: 37 arapaima to 360lb, six arawana to 10lb, three alligator gar to 75lb, 146 Amazon redtail catfish to 85lb, three Asian stingray of 140lb, 96 Asian redtail catfish to 45lb, 37 black pacu to 40lb, five big head carp to 36lb, one black shark carp of 14lb, one Chao Phraya catfish of 85lb, eleven giant gourami to 7lb, eight giant featherback to 11lb, 12 Julian's golden carp to 40lb, one mrigal of 12lb, 22 Mekong catfish to 220lb, three Nile perch to 15lb, one Rita sacerdotum of 40lb, two rohu to 12lb, 13 red bellied pacu to 22lb, one spotted sorubim of 20lb, two spotted featherback to 8lb, 182 Siamese carp to 168lb, five tilapia to 8lb, one yellowtail catfish of 4lb.
First up this month we had Dave and Hayley Cass from the UK who chose Gillhams as their honeymoon location, as they're both keen anglers. It's great seeing couples coming over, and even better when they're here both fishing and celebrating their marriage, which should be a long and happy marriage due to the fact that they can both enjoy fishing trips together, unless of course Hayley out-fishes Dave all the time. Obviously it wasn't all fishing, as travelling all the way to Thailand and being on their honeymoon, it would be crazy not to go out exploring what this beautiful place has to offer.
Dave and Hayley had a couple of trips in mind, one of which was the elephant trekking and elephant bath. This is one of the most popular trips here in Thailand, and we only use one particular company, as they seem to take care of the elephants and give them a lot more free range compared to many of the other elephant camps around Thailand. One of the main attractions is being able to take to elephants into the river and bath them as they lie down in the cool spring-fed rivers allowing you to wash them down, and the guide will even take pictures using your camera.
The real reason though was of course the fishing, and even though it was said that there was no competition, it was clear there could only be one Jeremy Wade in this relationship, and the battle was on. Having a very laid back approach to the fishing, and with the lake fishing harder than usual, it was clear they weren't going to be landing large quantities of fish. To make things harder, Dave was feeling ill for the first few days of their trip, but still, this didn't stop them from enjoying their trip, and by the end of there holiday it had to be called a draw. Dave had landed the most fish, including a cracking Siamese carp of 100lb, but Hayley had caught the most species and the biggest fish when she landed an impressive Mekong catfish of 170lb.
Next up we had first timers Simon Hill and James Brett from Nottingham England. After following the lake for a while, the lads finally got it together and got themselves over. Being from up north and friends of fishing guide Lee, they did well to not get lost and end up in the Caribbean somewhere. These were two very keen anglers and wasted no time getting started. Both Simon and James got into fish pretty quickly even though others were struggling. When the trip was done, the lads had managed to land nearly 30 fish of eight species between them including arapaima, Julian's carp and giant featherbacks to name a few. The two most impressive fish both fell to James when he landed his biggest Siamese carp of the trip at 150lb and a stonking tilapia at 18lb.
We had another first time visit from three lads from Tunbridge Wells via a mutual friend, Andy Lush of Friendly Fisherman. John Osborne had been following newsletters and Facebook posts for a few years, and after his friend, Andy Lush, owner of Friendly Fisherman in Tunbridge Wells' recommendation, he finally made the booking. Joining John were fellow anglers Matt Cooper and Toby Henwood, all fishing for five days and finishing with a couple of days for sight seeing and day trips etc. Both John and Toby had an all round good trip; they were both happy with their fish and also a few different species. Matt on the other hand, although he landed some good Siamese carp, he lost almost half his fishing time due to being ill. Matt did manage to land four Siamese carp with two being 90lb-plus. As well as Matt's illness, his fishing hit some bad luck as he also lost several fish due to hook pulls. John and Toby had some better luck with both their health and fishing and managed to land 16 fish between them including Siamese carp just shy of 90lb, Asian redtails to 40lb and Mekong catfish of 150lb and 175lb. During their trip the guys had a couple of messy nights down the town with other guests they had met around the lake and also finished off with a private longtail boat rented for the day to take them around the neighbouring islands before having to call it a day and head off back to sunny England.
Dutch angler Michael Salman, aka Uncle Fester, made a trip to Gillhams also for the first time after speaking to fellow Dutch angler and crazy man Ronald from RTV Henglesport. Michael struggled for his first couple of days, landing just one fish but kept in high spirits, and everything paid off when he smashed his personal best carp by landing a Siamese carp of 136lb and then following that up the next day with an Amazon redtail catfish of 65lb. On Michael's departure, he said that although it took him a couple of years to make the first trip, his second visit will certainly be sooner.
Andy Hargreaves managed to get six days' fishing while on holiday in Thailand with his other half, Claire Bradshaw. Even though the fishing has been hard, Andy kept busy baiting his spots and moving between the main lake and the small lake in order to bump his species up and keep his sanity between fish on the big lake. Andy certainly made use of both lakes and managed to land around 20 fish in total from both lakes. Andy's better catches from the main lake included Siamese carp to 50lb and two Mekong catfish of 160lb and 220lb, although possibly the two biggest fish of his trip managed to drop the hook right by the net, in the form of a giant freshwater stingray and an arapaima. The small lake managed to throw a few nice fish out including, Julian's golden carp, Hoven's carp, pacu, Amazon redtail catfish and a cracking striped catfish. In between fishing they were also able to get a few messy nights on the town with other guests and also a longtail boat trip around Hong Island.
Dutch angler Henk Suylen came for his annual trip with his wife Yvonne. Like some of the other anglers, Henk struggled slightly for the first couple of days, but soon got on the spots and started hitting a few fish. Henk's main target species were Siamese carp, and one over 100lb would be make the whole trip. Fortunately for Henk, the fish gods were looking down and answered his prayers when he landed a Siamese carp of 120lb. As the next couple of days went on, Henk managed a few more carp with weights ranging from 50 to 80lb with a few redtails also thrown in to 40lb. However, Henk's dreams came a reality when he landed his biggest Siamese carp of the trip with a very impressive specimen of 150lb, leaving Henk with a smile from ear to ear and a rather sore back.
Next up we had returning anglers Mick French and Glyn Morgan accompanied by their friend Harry Dale. Mick was a returning customer who wanted to do his own thing and fish his own way. Unfortunately for him, his methods and ideas didn't work, but was determined not to change or to take the guides' advice, and he went on to only land an 80lb Siamese carp and a few species on the small lake. However, Mick did do something that we don't see much here; he admitted that even though the fishing was hard, it was his own fault and stubbornness that put an end to his fishing. Harry and Glyn on the other hand stuck at what they were told, stayed put in one swim and built it up, which in turn put them both onto some great catches. Harry and Glyn both caught some great species, which included bighead carp, stingray and Nile perch amongst others, and even though Harry won on numbers and species, Glyn did have the most impressive catch of the trip when he landed his PB Siamese carp of 105lb. In total they caught 26 fish between them of eight different species.
First time visitor Chris King from England made a trip to Gillhams for a few days' fishing while on holiday with his girlfriend Jodie. The location was surprising, as Jodie was petrified of frogs, and obviously frogs are something that Gillhams has plenty of. Each night Chris would come down to the restaurant to order their takeaway food so that Jodie didn't have to fight her way through the army of frogs that lived around the lake. The days were fine with all the frogs lying around the water's edge, bathing in the water, leaving Jodie safe to sit with Chris watching him battle with the creatures of the deep. Chris wasn't really bothered what he caught, but Siamese carp were a species he was interested in, and luckily for Chris they were on the feed. It wasn't all fishing for Chris; he and Jodie had friends in Thailand, so they went to Phi Phi Islands for a couple of nights of cheap Thai cocktails, hangovers and no frogs. They had also joined up with other couples at the resort and had a few messy nights in Ao-Nang. Chris's final tally was 11 fish, mainly Siamese carp ranging from 60 to 85lb.
Returning anglers Sean Fretwell and his son Owen made another trip out this month also with his wife Lynn and youngest son Max. Even though Lynn and Max weren't into fishing, they still managed a couple of hours here and there fishing the small lake in between chilling out around the pool. Sean and Owen had caught Siamese carp and Mekong on their previous trip, so were both more interested this time in Amazon redtail catfish and of course the arapaima. The redtails were certainly on the feed while Sean and Owen were fishing, with them catching several between them on their first day. Owen's swim was producing a few more than Sean's and also had a couple of arapaima rolling tight along the water hyacinth in the corner.
After a few more redtails and a nice little Nile perch of 13lb, Sean moved into Owen's swim to try his luck with the arapaima. Fortunately Sean's prayers were answered, and he went on to land an arapaima of 140lb. This lead to Sean handing the rods over to Owen so he could now sit back and let his catch sink in. Sean's birthday was also while he was on holiday, so mutual friend Simeon Bond of Free Spirit Fishing had a birthday cake and bottle of sparkling wine ready on the table as they came into the restaurant. Sean and Owen's total was 19 fish with Nile perch, Amazon redtails to 65lb and of course an arapaima of 140lb.
Ray Rutter, the bearded Essex angler came for a week's fishing with his girlfriend Rhian. Ray was very keen to get started, with the species he wanted to target being Siamese carp, Amazon redtail and arapaima, all of which he managed to land as well as a few other species. After catching several Siamese carp to 70lb and an Amazon redtail catfish of 55lb, he had his arapaima, which was passed over from his girlfriend Rhian when the power got too much, not to mention the dirty play by the arapaima taking lunges into the water hyacinth and jumping clear of the water several times. After about 30 minutes of battle, the arapaima was finally in the cage, weighing in at 280lb. With fishing completed, it was time to take Rhian out for a couple of nights before heading back to the fake orange tans and white stilettos of Essex, with a final tally of eleven fish of five species.
Last but not least, we had husband and wife team Jamie and Zoe Smith from the UK. Even though Jamie and Zoe struggled on occasions, they certainly made the most of their fishing time by mixing up the fishing on the big lake and drinking as many Heineken and Chang beer as possible. During their stay they caught several different species including Siamese carp, sorubim catfish, black pacu and both Amazon and Asian redtail catfish.
Well that's it for this month and for 2016. We'll see you again next month with more captures and stories of what's going on over here in paradise.
For those of you planning a return or first trip, please send us your enquiry via our enquiries page or email us at Gillhamsfishingresorts@gmail.com
Best wishes and tight lines from us all at Gillhams Fishing Resorts. We hope your next fish is the one of your dreams, which it probably will be if you come to Gillhams!