Welcome to another month of captures here in paradise at Gillhams Fishing Resorts. We would like to thank all our readers and everybody that follows us on social media for all your support. We've been extremely busy over the past few months and would like to thank everybody who's made the long journey out to us here in paradise. We've had some amazing people here, dreams have come true, personal bests smashed and normal fishing back in people's home countries well and truly ruined due to visiting Gillhams Fishing Resorts, but more importantly some amazing memories have been made.
It's certainly not all about fishing here at Gillhams Fishing Resorts – our onsite Spa & Cooking School are going from strength to strength, offering our non-fishing guests a great holiday experience whether you just want to have some soothing spa treatments or learn to cook some of your favorite Thai dishes while on holiday here at Gillhams.
Our onsite cooking school has become extremely popular, not just for the ladies but also for the guys wanting to cook some of their favorite Thai dishes when back in their home countries fishing. The onsite cooking school is great for our non fishing guests wanting a break from their other halves or even to experience cooking Thai cuisine, which has become one of the world's greatest culinary delights!
Once you've finished cooking, you can enjoy the food that you have created inside one of our elevated salas overlooking the lake, set in our beautifully landscaped gardens. On completion, you'll also receive a complimentary cookbook so that you can recreate your favorite Thai dishes and impress friends and family.
We can also offer a wide range of treatments and packages from our onsite spa including the very popular Gold Package allowing four days of unlimited treatments. We will issue all our non fishing guest (discount cards for Staying guests only) with a spa card offering a 20% discount on your first treatment.
We offer a wide range of other activities and day trips to suit all our customers' needs. Gillhams is becoming a very popular family destination, so it's important to offer day trips to suit everybody. Some of the day trips on offer include island hopping by traditional longtail boat or speedboat, and you can choose between group trips or even make it exclusive and hire a private boat for the day and visit the local islands at your own pace.
Sea kayaking is another fun day out, paddling through mangrove channels and exploring cave systems, which many years ago were homes to the local villagers, explore inside the caves and see many old cave paintings, which are believed to ward off bad spirits.
Elephant trekking can also be arranged, but if the trekking side isn't for you, there are also elephant sanctuaries you can now visit. These sanctuaries don't offer any elephant riding but instead an amazing experience interacting with these magnificent creatures. Learn all about the elephants' dietary needs and help feed and take care of these beautiful animals before walking alongside them and washing them in nearby streams as they lie down playing in the cool springfed streams, giving you some amazing photo opportunities.
We can arrange private cars or minibuses depending on the size of your group taking you to the visit Tiger Cave Temple, Emerald Pools and a relaxing soak in the hot springs or maybe even just a trip to the local night market experiencing some of the local street food.
There are too many activates to mention, but please ask on arrival, and we will be able to arrange the perfect day trips for all our customers. People who have been in over the past couple weeks would have seen the construction going on at the far end of the resort where the old family bungalows are now being converted into a three-bedroom private pool villa. The villa will boast three bedrooms, all of which have ensuite bathrooms, a spacious front room opening out onto a large balcony overlooking the lake, a kitchen and dining area, and of course the private pool overlooking the lake. The villa is already getting heavily booked by guests who have recently checked out and booked their return trip for 2020. If you would like any information or a quote for your next holiday using our private pool villa please email us and we'll be happy to send you a quote.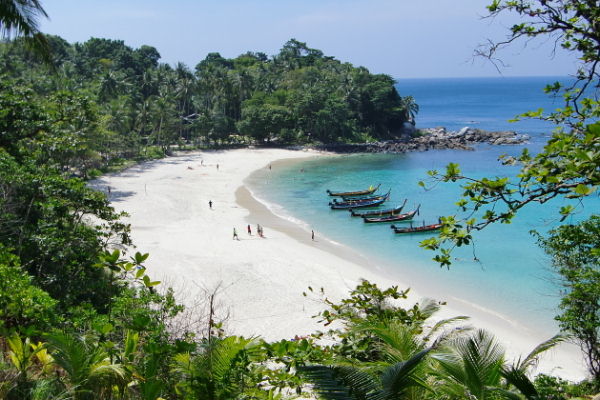 There was a situation that occurred here this month and is not just about here at Gillhams but angling awareness everywhere. If you have been here over the last couple of months, you would have more than likely met the new member of the Gillhams family, Buddy, Stuart's new Hungarian Vizsla dog.
Now as with any dog friendly lake, we have a couple of requests and rules to abide by for the customers… PLEASE do not feed the dogs, and also please be very aware of the fact that the dogs are here on site and are walked round the lake regularly during the day, so please don't leave any baited rigs lying around that could be a temptation for them to eat.
Our other dog, Billy the Boston terrier, is a glutton as many of you will know; he will give you the soppy eyes when you're eating or sit next to your bait bucket when you're Spombing out, hoping to tuck in to anything he can get hold of, especially luncheon meat. We are worried about his size and health and hope you can please respect our request to refrain from being tempted to feed him.
Back to the situation with Buddy… During his early morning walk a few days ago, he managed to get in to a customer's swim just as one of our guides was setting up a fresh baited rig and PVA bag to cast out, and within seconds, before anyone could react, the dog had snuck in taken the fresh baited rig and ate it. This then resulted in a traumatic few days for the puppy with a visit to the local vets, an X-ray and then three-hour drive to another vet who could perform the procedure to safely remove the rig from his esophagus.
Luckily for us, there was no need for open surgery, as they were able to remove the barbless hook safely, and we could bring him home the next day. He is back to his normal gangly puppy self, enjoying life, and hopefully this will be a one-off, as we completely understand accidents do happen. As a general note, please be wary wherever you are fishing globally where animals are around, and please don't leave anything around that could be a temptation for them to grab, as they don't know what is safe and what is hazardous.
So that's enough of all the nonsense… let's get down to business and find out what's been caught and which species have been landed. The anglers who visited us had some great fish over the past month with a total of 749 fish caught of 24 species, made up as follows: 22 arapaima to 380lb, 4 arawana to 10lb, 8 alligator gar to 45lb, 105 Amazon redtail catfish to 85lb, four Asian stingray to 150lb, 68 Asian redtail catfish to 45lb, three bighead carp to 40lb, six barramundi to 6lb, one black shark carp to 20lb, 28 black pacu to 35lb, six Chao Phraya catfish to 130lb, three giant gourami of 10lb, one hovens carp of 15lb, 33 Julian's golden carp to 55lb, 59 Mekong catfish to 260lb, one Nile perch of 7lb, ten peacock-eye stingray to 55lb, 12 red bellied pacu to 18lb, six ripsaw catfish to 25lb, three rohu to 20lb, 355 Siamese carp to 170lb, one tarpon of 20lb, six tilapia to 6lb, four wallago leeri to 50lb.
First up this month we had Nathun Perry & his son Bradley, this was their first experience here at Gillhams Fishing Resorts, but it almost didn't happen. Angling Direct was running a competition called Prince & Princess Of The Catch. It was a nice idea but was obviously little more than, I've got more friends than you type of competition where parents would ask friends and family members to vote for their child in order to get a free holiday here at Gillhams Fishing Resorts.
Bradley took a very early lead due to him already accomplished young angler being known around the lakes and in the fishing community. Bradley has a very good following on social media sites but unfortunately for him somebody in Angling Direct head office took a dislike to Bradley or perhaps they already had a winner picked out. Either way they accused this young lad of cheating, god only knows how a child could have cheated or done anything different from any other child in the competition. Following numerous complaints from Bradley's followers and the fishing community, Bradley was reinstated minus 50% of his votes. Once again Bradley was back in the lead within a week or so and was again accused of cheating. The poor chap was devastated and so upset that his father withdrew him from the completion knowing that no matter what happened Bradley was always going to be penalized.
Thankfully Stuart had seen all this happening to the poor kid on social media and decided to step in and gave Bradley the holiday that he deserved and invited him and his father over as our guest here at Gillhams Fishing Resorts.
You couldn't have wished to meet a nicer young chap, well mannered, polite and within the first day of fishing it was clear why he had a good reputation as a young up and coming angler. He was so enthusiastic and really fished hard every day, both Bradley and his dad caught some awesome fish during their stay and we really cant speak highly enough of this young lads angling capabilities.
It was a pleasure meeting you Bradley, keep doing what your doing and don't let the haters get you down, use their negativity to push yourself harder. One thing we've learnt here at Gillhams Fishing Resorts is that all the time you've got haters your doing something right, if nobody's hating on you then your not doing it right, keep pushing on kid and achieve all you can in life.

Darren and Paula Cooper from Swindon came to Gillhams Fishing Resorts celebrating their 21st wedding anniversary whilst on a two-week stay in Thailand, with a week with us to finish off their holiday. Darren and Paula were great company, always having a laugh, as well as fishing hard during their stay. Darren ended up with 30 fish landed over his seven days' fishing with a great total weight of 1,600lb for all his fish. We're pleased to say they are already booked to come back next year. We look forward to your return and hope you both have many more happy years angling together.
Friend and regular angler here at Gillhams Fishing resorts, James Harris, came in this month on a couple of day ticket sessions while on holiday with his other half. James has fished a lot of different lakes across the country and always approaches his fishing in a relaxed way and just enjoys being at the side of the lake wherever he fishes. He booked two different day sessions with us, the first day having five fish in total. On his return a few days later for his second day, he joked that he wanted the 168lb carp, which had been caught and weighed a few days previously. It looked like it was going to be a no-fish day for James until his rod screamed in to life just before 6pm. Following a 25-minute battle, his prize was in the net, and a new Siamese carp PB for James of 172lb was sitting in front of him. Congratulations, James, and we look forward to seeing you again very soon.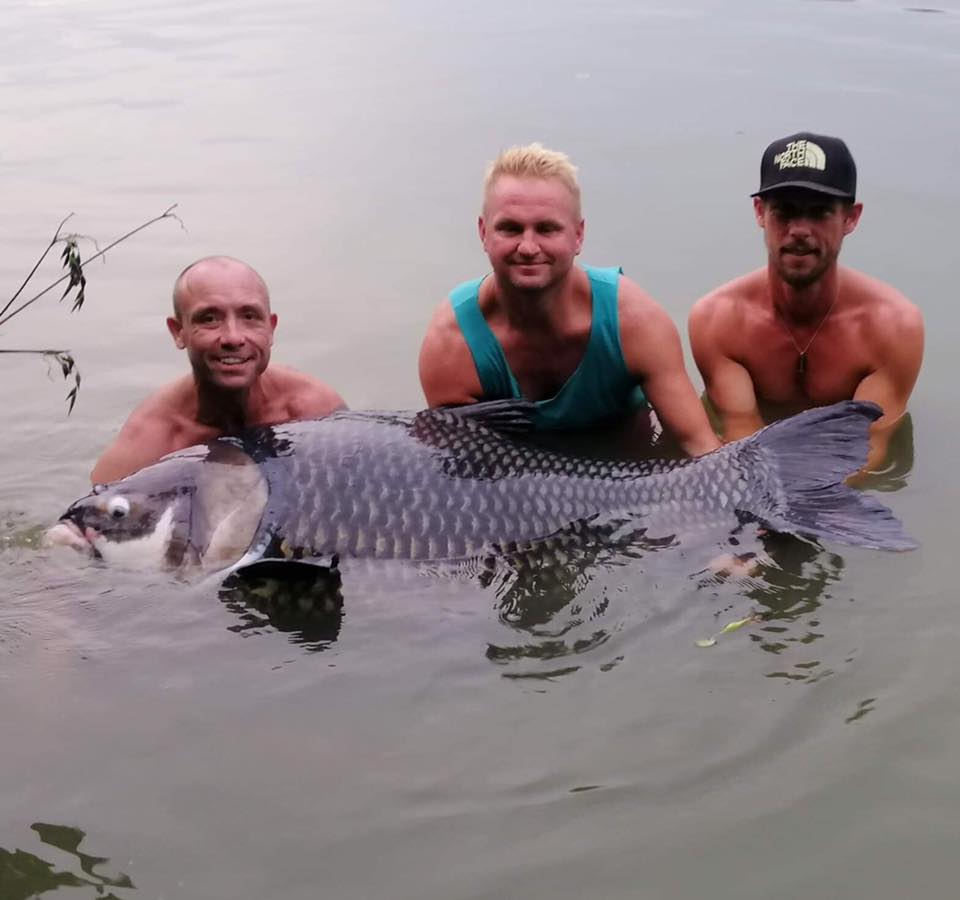 Adam and Mary Brend alongside friends Melvyn and Kim Read were with us here at Gillhams Fishing Resorts for their first visit, and it was a good trip for both couples. While the guys fished hard each day, their better halves relaxed by the pool and put to good use all the facilities available to them here at the resort. Kim and Mary left us fully refreshed and extremely happy with their stay and advised of their intentions to be back as soon as they can.
Below are a few of the catches from Adam during a successful holiday here with us in paradise, including a great photo of a cracking Black Pacu and also a lovely shot of him and Melvyn with a 100lb-plus Siamese carp.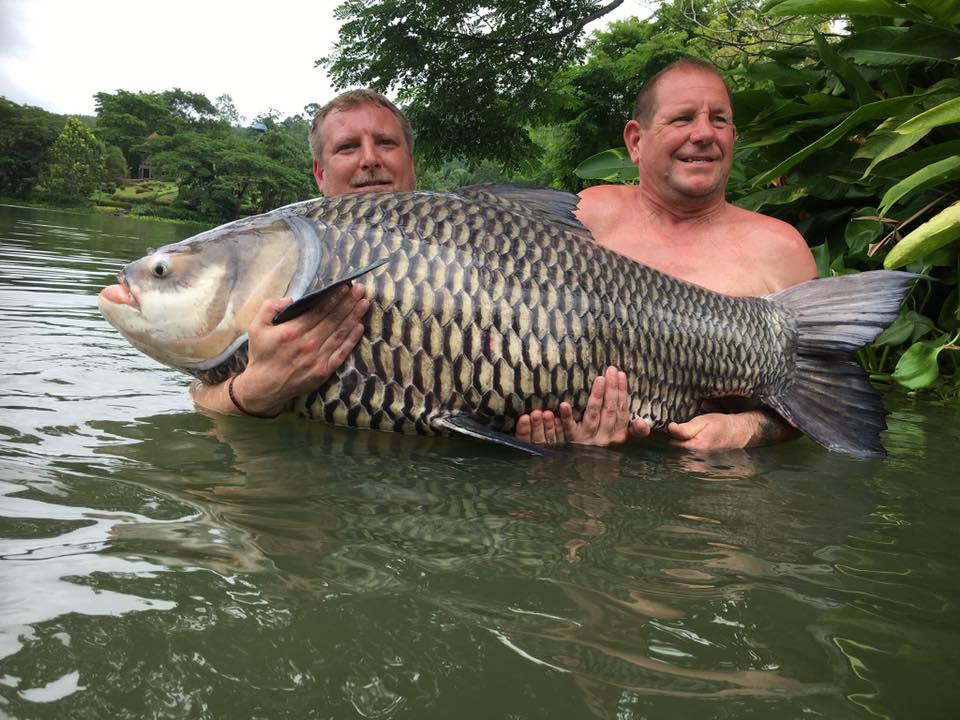 This was Nick Rhodes' and John Beeby's first experience of fishing in Thailand here at Gillhams Fishing Resorts, and it was a real eye-opener for the pair from Derbyshire, UK. They fished for six days side-by-side and shared bites, so if one swim was more productive, they could both benefit equally. This worked well for them, and after three days, they had landed ten Siamese carp with a couple of losses. On their last three days, they tried to target some of the other species available and added an arapaima, Chao Phraya catfish, barramundi and Asian redtail to their catch list as well as continuing with Siamese carp. We'll definitely be seeing Nick and John again and look forward to seeing how they approach their next trip with multiple species on their wish list to try and catch.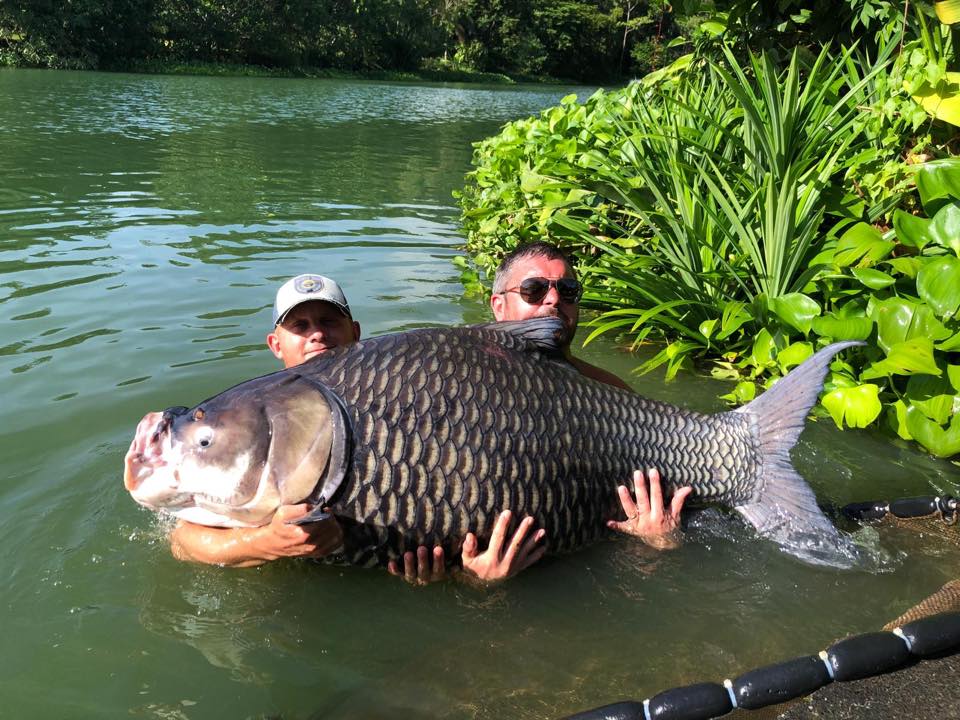 Essex-based Lajos Gulyas made his first trip out to Gillhams Fishing Resorts for a seven-night stay along with his friend Ervin to experience the fishing here in paradise. The pair were a pleasure to have around the resort; they couldn't have been more polite and appreciative for everything that was done for them while they stayed with us. The guys fished hard every day and managed to catch some great fish including some nice species ticked off their wish list. The guys didn't just fish; they also took in some of the trips that are available to book, including a trip to the Tiger Temple, Emerald Pool and hot springs and they also managed to fit in a four-island tour one afternoon.
Regular visitors and friends to Gillhams Fishing Resorts, Bernie Campbell and his son Gary, made another return trip. Bernie also brought his wife Karen and good friends Susan Latham and her son David to join them. Bernie and Gary are pure Scouse in every sense of the word; it's a laugh a minute with the banter and antics between them, and without doubt, the whole resort knows they are here. They are definitely keeping us on our toes, but we wouldn't have it any other way. Gary and Bernie both take their fishing seriously, but they fish on their own terms and to their own hours. Some days it will be no surprise to see them cast the first rod out at 7am and then the next day it could be closer to midday. Still this hasn't impacted their results with some cracking species being landed including arapaima, rohu, Mekong catfish, Chao Phraya catfish, Julian's carp and an Amazon stingray to name a few. The Mekong normally notoriously dominate the warmer, dry months on the lake due to the reduced natural food in the water with the high temperatures the dry season brings, so to have seven hooked in all corners of the lake was a nice surprise for us, but maybe not for the customers who were tested to the limit by these magnificently strong creatures. Below is a result for Gary Campbell who won his battle after one hour and 45mins with a near-perfect specimen fish that was estimated around 175lbs.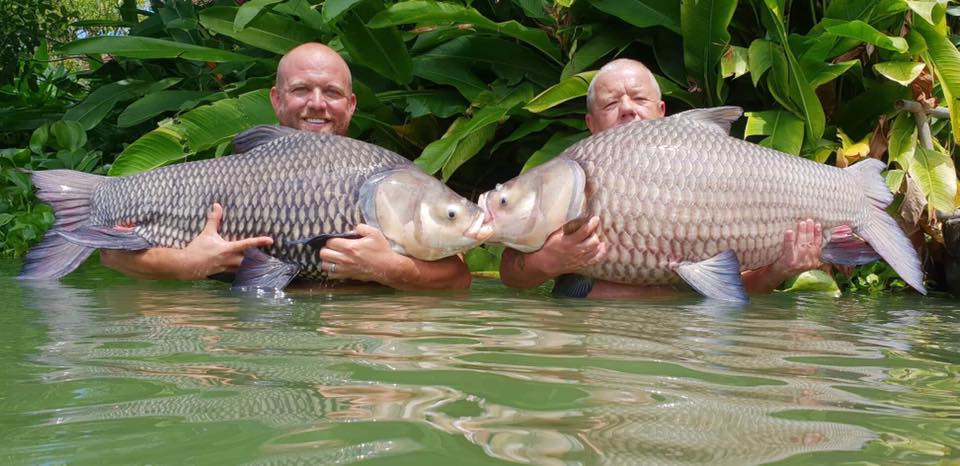 We had the pleasure of having one of the UK carp fishing scene's most well known and brilliant personalities, Ian Russell, staying here at Gillhams Fishing Resorts along with his good friend Keith Skelley. After many years of promising Stuart he would make the journey over here, Ian finally booked and ventured to paradise. This was a holiday above everything for Ian and Keith with the fishing being a bonus, but like many of you, they both became mesmerised by what lurks below the depths. During daily chats with them, they would come out with comments about the fish jumping out, saying they'd never seen anything like it, with fish the size of a small van rolling like they do. For those words to come from someone who has fished places some of us could only dream of is an amazing statement by itself. They were just as happy sharing the experience with other anglers catching fish as much as catching fish themselves, so much so they stopped fishing with a day to go, happy and content with what they had caught, just so they could relax and take in the excitement from different anglers catching and sharing their moments with them. We had Ian on live stream where he got to feel the power of the mighty Mekong catfish for the first time. Unfortunately he had a hook pull after 50 minutes battling the beast from the deep. Ian got his revenge the next day however when he landed a 55kg-plus Mekong, and then the day after, Keith managed a 100kg Mekong. We had a good time having them here with plenty of banter and pisstaking. The guys, like many of you, fell in love with the resort and will be back very soon.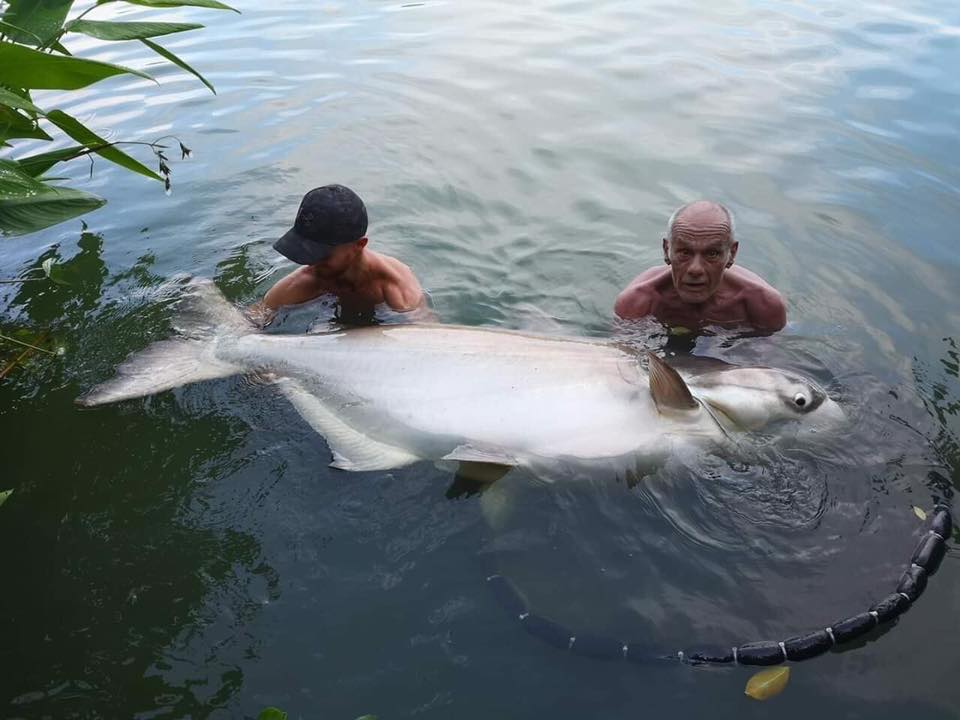 Alix Hepworth from Sutton Coldfield had another memorable trip here at Gillhams Fishing Resorts with targets set after his last trip. Alix achieved all his targets and more, leaving us with an impressive selection of stunning captures to be proud of and some great new PBs set. Alix really fished well and stuck to his game plan. He wanted to start by targeting the Siamese carp and hopefully achieve a new PB over 100lbs, and he completed this goal with a few different fish, leaving with a new PB of 110lb. He then wanted to try and target some other species, with an alligator gar high on his wish list, and he also had his heart set on catching one of a pair of arowana, which teased him everyday in front of his swim. As you will see below, he completed both of these targets too with awesome captures and brilliant trophy shots to share with you.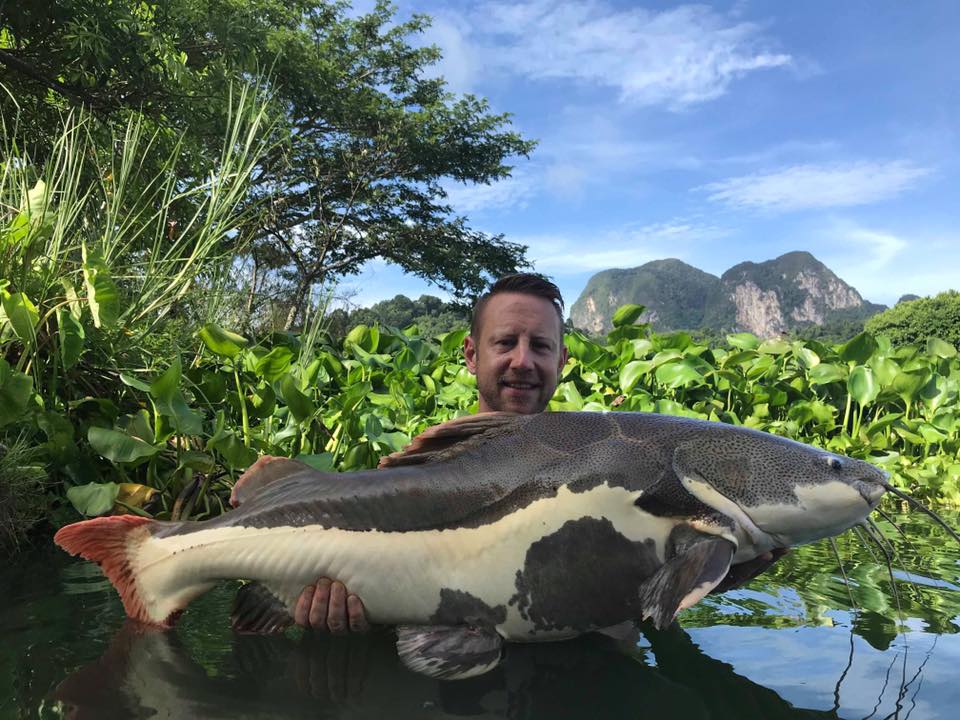 Essex-based angler, Nick Grimes, booked his first stay with us after hearing all the stories from his cousin Steve about Gillhams Fishing Resorts. The perfect time had come to travel over and witness it for himself Nick travelled over with his wife, Jo, and they used the holiday as a perfect reunion spot to catch up with their son John who has been travelling around Australia. Nick fished for six days and son John for three days, and the family managed to have a lovely reunion as well as going to battle with some of the beasts that swim beneath. Nick has fished in Asia before, in Japan, and whilst there he caught a seriously impressive black carp of 130lb from the river. This was during one of his trips over visiting his cousin who was working and living there. His sole focus whilst fishing with us was the Siamese carp. He really hoped to add another carp species over 100lbs to his list.
After a few days of coming close with multiple carp landed, he managed to land a 105lb specimen just before packing up on his thirrd day. Nick and son John had a great celebratory picture of this capture, and with the pressure now off for Nick, the family continued to have a great time with John getting his share of fish and wife Jo enjoying her time with the boys and relaxing at the resort. Before his time was up, Nick upped his Siamese carp PB with a 140lb-plus giant to finish off the first week of their family holiday. He even persuaded wife Jo to join him for the picture of that awesome fish. The whole family had a great experience here with us before moving on to the beach for their second week in Thailand.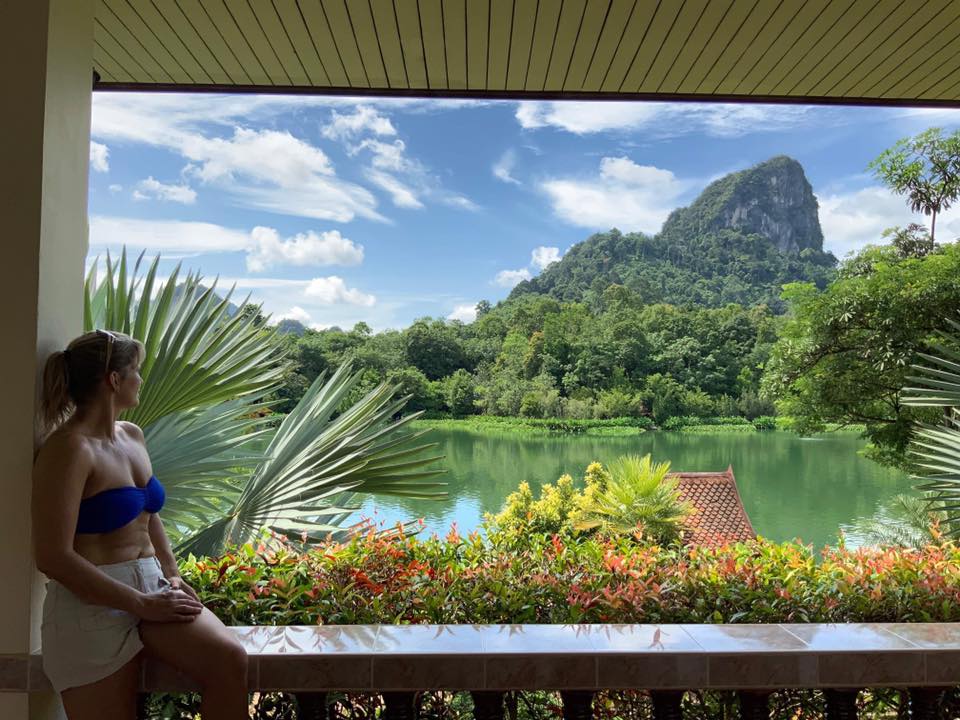 Returning Australian angler, Paul Worsteling, has joined us once again along with his wife Cristy and son Jet Reef. Also joining Paul and his family are their good friends and first-timers here at Gillhams Fishing Resorts, James and Kristy. Some of you might know the name or recognise Paul Worsteling, as he's one of the most recognizable faces in recreational fishing in Australia after making a guest appearance on Rex Hunt Fishing Adventures, which led to a four-year stint as Rex Hunt's co-host. The show ended, and Paul started the popular IFISH program, which is now regarded by many as Australia's premier fishing program. Paul and Jet both caught some great fish while here at the lake including a cracking Julian's golden carp weighing bang on 50lb for Paul and a beautiful 95lb Siamese carp for son Jet.
Thanks for joining us, but unfortunately that's all we've got time for. We'll see you again next month with more captures and stories of what's going on over here in paradise. As always, we would like to apologise to anybody who we missed out of the newsletter, as we can only write about so many. For those of you planning a return or first trip, please send us your enquiry via our enquiries page or email us at gillhamsfishingresorts@gmail.com
Tight lines from all of us at Gillhams Fishing Resorts. We hope your next fish is the one of your dreams, which it probably will be if you come to Gillhams!