Welcome to another instalment of captures here in paradise at Gillhams Fishing Resorts. We would like to thank all our readers and everybody that follows us on social media for all your support.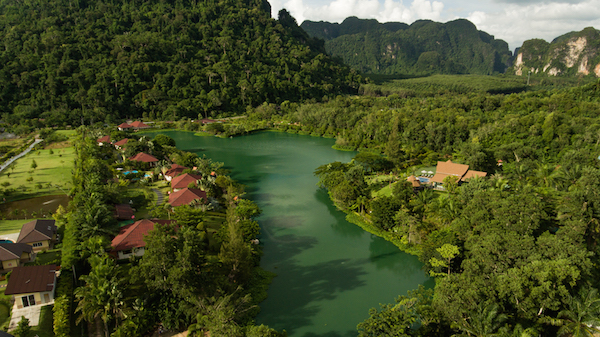 Now that Stuart, Benz and Jack are living in their new house, work can get started on the new villa here at the resort. The old family bungalow is being converted into a three-bedroom private pool villa the groups or even just for a family that wants some privacy and to lounge in their own pool outside their rooms. The works are going to be underway at the beginning of June, so please look out for the updates throughout the next couple months in newsletters and on social media. Were already taking bookings for the villa for 2020, so if you would like any information or prices for the new villa, please email us, and we can quote for your visit here in paradise.
So April has been and gone and with it another crazy Songkran, now this is one of my favorite festivals of the year. This huge water festival takes place every year in Thailand from the 13th of April. Here in Krabi, it lasts two days, but in other places like Bangkok, Pattaya and Chiang Mai etc, the madness can go on for seven days. It's always good fun with many of the same faces each year. Songkran originated many, many years ago, marking the end of the dry season when locals would throw away stored water and make everything ready for the rains to start so they can refill with fresh water. Over the years, it's turned into one of the biggest, wettest and craziest water fights in the world. This year was no different, as we took to the streets in the truck, loaded with two 600-litre water bins filled with water, and of course, lots of ice sacks to really give other revelers a big shock. We managed a run-in with the law as well due to our water cannons being too powerful, almost taking a few eyes out. We not only had the police but also soldiers chasing our truck down the road shouting, "Water cannons not allowed!" and having our guns taken away.
As usual, April and May have been extremely hot with temperatures hitting the high 40's and no rain whatsoever for the past couple of months. This can cause numbers of fish getting caught to drop slightly, but we are still getting plenty of huge fish landed daily including some cracking Siamese carp, also some of the rarer species here at Gillhams have been making an appearance. The one downside here in April and May with the hot weather is that the Mekong catfish love the high water temperatures, now the hot weather is the last thing you want when doing battle with these beasts. Julian's golden carp also prefer the higher water temps. Julian's are one of the most stunning species in the lake and a very sought after species for our visiting anglers.
So that's enough of all the nonsense… let's get down to business and find out what's been caught and which species have been landed here in the land of smiles and monster fish. The following catch report covers both April and May 2019. The anglers who visited us had some great captures over the past couple of months with a total of 1,483 fish caught of 23 species, made up as follows: 81 arapaima to over 300lb, six arawana to 10lb, nine alligator gar to 60lb, 325 Amazon redtail catfish to 70lb, four Amazon stingray of 45lb, five Asian stingray to 150lb, 133 Asian redtail catfish to 55lb, nine bighead carp to 40lb, three barramundi to 6lb, two black shark carp to 18lb, 32 black pacu to 50lb, two Chao Phraya catfish of 110lb, one giant featherback of 8lb, three giant gourami of 8lb, 31 Julian's golden carp to 59lb, 43 Mekong catfish to 260lb, two Nile perch to 8lb, 31 red bellied pacu to 26lb, six ripsaw catfish to 25lb, four rohu to 20lb, two striped catfish to 40lb, four spotted sorubim to 32lb and 737 Siamese carp to 176lb.
UK angler and regular here at Gillhams Fishing Resorts, Graham White, made another trip out to our anglers' paradise. Joining Graham was wife Sue, daughter Ashley and grandchildren Alex and Jasmine. Every time we have Graham and his family here is a pleasure, as you couldn't wish to meet nicer people or better behaved children who are a real credit to their mum, Ashley. The holiday was mainly spent here at the resort, spending quality time together with plenty of swimming and relaxing around the lake while Graham fished. The kids also booked up some Thai cooking lessons here at our onsite cooking school. It's a beautiful spot and pure paradise around the lake, but it's a very long way to come and not take in the beautiful surrounding areas of Ao-Nang and the neighboring islands, so Sue and Ashley arranged a few day trips to take the kids on, leaving Graham behind to sit by the lake and get stuck into some monsters.
They enjoyed a few trips including sea kayaking around the mangroves and exploring the caves, elephant trekking and bathing the elephants in the cool spring fed rivers. Then it was down to the Ao-Nang seafront for a spot of souvenir shopping and a boat trip out to James Bond Island. Graham, as always, had a great time fishing and managed to land some cracking fish with species including Siamese carp to 120lb, rohu carp, Mekong catfish to 180lb, both Asian and Amazon redtail catfish and a cracking Julian's golden carp, which was weighed at 59lb.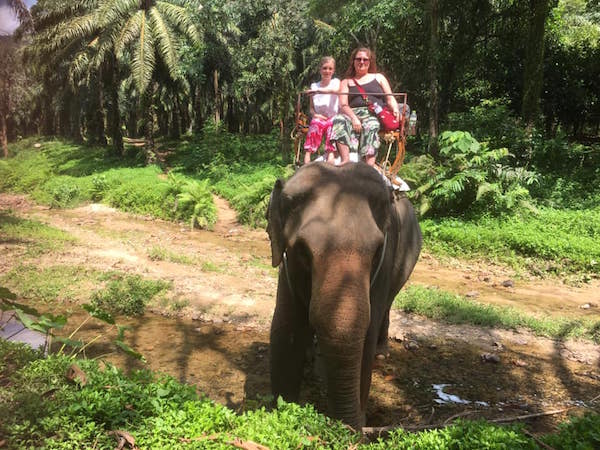 Barry Buckley from Manchester, England, came for a short two-day trip while on holiday with his other half. Well, he should have been here with his other half, but luckily for Barry, he caught her messing around before booking flights so saved himself some extra spending money and enjoyed the trip by himself. Only having two days to fish and unable to extend his stay due to the resort being full, Barry knew he had to work hard and also have some luck on his side. Barry certainly did have luck on his side and managed to land 13 fish in total with Amazon redtail cats to 80lb, Siamese carp to 70lb and a stunning alligator gar estimated around 55lb. Below is a great sequence of pictures of his prize catch, giving him a real good slap round the back of the head.
Steve James and Paul Jones made another return this month, the first of two trips booked up for 2019. Steve and Paul have been regular visitors here at Gillhams for many years now and tend to make at least two trips every year. Paul's gone one step further this year by booking a third fishing trip. Once he's finished his second trip of the year out to us in October, he'll then be flying out to Papua New Guinea with Nick, Kyle, Darren, Trigger and me, targeting the black bass, GT's, dogtooth tuna and many other species. Unfortunately, Steve couldn't make the Papua trip due to family commitments back home in the UK. Steve takes a very laid back approach to fishing but gets good results. After all, it's supposed to be a holiday and a break from the real world, so why not enjoy yourselves? We see way too many anglers beat themselves up and in turn ruin their trip if they're not catching all the time. It's fishing, and unfortunately sometimes for no apparent reason, it just doesn't go how you planned. Steve and Paul both caught some great fish during their trip with a total of 46 fish of seven species. Their best captures included Siamese carp to 130lb, Mekong catfish to 170lb, Julian's golden carp to 45lb and Amazon redtail to 65lb. The two biggest fish of the trip went to Paul Jones who caught an arapaima of 280lb, unfortunately the fish escaped the net leaving just a blur as it went over the top of the cage. The trip wasn't all fishing either as we managed a weekend away in Bangkok watching Tom Greens comedy tour along with special guests Kavin Jay & Stephen Amos. The night went well with plenty of laughter and alcohol, around 2am we headed back to the hotel to get our heads down before meeting up in the morning for a swim and breakfast before heading off to the airport. This was when we came across Chris Pache who hadn't even been to bed and was still drinking by the pool which only meant one thing. Chris was by now absolutely hammered and it was hard working getting him checked out the hotel not to mention getting him through check in at the airport. Luckily we had plenty of time before the flight so we were able to sober Chris up slightly, by leaning him up against Boots Pharmacy window in the departure area we were able to get him a couple hours sleep before the flight, bloody Brits abroad.
Unfortunately that's all we've got time for. We'll see you again next month with more captures and stories of what's going on over here in paradise. We would like to apologise to anybody not included in the newsletter. For those of you planning a return or first trip, please send us your enquiry via our enquiries page or email us at gillhamsfishingresorts@gmail.com
Tight lines from all of us at Gillhams Fishing Resorts. We hope your next fish is the one of your dreams, which it probably will be if you come to Gillhams!