Welcome to another month of captures here in paradise at Gillhams Fishing Resorts. We would like to thank all our readers and everybody that follows us on social media – thank you for all your support.
So that's it! 2017 has been and gone, and it was another good year for us here at Gillhams Fishing Resorts. The beginning of the year there was a new member to the Gillhams family with the birth little Riley, Becca and Dale's first child. We also opened Benz Spa and Cooking School and upgraded all the bathrooms and rear bedrooms and have also added suite rooms to seven of our bungalows. We also had more filming here at the lake with Korda's Monster Carp series that will be aired in July of this year. Stuart and Benz have also been building their dream home that is almost complete and will be ready to move into when Stuart returns from show season in Europe. We have also scheduled for June this year a full refurb on the restaurant and bar here at the resort. It never stops, and every year will see more improvements making it clear to see why Gillhams Fishing Resorts is regarded by many as one of the top fishing resorts in the world.

We had a lot of the regular Christmas crowd over along with a few new faces, and apart from having to make a mad dash to escape the rain at the Christmas party, everything went well. It all started off on Christmas Eve, taking all the customers out to a local restaurant before heading into town for a few drinks in a few bars around Ao-Nang. The following day was very relaxed and is the only day we don't fish here at Gillhams, leaving everybody to relax around the pool, head to the beach or enjoy a day trip out with the family. Later on in the day, around 4pm, we all head down to Ao-Nang Villa where we have a private Christmas party lined up with Thai boxing demonstration, live music and fire shows. We have a full Christmas dinner buffet with all the trimmings including many Thai favorites for the people that really want to avoid anything traditional.
The next night of partying is of course New Year's Eve. The fishing finishes early, and we have a big BBQ at the resort before heading back to the town to watch all the firework displays along the beach and sending up Chinese lanterns into the sky with well wishes written on before the big countdown waving 2017 goodbye and welcoming 2018 before dancing the night away while drinking far too much alcohol.
Show season is now approaching fast with our first show kicking off on the 27th and 28th of January in Brentwood, Essex. Gillhams Fishing Resorts will be in the main hall, stand number 59 next to Korda. Following this, our second show will be in Holland at the Zwolle Carp Show on 2nd, 3rd and 4th of February. Next will be the Northern Angling Show being held at Event City, Manchester on the 24th and 25th of February. Our final show will be the Big One at Farnborough on the 24th and 25th of March. We will be running the Gillhams raffle as always, with the first prize being a holiday here in paradise. The lucky winner will be called at 4pm on Sunday the 25th of March at The Big One, Farnborough and this will be done via a live feed on our Facebook page. Further details and prizes will be advertised closer to our first event at Brentwood. We will also be offering discounted rates for all holidays booked and paid for at the shows. We look forward to meeting any new customers and of course seeing regular customers and friends. Please feel free to approach the Gillhams Fishing Resorts stand and discuss your dream fishing holiday with any one of our team members on hand.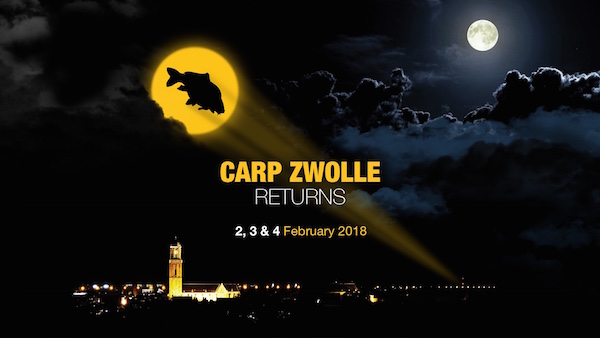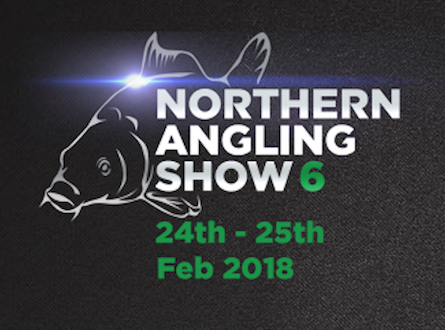 The Siamese carp have once again made lots of anglers' dreams come true with a total of 289 Siamese carp being caught with 62 carp over the magical 100lb, and the biggest being 170lb. The arapaima have still been feeding well with a total of 59 landed this month, which included 44 over 100lb, seven over 200lb and eight over 400lb. The mighty Mekong catfish have been down this month with rain dropping the water temperature but guests still managed a total of 26 Mekong catfish landed with 19 over 100lb and seven over 200lb.
So that's enough of all the nonsense. Let's get down to business and find out what's been caught and which species have been landed. The anglers who visited us for the exotic fishing Thailand has to offer had some good fishing in Krabi this month with a total of 825 fish caught of 24 species, made up as follows: 59 arapaima to 400lb, seven arawana to 6lb, ten alligator gar to 70lb, 242 Amazon redtail catfish to 85lb, seven Amazon stingray to 25lb, four Asian stingray to 150lb, 78 Asian redtail catfish to 50lb, eight barramundi to 8lb, three big head carp to 40lb, three black shark carp to 22lb, 32 black pacu to 50lb, one Chao Phraya catfish of 90lb, five giant gourami to 12lb, nine Julian's golden carp to 45lb, 26 Mekong catfish to 240lb, one rita sacerdotum of 65lb, 22 red bellied pacu to 35lb, one striped snakehead of 2lb, one sorubim catfish of 25lb, 289 Siamese carp to 170lb, six tilapia to 5lb, four tambaqui to 60lb, five tiger shovel nose catfish to 25lb and one wallago leeri of 12lb.
First up we had we had Polish angler Adam Niemiec join us for a day's fishing while on a family holiday here in Thailand. We first spoke to Adam several months before when he contacted asking if it was ok to do a write up in his Polish fishing magazine. We sent some pictures to Adam who did us a nice half page ad. We later offered Adam a day's fishing while he was in Krabi on a family holiday so that he could then do another write up of a first hand experience. We picked Adam up along with his family in the morning and set off for the lake. Once we got to the resort, Adam was kind enough to issue us with hats and T-shirts with the magazine logos and a very nice bottle of Polish vodka, which went down very nicely on Christmas day. Adam's day started off with a nice black pacu of 35lb followed with a huge Siamese carp, which was live streamed and weighed at 158lb, Adam later went on to top his day off with a Mekong estimated at 120lb. Once Adam returned to Poland he got to work on an article in his magazine called Wedkarski Swiat (translated to Angling World Magazine) and gave us a great five-page write up and front page picture with his Siamese carp.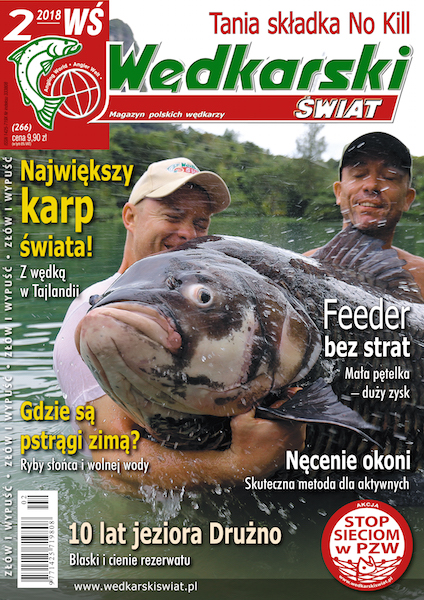 Next up were regular Dutch visitors Henk Suylen and his wife Yvonne. Henk works for Pro Line in Holland and has been fishing here at Gillhams Fishing Resorts for several years now. This was another great trip for Henk, landing nine Siamese carp with five over a ton at 105lb, 115lb, 125lb, 125lb and topped off with a new personal best of 170lb. Yvonne wasn't going to let Henk have all the fun and wanted to fish too, going on to land a cracking Siamese carp of 130lb. Congratulations, Yvonne, on a great capture. Henk also caught both Asian and Amazon redtails to 60lb, arapaima to 120lb and new personal best Mekong catfish of 200lb. What a great trip! Well done Henk and Yvonne – we will see you next time you're in Thailand and in February at the Zwolle Carp Show.
Another day ticket angler in this month was Andy Link from Yorshire. With a love of tea and swearing, it was clear there was something more to this guy. We found out later that Andy was actually known in the underground art world as AK47 The Art Terrorist, and currently there's a documentary/movie out covering one of his biggest art heists involving Banksy, another underground artist who planted a huge statue in the middle of London without anybody questioning where it came from. Andy Link and his team stole this statue in broad daylight and held it to ransom due to an earlier falling out with Banksy. It's a funny old world, and after reading more about Andy online and all the guides and I can't wait until he returns to find out more of his crazy antics. Andy went on to have a great day's fishing and landed a huge arapaima over 400lb on his first cast. Later that day his second fish was landed, this time a huge Siamese carp weighing 120lb, followed by his third fish of the day at 40lb and Asian redtail catfish. The documentary about the statue heist is called The Banksy Job and is well worth a watch. It will have you laughing, and you will certainly look more into this Yorkshire character Andy Link aka AK47, The Art Terrorist.
Returning UK angler John Poole left his son at home this time and brought his nephew Jack Haines for his first visit to Gillhams Fishing Resorts. John bought some worms with him from the UK after speaking with some of the guides on a previous trip about catching different species. We've known for a while that our Amazon stingrays have been breeding in the lake, but until recently we hadn't realized just how many we now have. John and Jack caught four on the same day and another angler landed three. We also had guide Lee catch another four on his day off, and odd rays have been caught around the lake all between 2lb and 8lb, which have all now been removed from the lake and relocated to the spa ponds.
John's catches were better than his previous trip, and he managed to catch new species that were on his hit list like the Chao Phraya catfish of 90lb, tambaqui of 65lb, Asian stingray 150lb and Siamese carp to 110lb. In total John caught 21 fish of eight species. Jack also landed some good fish including Amazon redtail catfish to 85lb, rita sacerdotum of 42lb, Siamese carp to 100lb with his biggest of the trip being a Mekong catfish of 200lb. In total Jack caught 15 fish of seven species and no chance of ever enjoying his UK fishing ever again.
Next up was our good friend Gary Newman. Gary has fished all over the world and caught some amazing species of huge sizes, but has always come up short on one particular species he's wanted to land over the magical 100lb. The species in question is the Siamese carp. Gary has fished in Thailand many times over the years but has always fallen short of the prize. The closest Gary has come was several weeks ago while filming Korda's Monster Carp series here at Gillhams Fishing Resorts when he landed one he thought was close but came up short by 2lb, with the fish weighing in at 98lb.
Gary was coming over to join us for Christmas and was hoping to get his ultimate Christmas present. Fortunately for Gary he had been a very good boy this year, as Santa brought him the one thing he wanted in the form of a Siamese carp weighing in at 110lb. Gary was absolutely buzzing and headed off around the lake to tell everybody about his capture and to stop in the bar for a cold celebratory Tiger beer. True to form, like most things you chase for years, once you get over that hurdle, it becomes easy, and Gary was soon landing 100lb'ers like they were 30s. Gary went on to land a total of 25 Siamese carp with eight over a ton. All these were weighed at 102lb, 110lb, 110lb, 116lb, 120lb, 125lb and 147lb, leaving Gary with a new personal best carp of 158lb. Congratulations, Gary – you certainly worked hard for them, mate, and earned every one of them – well done.
Next up was Gillhams regular Christmas guests Eddie and Lynne Grey. It's great to see Eddie and Lynne every year, as they've been joining us for Christmas for the last several years now, and to tell you the truth, Christmas just wouldn't be the same without them. They've certainly become part of the family here at Gillhams Fishing Resorts. Eddie started off his Thailand trip trying out a couple of other venues and even met up with another Gillhams regular, Steve Walters, who had just done a week's fishing here and was returning with Eddie and Lynne for Christmas and some more fishing down here. Eddie's always a very laid back angler and even meets Lynne in the restaurant every morning for breakfast, something you wouldn't see most anglers do. Once breakfast was done, Eddie and Billy the Boston terrier would head back to the lake while Lynne would head off to the pool with Sandy Bartlett who's also a regular visitor to Gillhams over Christmas along with her husband, Dave. Throughout Eddie's trip, he caught some great fish, and even though he didn't catch large numbers of fish, he did land Asian redtail cats to 35, black pacu, arapaima to 120lb and Siamese carp to 130lb.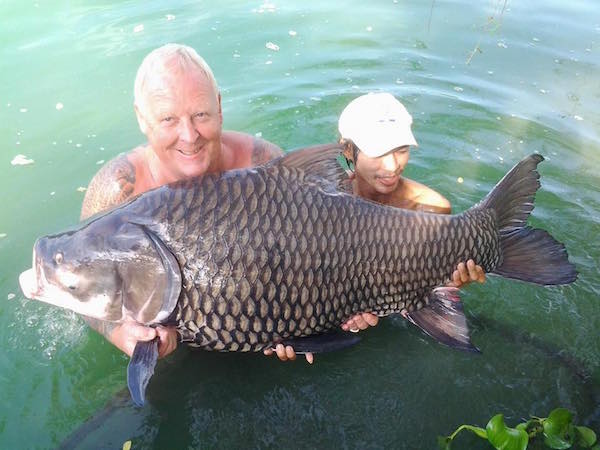 Unfortunately that's all we've got time for this month. We'll see you again next month with more captures and stories of what's going on over here in paradise. As always, we would like to apologize to anybody that we missed out of the newsletter, as we can only write about so many. For those of you planning a return or first trip, please send us your enquiry via our enquiries page or email us at gillhamsfishingresorts@gmail.com
Tight lines from all of us at Gillhams Fishing Resorts. We hope your next fish is the one of your dreams, which it probably will be if you come to Gillhams!