Welcome to another month of captures here in paradise at Gillhams Fishing Resorts. We would like to thank all our readers and everybody that follows us on social media – thank you for all your support.
While writing this newsletter, I'm sat here on a dark, drizzly cold winter's day… Yes, you've guessed it! I'm sat in poxy England freezing my man boobs off, and I'm not impressed. I can hardly move, and it's not just because of the extra winter weight I'm carrying; it's due to the layers of clothing I'm wearing. I'm not used to wearing anything other than shorts, T-shirts and flip-flops.
So far the shows have all been going well with the Brentwood Carp Show in Essex and the Zwolle Carp Show in Holland have been and gone. It was great meeting new customers and of course many returning customers and friends. Next will be the Northern Angling Show being held at Event City, Manchester on the 24th and 25th of February. Our final show will be the Big One at Farnborough on the 24th and 25th of March. We will be running the Gillhams raffle as always, with the first prize being a holiday here in paradise. The lucky winner will be called at 4pm on Sunday the 25th of March at The Big One, Farnborough, and this will be done via a live feed on our Facebook page. Further details and prizes will be advertised closer to our first event at Brentwood. We will also be offering discounted rates for all holidays booked and paid for at the shows. We look forward to meeting any new customers and of course seeing regular customers and friends. Please feel free to approach the Gillhams Fishing Resorts stand and discuss your dream fishing holiday with any one of our team members on hand.
Due to not being in Thailand over the next couple months, the newsletters will be shorter than usual and will be more of a catch report rather than write-ups on customers, as I've no information on anglers around the lake. I would also really appreciate any anglers who have recently visited our resort to email over any fish pictures they have so they can be used not only in our newsletters but also our Facebook page.
The Siamese carp have once again made lots of anglers' dreams come true with a total of 381 Siamese carp being caught with 78 carp over the magical 100lb, and the biggest being 170lb. The arapaima have been feeding well with a total of 41 landed this month, which included 26 over 100lb, nine over 200lb and six over 400lb. The mighty Mekong catfish have been breaking anglers this month with a total of 26 Mekong catfish landed with 30 over 100lb and nine over 200lb. We've also had Chao Phraya catfish to 150lb, giant stingrays to 140lb.
So that's enough of all the nonsense. Let's get down to business and find out what's been caught and which species have been landed. The anglers who visited us for the exotic fishing Thailand has to offer had some good fishing in Krabi this month with a total of 754 fish caught of 22 species, made up as follows: 41 arapaima to over 400lb, six arawana to 8lb, six alligator gar to 55lb, 132 Amazon redtail catfish to 80lb, five Amazon stingray to 40lb, six Asian stingray to 140lb, 56 Asian redtail catfish to 45lb, eight barramundi to 6lb, 27 black pacu to 45lb, one Chao Phraya catfish of 150lb, three giant featherbacks to 12lb, three giant gourami to 8lb, eight Julian's golden carp to 50lb, 39 Mekong catfish to 220lb, six Nile perch to 7lb, 12 red bellied pacu to 28lb, two sorubim catfish to 30lb, 381 Siamese carp to 170lb, four tilapia to 4lb, two tambaqui to 45lb, three tiger shovel nose catfish to 20lb and three wallago attu to 15lb.
Stu and Jo Clinton made another trip over to Gillhams Fishing Resorts this month along with their friends Max and Claire Whittington who were on their honeymoon after tying the knot in July of last year. Stu and Max had a few days' fishing while the girls relaxed around the resort, visited the spa and chilled out at the pool. Max caught some great fish with all of his captures being PBs due to this being his first visit. Max landed several Siamese carp but was unfortunate not to land one of 100lb, his biggest being just shy at 95lb. Along with other species, Max landed his biggest of the trip at 180lb with a cracking arapaima. Stu was really hoping for a Siamese carp over a ton after visiting many times but falling short. This time not only did Stu get a new PB Siamese carp of 170lb, but he also smashed his arapaima PB with one of 400lb-plus, leaving him one very happy angler. He also went on to land some other nice fish, including Amazon and Asian redtail catfish and black pacu. Once they left the fishing resort, it was time to relax on Koh Lipe, spending time on the beach soaking up the sun while drinking cocktails. Stu and Max did however manage another day's fishing when they booked a local longtail fisherman to take them out reef fishing for a day. This fishing trip ended in yet another amazing capture for both Stu and Max when they both landed a cracking sailfish each.
Kev Shore made yet another visit along with his wife Christine. Kev and Christine started their holiday off in Singapore before coming in for a week's fishing then heading off to one of the islands for the final part of their three-week holiday. As normal, Kev was all about the Siamese carp, and even though he started off very slowly, he soon turned it around and landed some great fish. We even saw another side to Kev this time and found out he's an old romantic at heart. During their stay it was Christine's birthday, so Kev ordered the biggest and most expensive bouquet of flowers along with a nice birthday cake, which was all presented to her in the restaurant during dinner. This obviously made problems at the resort with the other fisherman who were on holiday with their wives with comments around the restaurant such as, "You've never done that for me!" and, "It must be nice having a man that treats his wife well." This of course fell on deaf ears, as the men were all too busy discussing tactics for the following day with other anglers in the restaurant.
Kevin, being a very good angler, always does well wherever he goes, and although he started off slowly, he soon got into some good fish. Kev's total was 32 fish of three species with the majority being his beloved and targeted Siamese carp including seven over a ton with his biggest at 135lb. Even though Kev had caught some huge carp, one of this trip's best captures came from a cracking tambaqui weighing in at 35lb.
Once again Gillhams regular Rob Bell came in for some much-needed rehab after spending New Year's Eve in Pattaya, aka Sin City. Rob was accompanied by another regular, Mark Stevens. Mark is a fellow expat but lives in the north and decided to drive, which was about sixteen hours. Obviously this wasn't done in one go, and there were a few stops on the way, normally involving a messy night out. Both Rob and Mark had some great fish during their stay, which included Siamese carp to 110lb, Amazon and Asian redtail catfish to 65lb and arapaima to 150lb. Once the fishing trip was over, Rob headed off to spend a week in the town while Mark started the long drive back home.
Mark Morris and girlfriend Caroline Stroud came out to Gillhams for a week of fishing, relaxing and plans of marriage. Not only did Mark enjoy his fishing having a great trip here at the Resorts. Mark also proposed to his long time girlfriend, the proposal came after a spa session and got down on one knee in one of the spa salads overlooking the lake. Caroline even managed to catch her first ever fish, even though she wasn't too comfortable getting in the lake for a picture I don't think it shows hahahaha. Congratulations on the proposal and the fishing, look forward to seeing you both again.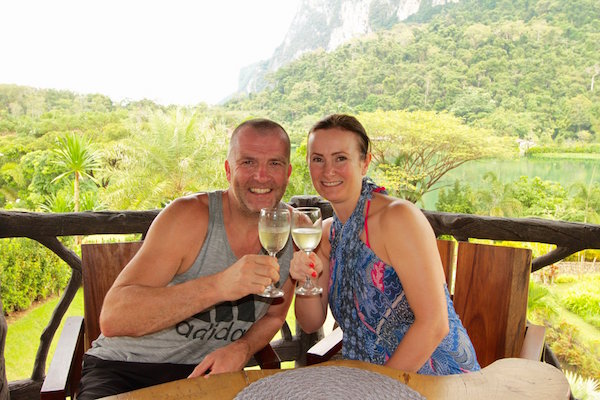 The next and last write-up of this month has been written by regular angler, Ian Breslin, who's been fishing Gillhams for a few years now. Here's his account of his recent trip out here in paradise.
I have now been to Gillhams five times in four years, and I can honestly say it just gets better and better. Having caught several monsters from paradise before, I knew I was in for a treat, having two weeks of fishing in front of me. However, yet again I was not ready for what was in store. The new spa has now been finished and fits in beautifully to the surroundings; it feels like it has always been there. There is something to be said for going back to a place you know well and that you really enjoy.
Having worked the fishing shows for Stuart last year and having the pleasure of seeing Stuart handle the French police at close quarters (speeding ticket for 350kph in a 5kph zone), I was looking forward to spending New Year with him, his family and the guides. On arrival, my mate John Kendrick had only picked up one fish in the five days he had been there. He was in a surprisingly perky mood considering the lack of action he had. That changed… I moved into swim C3 and caught seven fish on my first day. John walked passed as I was playing a fish and muttered, "I only get the hump when you turn up!" My first day, I had a gar of around 60lb and four Siamese carp, one going over 100lb and two Amazon stingrays.
The next couple of days produced some lovely big pacu, and thanks to Darren and Dale for their help there. Then it kicked off. I had a hat trick of 100lb carp on the bounce – 130lb, 120lb, and 125lb. Lee was in and out of the water several times over the coming days. I had the big fella at an estimated 172lb. In the past this fish had been on other people's lines and had gone through mine, but this day it was on the end of my line. Words ail you when this happens to you. Some people cry, some laugh, some people sit back and let the heckling begin, and the latter was in store for me.
And it just got better and better! In total I had 37 fish; 29 were Siamese, and 13 of those were over 100lb. Bloody hell!! I have said it before; there is only one thing wrong with Gillhams – you have to leave. Thanks to everyone who works at Stuart's. You made me a very happy man.
Do yourself a favour and never go there!
Unfortunately that's all we've got time for this month. We'll see you again next month with more captures and stories of what's going on over here in paradise. As always, we would like to apologise to anybody who we missed out of the newsletter, as we can only write about so many. For those of you planning a return or first trip, please send us your enquiry via our enquiries page or email us at Gillhamsfishingresorts@gmail.com
Tight lines from all of us at Gillhams Fishing Resorts. We hope your next fish is the one of your dreams, which it probably will be if you come to Gillhams!