Welcome to another month of captures here in paradise at Gillhams Fishing Resorts. We would like to thank all our readers and everybody that follows us on social media for all your support. Once again we would like to thank everybody who's made the long journey out to us here in paradise. We've had some amazing people here, dreams have come true, personal bests smashed and normal fishing back in people's home countries well and truly ruined due to visiting Gillhams Fishing Resorts, but more importantly some amazing memories have been made.
Stuart and I have recently returned from a trip to China. The purpose of the visit was to purchase a pellet-making machine. We have placed our order for the machine, and we are currently in the process of making a new building to house the machinery. We expect the machine to arrive in March 2020, and plan to be producing our own pellets by May 2020.
We have always been extremely careful about the feed that goes into our lake. Water quality is our biggest concern, not only for the health of the ecosystem we've created but also for the health and growth rates of our fish. The trouble with using pellets made from outside companies is that they are produced for maximum profit, also all pellet is produced for fish farming to obtain quick growth to obtain table size fish as soon as possible! These companies and the fish farms they supply don't need to worry about fish living a long time; they only need accelerated growth to obtain table sized fish as quickly as possible!
They are not looking at longterm effects, as the fish are never planned to live a long time – commercial pellets are fine for this but not for fishing lakes. We want growth alongside long life for the fish with no impact on the environment. The ingredients in commercial fish farming pellets are bad for the fish's internal organs, which in the long term shortens their life. Once farmed fish reach table size, they are killed and sent to market, the pond is then drained and cleaned, then the process starts again. The above has been a concern of ours for a long time, hence the plans to produce our own pellets suitable for our fish and their environment.
We already make our own boilies using quality ingredients, and by May 2020, we will be in control of all our fish food and the fish's dietary requirements. This will ensure long life with maximum growth and maintain the perfect environment for our fish and all the aquatic life in the lake – exciting times for Gillhams in our quest to stay at the very top of our game, once again leading the field and reinvesting for the future.
While in China, it would have been a shame not to visit some of this amazing country. Neither of us had been to China before but had always wanted to visit the Great Wall, Terracotta Army and The Shaolin Temple. These were all made accessible with the bullet trains that run all over China. These trains are extremely reliable and very easy to navigate the stations even though spoken English was very limited. We had three days' sightseeing, and after visiting the Great Wall and Terracotta Army, we decided to kill two birds with one stone and visit both the Shaolin Temple and a stunning glass suspension bridge, which stretched across the canyon near Song Mountain Range just a short drive from the Shaolin temple. The canyon was beautiful but wasn't as easy as we first thought… To get to the bridge you had to either climb down into the canyon or take a long glass slide down the side of the mountain to the bridge. Once there, you had to cross the bridge before hiking about six miles over the rugged terrain and through the mountains before climbing thousands of steps up on top of a huge dam wall where you then get driven back to the main car park. Stuart found this extremely difficult, as he's currently awaiting a knee op, needing both knees replaced.
The highlight of the trip was obviously the Great Wall. It was just extraordinary to see this beautifully built wall run further than the eyes could see, snaking up and over the mountain range. The Great Wall runs approximately 3,700 miles and took 200 years to build and cost the lives of over 400,000 people, most of whom were convicts. It really was an incredible site and is highly recommended if you ever get the chance to go yourself.
China really was an eye opener; it's always been a place I've wanted to see but was always put off with the type of Chinese tourists you encounter around the world. I suppose it's the same with a small percentage of Brits on boozy Spanish type holidays making other tourists think were all a bunch of drunken, brainless Neanderthals when in fact it's a very small percentage of idiots. The local people were extremely friendly and helpful, and even though very little English was spoken, they all wanted to try and talk to us and have their pictures taken along side the Gweilos. We both had an amazing time in China and will certainly both be visiting the country again in the very near future.
The 24th of this month was my son Tyler's birthday. I can't believe how fast he's growing up and where the past four years have gone. He had his first proper party at our house with his school friends coming round to trash the place. He certainly enjoyed himself and told us it was the best day of his life, bless him. I had a good day as well. While the women where busy inside the house trying to control a class room full of four-year-olds heavily intoxicated on sugar, the other dads and I relaxed in the garden, sipping ice cold Singhas and taking the occasional dip in the pool to cool down. Once the party was over, it was clear the women hadn't done a great job. The house was trashed, but we did have an extremely happy young boy. The following day was clean-up day while Tyler played with all his new toys. Noi and I spent most the day putting the house back together.
We're no strangers here at the resort to the odd wedding proposal, as many men pop the big question after realising that they're with the women of their dreams. This is probably also due to the fact that their other halves are happy for them to spend there yearly holiday fishing here in paradise, just as long as they get left alone to indulge in spa treatments and have some peace and quiet around the pool. This month though has probably seen the most amounts of proposals along with vow renewals and honeymoons. Even our own manager Joel popped the big question to his other half, Tor. Here at Gillhams Fishing Resorts, we really do make all your dreams come true.
Many of you would have seen through social media this month that the boys were back at Gillhams – Ali Hamidi, Neil Spooner and Tom Dove were here filming for season 5 of Monster Carp. Just one and a half days into filming and Ali caught a new personal best Siamese carp weighing in at 154lb, making it the biggest carp ever caught and weighed for TV. On their last visit for Season 3 of their hit show, Ali, Tom and Neil came to Gillhams Fishing Resorts in search of giant Siamese carp, and the success they had was beyond their wildest dreams for sheer size of fish, which made for a fascinating episode, showcasing some of the true giants we have living in the lake. So for next year's season 5, they came with a different agenda, as their trip to Gillhams Fishing Resorts was all about the various species of carp that inhabit south East Asian waters, especially the Julian's golden carp. All we can say is, the three lads had a brilliant time here and have definitely got an exciting episode again in Thailand for next year's release, including a new lake record here at Gillhams Fishing Resorts for Tom Dove. We have a few of Ali Hamidi's catches to show you, with Ali having fished Gillhams a few times now for filming and in his personal time. He came with a game plan culminating from his previous experiences here and really put them into play alongside Tom and Neil to great success. Ali quoted himself that it was the most successful trip he's ever had to Thailand. Obviously with a lake like ours, with 50-plus species of fish, it was going to be hard to just catch carp, and between them they caught some brilliant fish of various species. We hope you enjoy this sneak look into some of Ali's successes.
We are excited to announce and extremely proud that Dovetail Games have chosen Gillhams Fishing Resorts to represent Thailand's fishing lakes on their world famous virtual angling game. Gillhams Fishing Resorts has been digitally recreated in Dovetail Games – Fishing Sim World: Pro Tour. They have an upcoming add-on, the "Giant Carp Pack". The pack was released alongside Fishing Sim World: Pro Tour on 18th July 2019. So now whether you are in the comfort of your home or on the move, you can still get your Gillhams fix with this brilliant take on your favourite lake in paradise. The team from Dovetail games travelled over to spend time with us here in Thailand so they could realistically replicate the resort in the best way possible, to give you a genuine experience of what it is like fishing here. We hope all the gamers really enjoy this and it will fill some of the void until your next trip over to fish with us here. You can read the article on their website about the release with the link below. Fishing Sim World: Pro Tour is now available for PC, PlayStation 4 and Xbox One at £14.99 via their digital stores! Gillhams Fishing Resorts digitally recreated for the Dovetail Games – Fishing Sim World: Pro Tour, add-on, known as "Giant Carp Pack" featuring Gillhams Fishing Resorts.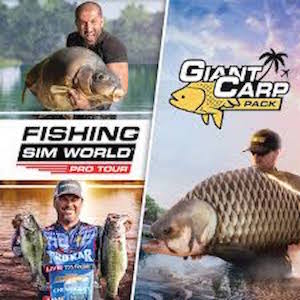 As some of you will have experienced, the arapaima are a seriously strong freshwater fish with extreme and explosive power. A fight with them can bring a mix of emotions – sometimes the beginning can start with subtlest of bites, making you believe you have a smaller fish, then gradually the intensity can rise as the fish realises it has been hooked and then the fun begins.
This was the exact scenario for UK angler Steve Dearden, believing he had a type of catfish attached to his line. The fight was an easy, steady battle to start, but as the fish approached the edge of the swim, Steve and his guide soon realised that they had a different beast to contend with. The arapaima took a quick breath in front of them and then left the pair of them in shock as the real fight began, stripping 100 yards of braid in seconds and doing everything it could to shed the hook. After a 20-minute battle, Steve successfully caught his prize arapaima, estimated at 300lbs. Another point to note is a photo of these special fish is not given. We ask customers if they can to take a video so they have some footage of the capture. We always ensure that we have our guides at the head and tail of the fish because they are taught how to handle and best manage the fish in the cage. Then they can try to calm and relax the arapaima and make an attempt to get a shot for the angler for their memories. This is not always successful, as the sheer instant explosive power these fish possess is unlike many other fish on the planet, and if they want to escape, there is very little we can do to stop it.
Thankfully, we did manage to get a shot of this fish quickly before it decided enough was enough and made its escape back in to the lake.
So that's enough of all the nonsense… Let's get down to business and find out what's been caught and which species have been landed. The anglers who visited us had some great fish over the past month with a total of 514 fish caught of 19 species, made up as follows: 14 arapaima to 300lb, five arowana to 8lb, four alligator gar to 30lb, 78 Amazon redtail catfish to 80lb, 59 Asian redtail catfish to 40lb, four bighead carp to 35lb, three black shark carp to 25lb, 23 black pacu to 35lb, ten Chao Phraya catfish to 140lb, three Hoven's carp to 24lb, 27 Julian's golden carp to 50lb, 24 Mekong catfish to 280lb, one peacock-eye stingray of 45lb, 10 red bellied pacu to 15lb, two ripsaw catfish to 35lb, two rohu to 24lb, 241 Siamese carp to 170lb, three tambaqui to 35lb, one wallago leeri to 30lb.
Colin Mould and partner Tina joined us this month for Colin's first trip here at the resort. The trip had been booked two years ago as a present for Colin in celebration of his 50th birthday. The buildup for Colin has been a long time in the making. Colin has been meticulous with his planning and research, having studied our website, from the tips section, through to the fish library and came with a four species target. Those targets were a 100lb-plus Siamese carp, Julian's golden carp, Pacu and an Amazon redtail catfish. Colin split his trip with a couple of days off between fishing days. Colin completed his wish list in his first four days' fishing.
The couple took a much-needed two-day break so they could also celebrate Tina's birthday. Their two-day break consisted of a full day island hopping around some of the local islands and a day by the pool with a couple of hours fishing on the small lake the second. Once their little break was over, Colin had three days of fishing ahead of him to finish the holiday. Colin set out trying to tempt a Mekong catfish, as well as seeing if he could beat his new PBs set in the previous session. He didn't manage to raise the weights of his previous captures but succeeded with his Mekong challenge with an hour-long battle in the intense heat, landing a powerful catfish estimated at 190lbs. His impressive figures for his trip were: Siamese carp to 120lbs, Mekong catfish to 190lbs, Amazon redtail catfish to 45lbs, Julian's prize carp to 35lbs and a large black pacu 45lb-plus. We are looking forward to seeing the pair back here in 2021 to see if Colin can tempt some of the other species the lake has to offer.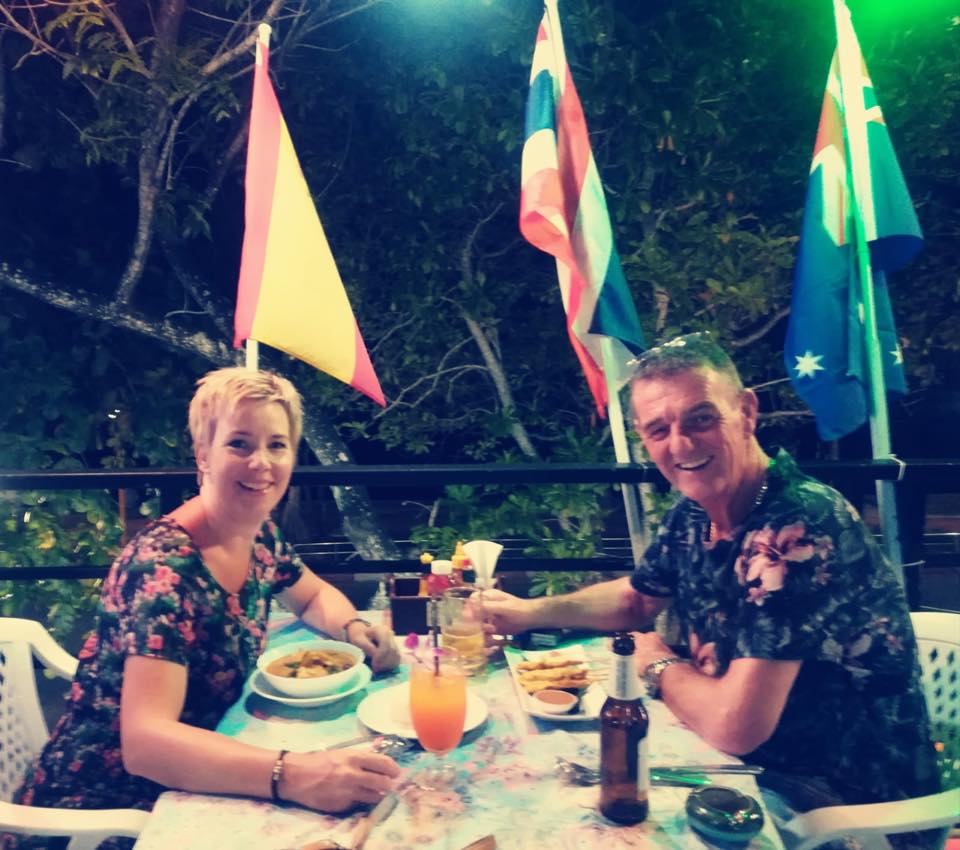 Good friends and longterm customers here at Gillhams Fishing Resorts, Dick Top and partner José from the Netherlands happily returned after a 2½-year break from travelling to Thailand. On their arrival, they were taken back by the changes and stunning improvements to the resort since their last holiday. From the renovation of the restaurant to the new outside sala seating area, spa and cookery school and upgrades to the lakeside bungalows and the fishing positions, it was great to see and hear the appreciation from them for the continued hard work to keep Gillhams one of the world's leading fishing holiday destinations. Dick absolutely loves his fishing here, and he told us there was a constant nagging in his conscience telling him to return. As always, he caught some great fish and recalled that back in the early days of Gillhams Fishing Resorts he held the Chao Phraya catfish world record with a fish from Gillhams.
While José relaxed in our piece of paradise, Dick relaxed in a fisherman's way by catching some great Siamese carp, and he topped his trip off with a powerful Mekong catfish. It's always a pleasure having Dick and José here, and hopefully this return trip has relit the fire within and we see them both back here again, sooner rather than later.
Nathan Hardcastle from North Yorkshire in the UK has recently left us after a week's stay here at Gillhams Fishing Resorts. Nathan travelled over by himself for his first experience and arrived here on his 28th birthday. Having spoken to a few of our regular anglers at lakes he fishes back home, he knew coming here by himself wouldn't be a big deal, as once you get here, all customers and staff are very welcoming. Nathan arrived raring to go and excited to be here with us. Back home he concentrates on catfish and carp as his target species. It was no surprise that his main target fish were Siamese carp, Mekong catfish and Amazon redtail catfish. Nathan had an awesome birthday week with us; he caught some great fish and managed to catch his targets in abundance, with the pick of his catches being his biggest Siamese carp of 145lb and a Mekong catfish estimated at 200lb, which he worked very hard for. Once the trip was over, Nathan was very keen to rebook, so we will hopefully be seeing his return in the very near future.
Longtime family friends Matt and Claire Skinner made their annual trip to their second home here at Gillhams Fishing Resort. Matt and Claire, originally from the UK, now live at, and are the very proud owners of, Reef Retreat Resort based in the beautiful location of Boracay in the Philippines. Matt has known and fished with Stuart for over 30 years from his early teens (when he had hair) and grew up on some of the great UK carp lakes of the early 90s including Harefield and Elstow. Over the years fishing at Gillhams, Matt has always wanted to catch some of the different carp species we have here and also finally succeed in catching a Siamese carp over the magical 100lb barrier. He has come close to the Siamese before with many fish to 95lb on previous visits but always fell just short. Well, this trip everything fell in to place for him, not only landing his PB Siamese carp of 120lb, but adding three other carp species to his list with a rohu, big head carp and a beautiful Julian's prize carp alongside his other captures. Another of his most wanted species was an alligator gar. The gars have been swimming in the upper levels of the water column were they have been breaching and topping for all anglers to see, but they are tricky feeders to hook. After days of trying multiple tactics to tempt them from the surface, it didn't seem Matt would complete this target, but when your luck is in and you're on a roll, don't count anything out. Matt landed a cracking scale perfect alligator gar on his last day's fishing to complete one of his best ever trips here at Gillhams Fishing Resorts.
Daniel Bock from Berlin in Germany visited Gillhams Fishing Resorts for the first time while on a gap year travelling around Asia. Fishing here with us was the final leg of Daniel's trip before his Asian adventure came to an end. The young angler came with a open mind about what to target, and with three rods at his disposal, Daniel set his traps using multiple tactics: house boilies and PVA bag on his long rod, meat on a close range baited area and fish on the marginal shelf to give himself the best opportunity to maximise his fishing time. Unfortunately Daniel dropped a couple of good Siamese carp and a possible Mekong catfish during his stay, so never had the chance to come up close and personal with these two target species. However Daniel did manage to leave Gillhams with five other species landed. Daniel finished his stay with some great captures, which included a rarely caught wallago leeri catfish, which was a definite highlight, alongside a Chao Phraya catfish, both Amazon and Asian redtail catfish and black pacu, all of which gave him a memorable conclusion to his trip around Asia and Gillhams Fishing Resorts.
We had the pleasure of the Howe family from Tasmania, Australia come and stay. The predominantly blue-water fishermen decided to try something different in their angling with their first trip to Thailand and Gillhams Fishing Resorts being their main reason to travel. Having followed us through National Geographic television shows like Zeb Hogan's Monster Fish and Jeremy Wade's River Monsters, as well as keeping up to date with us on social media, they were well versed in what they walking into and extremely excited as to the possible captures that could come to their rods in their fishing days. The family consisted of father Gary, wife Sandra and daughters Brandy and Chelsea, as well as her partner, Jayden. They all had a very relaxed outlook on the challenge ahead, and being sea fisherman, they know how fishing can be and also how quick luck can change.
Gary was overseeing his family and working tirelessly. The effort he put in was a pleasure to witness, and a definite highlight was to see him catch a fish of his dreams, with a beautiful arapaima gracing his net after a relentless day of near misses. He even shed tears of joy after the capture, as with it being a dream target, the realisation of completing it made this big man burst with joy. The family got to feel the strength of a Mekong briefly, which didn't last too long, but they were treated to a few cracking Siamese carp including a couple over the 100lb mark and a lovely Julian's prize carp. Enjoy the rest of your trip to Thailand, guys. Thanks for coming, and we hope to see you back soon.
Having another great family holiday here at Gillhams Fishing Resorts was the Muskett family from Norfolk in the UK. Dad Danny travelled to Gillhams Fishing Resorts with his wife Louise and two sons, Jack and Joe. The three lads were the anglers, with Louise sharing her time between relaxing around the resort pool and strolling around the lake where the gents were fishing. Predominantly carp anglers back home, all three had a wish to tempt a Siamese carp in excess of 100lbs, although any species they hooked and landed would be a first for them. The boys were happy to split up and fish in different areas of the lake; they all had trips to remember and gladly all succeeded with tempting a 100lb-plus Siamese carp during their stay. Gary caught the largest of the species out of the group, with a 170lb giant gracing his net and a timeless memory of celebrating with his two boys in the water with him making a great picture. They ended their time with an impressive tally of species including alligator gar, Chao Phraya, Amazon and Asian redtail catfish, black pacu and Siamese carp, with each of them landing carp over a ton.
It was the annual trip for father and son fishing pair Andy and Jevan King here at Gillhams Fishing Resorts. The pair has been fishing here for a few years now, and after reporting back home about their previous trips to family and friends, Andy brought his brother Stephen along with him for his first experience of fishing in Thailand. They had a nice long stay in front of them. The trio had decided to break their fishing up into two sessions with a couple of days' break in the middle to relax, visit Ao Nang beach and take in some of the local tourist sites. For the first half of the trip, it was the new angler Stephen who had the greater luck on his side with a brace of 100lb-plus Siamese carp, one of his highlights,s and a beautiful ripsaw catfish.
Andy and Jevan fish as a pair, and in the second half of their trip, they really got into the fish on a prolific scale with 12 fish in a day being a definite highlight. They have a bit of a friendly family competition between the father and son, and where they share bites, it can be a lottery as to who will come out on top. This time it seemed to be pretty even, with both of them landing arapaima to near 300lbs and Jevan gaining a couple of new species for himself with a Julian's carp and a peacock-eye stingray, and Andy catching a 100lb-plus Siamese carp from the surface whilst fishing the marginal shelf attempting to target different species. Jevan even left it late on his last day… With 20 minutes left before pulling his rods in for a final time this year, he hooked a big fish, which went to the opposite end of the lake, and after 45 minutes he landed a cracking Mekong catfish of 190lb to end another successful trip.
UK father and son Trevor and Steve Challice from Birmingham made a return visit after booking a couple of days' fishing last year whilst Steve was on his travels around South East Asia. Once Steve got home and told his dad the tales about his trip to Gillhams Fishing Resorts, the pair decided to book a trip together to experience the fishing, ambiance and scenery that Gillhams Fishing Resorts has to offer. Trevor got off to a flying start with one of his first fish being a Siamese carp estimated at 140lbs. Steve had a slower beginning, but soon joined his dad with a 100lb Siamese carp of his own, after which his dad Trevor caught another large Siamese close to the same weight as his first. In the last hour, on their last day's fishing, before packing up for to catch their evening flight, Steve was treated to a beautiful black shark carp. These aren't the easiest of fish to target here, and it's always a real highlight to see them come out. The guys had a great holiday here, catching some great fish, taking turns sharing the rods, making memories and setting plans in place for a return.
After a nine-year break since their last trip here, Danish angler Flemming Rottenberg and his wife Annabell came back for a four-night stay with us here at Gillhams Fishing Resorts. If you have ever been to our stand at the trade shows or looked through our website or brochure, you have more than likely seen a classic photo of Flemming before. He is pictured alongside a youthful Sean with a fantastic shot of them holding an alligator gar from a 2010 trip over to us. Well, nine years later, and with Flemming sporting a more streamlined haircut, the couple have returned to the resort whilst on a holiday in Thailand. With the years passing, it was a great surprise for the pair to see how beautiful and mature the grounds and gardens have become, adding to that the lake extension and then the upgrade and development of the whole resort to where it is at today. It was lovely to hear their compliments and praise for the progression, hard work and dedication of the owners for making this fishing paradise the place it is today! Siamese carp were Flemming's sole target for this trip; he was on a mission to tempt some of our bigger residents. He did really well, and managed to leave with some great fish with his biggest carp estimated at 40kg. Annabell also got in on the action herself, and whilst Flemming ran to the bathroom, she was sitting with rods and had the pleasure of landing a stunning Julian's golden carp in his absence.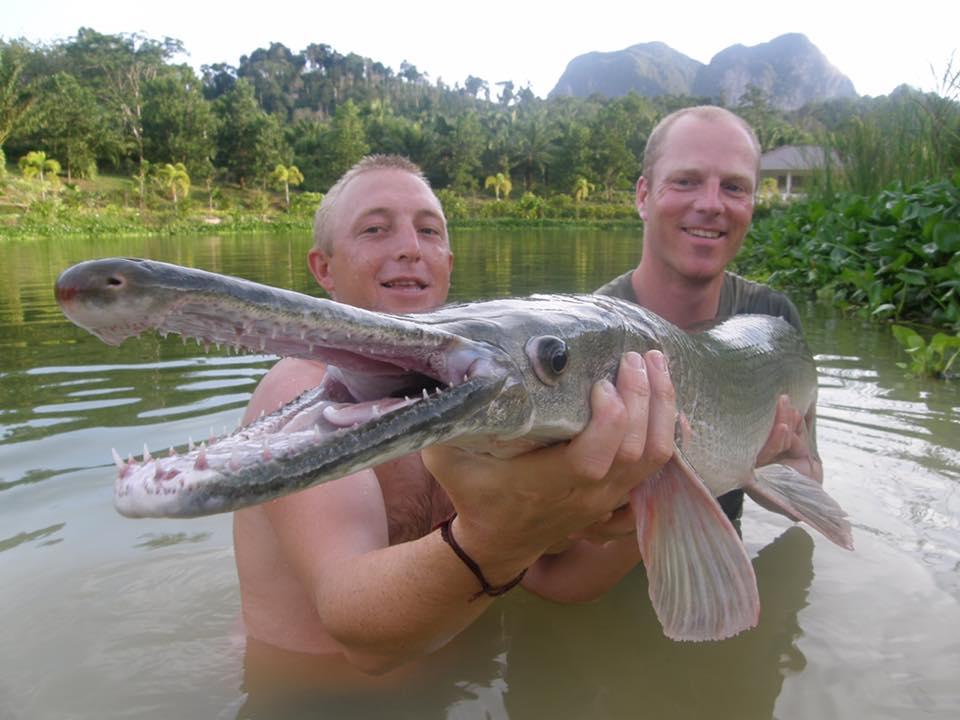 We had a great couple from Essex in the UK join us for a two-night stay this month. Siobhan Barton surprised her partner Ben Parsley with two days' fishing at the end of a surprise 30th birthday trip to Thailand. Ben is a dedicated angler in the UK, and Gillhams Fishing Resorts was always a goal for him to visit one day, so hats off to Siobhan for treating him to his dream fishing trip on an already magical surprise birthday she had organised in Asia. The couple were fully relaxed from luxury stays on Phi Phi island and Koh Lanta before coming to us. Ben was determined to make the most of his two days and fished every minute he had available of his short stay and wanted to target any species, as they were all new to him. His effort paid off with three species landed – two stunning Chao Phraya catfish taken in the closing minutes of each day, some stunning Siamese carp and Amazon redtail catfish. He successfully landed Siamese carp to a great weight of 90lbs, but deep down he hoped he would be lucky enough to do battle with a 100lb-plus specimen. During an unfortunately timed toilet break with Siobhan guarding the rods, the inevitable happened, and Siobhan got herself a stunning 115lb Siamese carp, which was happily celebrated together by the couple. We know they had a brilliant end to their holiday and are looking forward to them returning for a longer stay when they return to Thailand in the near future.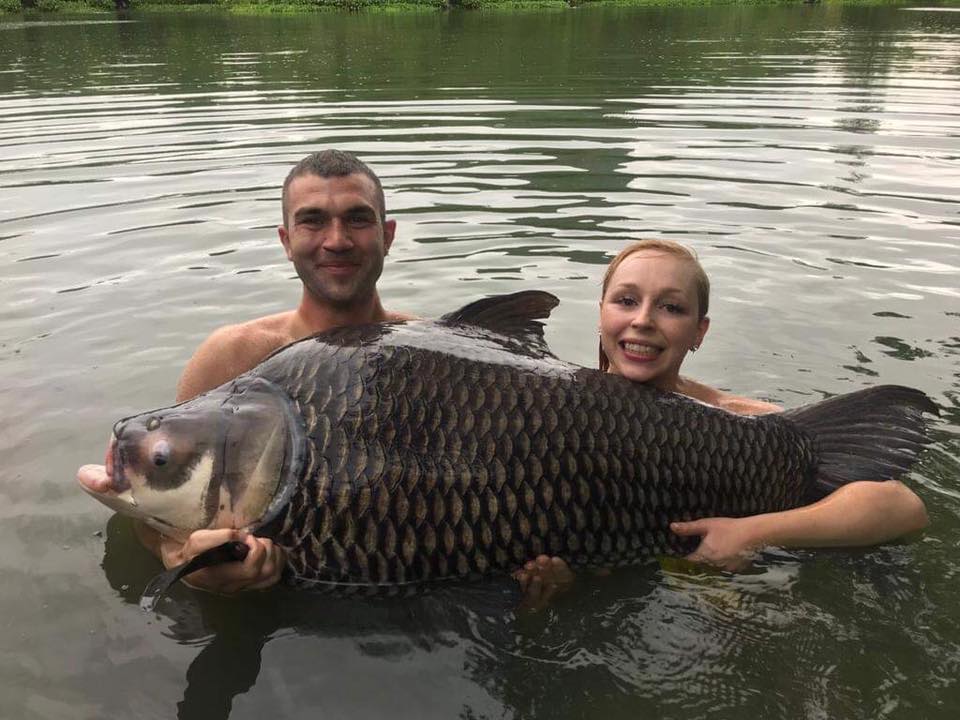 For the past seven years, Robert Olive and Amanda Hulse from Northwich in the UK have been annual visitors to Gillhams Fishing Resorts after first visiting in 2012. Like many of you, Rob and Mandy got attached and addicted to the Gillhams bug: it's one of those things that niggles at you and manages to draw you back repeatedly again and again. These two love to travel, and every year try to visit different places around the world, be it to Colombia in South America or off the beaten track in southeast Asia. They always want to experience places they've never been to before, so before coming to see us for their six nights' stay, it was no surprise to see them holidaying in Kuala Lumpur, Malaysia and then Bali, Indonesia. What we didn't know or anyone of their family or friends to be exact, was that the pair of them had planned an off-the-cuff surprise and decided to finally get married after 15 years with a ceremony and celebration in Bali. Even their friends Paula and Steve who were travelling with them didn't have a clue until the day before the wedding day. When they got to us, it was brilliant to see them, and all of us were made up to welcome back the new Mr and Mrs Olive to the resort.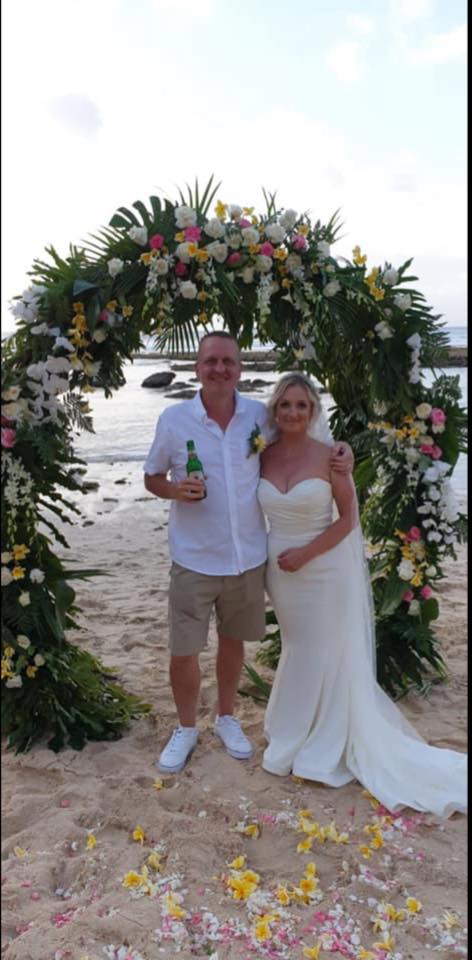 Mandy and Rob fish as a couple here and take it turns playing fish (well, that's unless Mandy decides to burn the candle at both ends and doesn't get up for fishing the next day). So for their impromptu Gillhams honeymoon, they worked their swim for five days straight and had a brilliant trip with many Siamese carp, including a few over the 100lb mark, a new species for Rob with a couple of Julian's golden carp, new species for Mandy with a 120lb Mekong catfish, plus Chao Phraya, Asian and Amazon redtail catfish all successfully falling to the rods of the happy couple. We were so pleased that they shared their new start with us here, and from everyone at Gillhams, we wish them the very best future.
After first visiting Gillhams Fishing Resorts in January of this year, Andy and Mandi Kyte from Bridgnorth, UK couldn't resist coming back to visit us, and quickly booked a return trip. Andy is a very keen and successful match angler back in the UK. With the fishing here taking him out of his comfort zone a little, he thrives on the challenges that the lake holds, and for his second trip, he came back with goals to achieve and all of the preparations you would expect from a competitive angler. Mandi also loved her first stay here, especially her time spent in the onsite cooking school. This trip, she booked herself in to learn the two other menus out of the three choices she didn't cook on her first visit. Also to note for Mandi, she proudly pushed herself to the limit and completed the 1,237 steps to reach the top of the Tiger Temple in Krabi town. This isn't an easy task to achieve, and getting to know Mandi this was a seriously testing challenge to take on by herself, but she did it and couldn't have been happier.
Fishing-wise, for Andy's trip, his two main wishes were a 100lb-plus carp and a chance of a Mekong catfish. He got his big carp with a specimen of 110lb being his best alongside six others and also caught his Mekong catfish with a beast estimated at 250lbs. After the Mekong, he did tell us that he can see why people who have caught them before sometimes shy away from targeting them again. With an hour-plus fight to tame his giant, the following days, his body reminded him of every minute of that battle with aches and pains all over. Their final night with us, the couple spent an evening in one our elevated salas overlooking the resort and enjoying a romantic meal, before moving on to beach part of their holiday.
It was a pleasure to meet Canadian father and son group, Todd, Matt and Mitch Voykin from British Colombia. The three guys are over in Asia for a three-week father and son's break to celebrate the boys' graduation. They are all keen anglers back in their home country, and they didn't want to come this far away without wetting a line and having a chance at catching some different species of fish on their travels. So thankfully for us, they did a little research on the Internet and came across Gillhams Fishing Resorts as a top choice for a few days' fishing. The fishing here's a different style to what they were used to, and it was nice to show them how to tie a hair rig and set their rods up in a more European carp setup with their first experience of using PVA bags and baiting using a Spomb rod. Todd told us on arrival that his biggest wish would be for himself and his two sons to experience a big Asian river monster on the end of their line, so the three of them could go to battle together and share more great family memories during their adventure to the Far East. In typical Gillhams style, the guys soon got their wish, with their first fish being a 150lb-plus Mekong catfish tormenting them with a backbreaking hour-plus fight. The family trio took it in turns to do battle in the blistering midday heat and happily landed their prize. Adding to their catches, the guys caught a Julian's golden carp, Chao Phraya catfish, Amazon redtail catfish and Siamese carp to complete a successful two days fishing here with us in paradise.
Another two couples that have just left us were Paula and Steve Dearden and Hayley Plant and John Morris, all based in Northwich, UK. These four were all part of a bigger group of eight guests staying here at Gillhams Fishing Resorts. In their group we had multiple celebrations between them, first with Rob and Mandy Olive's surprise wedding before they arrived, and we then had the pleasure of celebrating Paula and Steve's 25th wedding anniversary with us. Paula and Steve had a lovely anniversary with an afternoon buffet organised for them at the outside sala next to the restaurant overlooking the lake. After the food, they renewed their vows and had a small celebration before heading down to Ao Nang beach to finish their day with cocktails and a beautiful sunset. Not forgetting, we also had Hayley having a pre celebration for her 30th birthday, which was the day after she left us to go back to the UK. The ladies enjoyed the cookery school, spa and pool in the day, and the lads got down to the fishing and had some great catches between them, the highlights being a giant Mekong catfish and a 300lb arapaima for Steve, and John getting his fill of Siamese carp and a few Amazon redtail catfish. It was a great week's stay for all the couples and a pleasure for us at Gillhams to be a part of all the different celebrations.
Thanks for joining us, but unfortunately that's all we've got time for. We'll see you again next month with more captures and stories of what's going on over here in paradise. As always, we would like to apologise to anybody who we missed out of the newsletter, as we can only write about so many. For those of you planning a return or first trip, please send us your enquiry via our enquiries page or email us at gillhamsfishingresorts@gmail.com
Tight lines from all of us at Gillhams Fishing Resorts. We hope your next fish is the one of your dreams, which it probably will be if you come to Gillhams!