Welcome to another month of captures here in paradise at Gillhams Fishing Resorts. We would like to thank all our readers and everybody that follows us on social media – thank you for all your support.
The cremation of the late king Bhumibol has now passed, and Thailand is starting to move forward with local events, festivals and celebrations around the country starting up again. The first big festival was Loy Krathong, which is one of Thailand's most important holidays. As the exact date of the holiday is determined by the Thai lunar calendar, the date is different each year. The holiday normally falls in November and festival and parade days differ slightly from city to city, but this year the festival was held between November the 2nd until the 4th with the main day being the 3rd.
"Loy" means "float", and a "krathong" is a special Thai floating sculpture particular to the holiday. The traditional krathong is made from a cross section of a banana tree trunk, which is then elaborately decorated with folded banana leaves and flowers in intricate towering designs. You will find hundreds of krathongs for sale around the main Loy Krathong festivity areas. Head to the waterside where you see local Thais gathering to float their krathongs. First light the incense sticks and candles (these will already be in the krathong that you have bought). Your entire family should hold the krathong together after it is lit. Everyone makes a wish, and then sends the krathong into the water with a little push, to carry your wish downstream. It carries away your troubles and offers up your wishes and prayers with the incense and glowing candle. Follow the flickering light with your eyes as long as you can.
It's great that we are really starting to attract more couples and families here at our resort. Even though Gillhams is based around the fishing, we always wanted to attract more than just the anglers. Over the past year we have opened up Benz Spa and Cooking School and even offer romantic meals on top of the hill in our large private salas overlooking the lake. The spa offers many treatments from massages, body wraps and scrubs, and we even have fully trained nail specialists. The spa is equipped with four massage beds, steam room, Jacuzzi and a second infinity swimming pool overlooking the lake. Our masseuses can even serve you ice cold drinks around the pool and order food from our onsite restaurant to be delivered to you poolside. We also offer The Gold Spa package where you will receive four days' unlimited treatments, so while your partner's fishing why not spoil yourself and take advantage of the full experience of Benz Spa?

We have also recently refurbished all the bungalows, including suite rooms with large sofas where your partner can relax reading or watching movies while escaping the afternoon heat, or even spend the evening in with your partner with a bottle of wine and a movie. Gillhams is already regarded as one of the best freshwater fishing locations in the world, but we still push to achieve more and be known as a family resort… After all, Gillhams is a family run business. Next year the restaurant and bar area will be getting fully refurbished, and we will then be looking into extending the small lake the following year, making this around a three-acre easy catch runs water where the whole family can enjoy fishing together.
The Siamese carp have once again made lots of anglers dreams come true with a total of 318 Siamese being caught with 59 carp over the magical 100lb, the biggest 170lb. The arapaima have still been feeding well with a total of 64 landed, which included 59 over 100lb, one over 200lb, one over 300lb and three over 400lb. The mighty Mekong catfish have also been punishing anglers this month with a total of 46 Mekong catfish landed with 35 over 100lb and eleven over 200lb. It's certainly not always about the big fish, it's been great seeing some of the different species coming out recently, especially the different types of carp and catfish species being caught.
Show season is now approaching fast with our first show kicking off on the 27th and 28th of January in Brentwood, Essex. Gillhams Fishing Resorts will be in the main hall, stand number 59 next To Korda. Following this, our second show will be in Holland at the Zwolle Carp Show on 2nd, 3rd and 4th of February. Next will be the Northern Angling Show being held at Event City, Manchester on the 24th and 25th of February. Our final show will be the Big One at Farnborough on the 24th and 25th of March. We will be running the Gillhams raffle as always, with the first prize being a holiday here in paradise. The lucky winner will be called at 4pm on Sunday the 25th of March at The Big One, Farnborough and this will be done via a live feed on our Facebook page. Further details and prizes will be advertised closer to our first event at Brentwood. We will also be offering discounted rates for all holidays booked and paid for at the shows. We look forward to meeting any new customers and of course seeing regular customers and friends. Please feel free to approach the Gillhams stand with offerings of cold ciders, beers and warm pies.
As our next newsletter won't be coming out until January, we would like to wish everybody a Merry Christmas and a great New Year, and on behalf of all the Gillhams family, we would like to thank everybody that's visited us this year. We hope to see you all again in 2018. Thank you to all our followers on Facebook, Instagram, Twitter and our Newsletter readers. We hope 2018 brings you many big fish and breaks all personal best records. Tight lines!
So that's enough of all the nonsense. Let's get down to business and find out what's been caught and which species have been landed. The anglers who visited us for the exotic fishing Thailand has to offer had some good fishing in Krabi this month with a total of 835 fish caught of 25 species, made up as follows: 64 arapaima to 440lb, six arawana to 8lb, twelve alligator gar to 73lb, 213 Amazon redtail catfish to 80lb, four Amazon stingray to 45lb, two Asian stingray to 140lb, 56 Asian redtail catfish to 55lb, nine barramundi to 6lb, eight big head carp to 45lb, two black shark carp to 25lb, 31 black pacu to 40lb, two Chao Phraya catfish of 110lb, four giant featherbacks to 9lb, eight giant gourami to 9lb, one Hoven's carp of 10lb, 16 Julian's golden carp to 50lb, 46 Mekong catfish to 230lb, twelve Nile perch to 8lb, three ripsaw catfish of 25lb, four sorubim catfish to 45lb, 318 Siamese carp to 170lb, four tilapia to 7lb, five tambaqui to 50lb, four tiger shovel nose catfish to 35lb, one wallago attu of 15lb.
Rob Jennings from Birmingham, England made his first trip out to Gillhams Fishing Resorts this month along with his wife Mariella and nine year old daughter Luciana. Obviously Rob loves family vacations, but this one was a little different. After hearing all the stories and following us on social media and reading the newsletters for the last couple of years, it was finally here, the time he would get to fish for all the species he once thought only possible by the likes of anglers such as Jeremy Wade. To say Rob was excited would be an understatement, but so to was Mariella. While Rob fished the lake, Mariella was looking forward to spending some mother and daughter time with Luciana, relaxing around the pool and having spa treatments at Benz's Spa. Unfortunately Rob took Luciana to the small lake here at the resort, and after landing some great species, Luciana was hooked. I must also add that after witnessing her playing fish up there myself, she had really taken to it and was playing the fish better than many so-called anglers we have out here.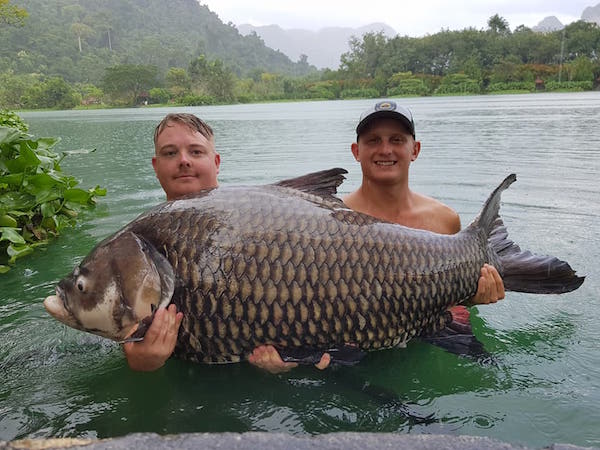 It certainly wasn't all fishing though, and both Mariella and Luciana spent a lot of time together and both enjoyed their time here at the resort. Rob also enjoyed family days away from the fishing and took the odd days off to take the girls out on day trips or even just spending time together around the pool. Rob's fishing was better than he hopped for. On arrival he was just happy to finally be here, and even though he had his species wish list, Rob was happy catching anything. Rob's end tally was 26 fish of eight species and a total of eight fish over 100lb, five of them Siamese carp with his biggest at 170lb. Rob caught Siamese carp, giant gourami, Amazon and Asian redtail catfish, black pacu, giant featherbacks and even managed Mekong catfish to 130lb plus arapaima to 140lb. The whole family enjoyed their time here, and they were all sad to leave, although that has made them make their decision to return as soon as possible. It as a pleasure having you all here, and we look forward to your return.
Martin Fyfe made another return trip out this month, accepting the greatest challenge any man could… Not only did he come with his wife Heather; he also bought his mother in law. Luckily both Martin's wife and mother in law were really cool. Heather had been to Gillhams on the previous trip, landing some great fish but ended up in hospital from sunburn after celebrating the Songkran festival. Heather's mum Karen wasn't into fishing, but after seeing their holiday pictures from the year before and wanting to visit Krabi, she couldn't wait to get here and spend time with her daughter and son in law but also have some time just chilling around the pool. Karen even took a day's fishing on the main lake, and ended up landing an arapaima estimated at 140lb. This had a funny side to it, as Martin had been after an arapaima for two years and every one he hooked, he lost. Karen's capture was basically the first cast, but at least they're family, and I'm sure if Martin asks, she will get him up to speed for their next trip.
Martin and Heather both went on to catch some great fish including Martin finally landing his arapaima on his second to last day. Even though Heather caught her arapaima before him, to add to his frustration, she landed a second one too. Between Martin and Heather they caught a total of 37 fish of eight species including four Siamese carp over a ton with the biggest at 115lb. Other species included Amazon and Asian redtail, barramundi, pacu, Mekong catfish, sorubim and of course the mighty arapaima. Everybody left here catching what they wanted and were looking forward to their return trip where Martin and Heather will even bring Karen for her next fishing trip… if Martin has forgiven her for catching an arapaima before him.
They're here again, the dodgy Scousers, Bernie and son Gary Campbell, making their third trip to Gillhams Fishing resorts in 18 months. The father and son fishing duo left the rest of the family at home while they made another trip to paradise. Gary has had a run of bad luck over the past few weeks. After playing around with some fireworks he blew himself up and was hospitalized and put into an induced coma due to the smoke he had inhaled that had caused his throat and lungs to swell. Once this was all done and Gary was released, he then went on to accident number two and fractured his foot, having to make the trip out here with what looked like a storm trooper's boot. The only good thing to come from this was the extra help he received in the airports, being wheeled around at 100mph while poor old Bernie had to run behind with the bags, trying to keep up. Once Bernie and Gary arrived, their luck started to change, and even though they're keen anglers, their first day was spent down the town with a bit of shopping and a few beers.
Bernie and Gary were both up early the following morning ready to start. Bernie's main target species was alligator gar, as he had caught many of the other species on previous trips, while Gary was after the Siamese carp and Mekong catfish. Bernie's trip started off slowly; he lost a few fish, and his son kept letting the fish run down into his swim, causing him to bring his lines in. Gary swears it wasn't intentional, but after this even happened with a small pacu, it was clear it was sabotage.
After a couple of days, Bernie started picking up some good fish including Julian's carp, Siamese carp to 135lb and Amazon redtail catfish. On the fourth and fifth days, Bernie's hard work and patience paid off when he saw a huge gar role in front and he managed to quickly get a dead bait cast on the spot, suspended under a float, and within minutes the float was taken under. Bernie was speechless when after a short 15-minute fight he landed a big alligator gar that was recently weighed at 73lb. Gary was also landing some great fish, including five Siamese carp over a ton with the biggest at 130lb, along with arapaima to 110lb and Mekong to 220lb. Bernie also caught Mekong to 240lb and Siamese to 135lb, and in total they caught 55 fish of nine species. Unfortunately, Bernie won't be joining us for his birthday next year, as it clashes with his business partner's holiday, but no doubt it won't be long until we see these pair of scallywags here again.
Regular visitors Steve Bristow and his other half Jo came back for another holiday. This time though, Steve had something to prove after Jo landed a big carp over a ton last year and told all Steve's fishing mates that she had caught the biggest of the trip. Fearing Jo would once again out-fish him, Steve offered little to no help to Jo, and rather than taking it in turns on their three-rod setup, he just gave her one to do as she wanted and he had the other two. These two are great fun and a lovely couple and always up for a laugh, which was just as well, as the first 15 fish all came off Steve's rods. He didn't dare hand poor Jo a fish in case he was once again beaten. Steve even swapped the rods around and let Jo fish the left side where he had been having all the action, and then… yes, you guessed it… the fish moved in on the right hand rod. Jo did manage to land a few fish including an arapaima estimated at 100lb, plus Siamese carp and Amazon redtail catfish. Steve also did well with Asian redtail catfish, black shark carp to 20lb, arapaima to 200lb and Siamese carp with two over a ton at 100lb and 105lb. This left Jo very happy, as she still holds the biggest carp over Steve from her previous trip. Well done, Jo – don't let him forget.
Regular Gillhams angler Mick Caddy came for another trip along with his better half Gene. Unfortunately, Mick's regular partner in crime Nick Roberts was unable to join him and lead him astray. Mick always enjoys himself here even if his face doesn't, and this time was no different. Once again Mick was targeting the Siamese carp and doing everything he could to avoid the dreaded Mekong catfish. Unfortunately this can't always be helped, as Mick found out, but he did find another species that he hates more than the Mekong. Mick hooked into one of our stingrays, and after about five minutes, the fish decided to bolt itself to the bottom, leaving poor old Mick looking like he was having a seizure trying with everything he had to move the bloody thing. After another 15 minutes, he finally dragged the ray to the net, and the ordeal was finally over. We did manage to get Mick to jump in for a photo but only after half a dozen customers turned up and started trying to convince him, with him replying, "I'm not getting in the water for a giant bloody skate!" It wasn't all bad for Mick though, as he did manage to land 16 Siamese carp with five over the magical 100lb and the biggest at 170lb. You'll see in one of the pictures that the old git's even smiling.
Craig Sansom came to Gillhams for a family holiday with his wife Amy and their two-year-old daughter Florence. Craig booked his fishing around his family and had booked days off from fishing so that he could spend time with his family before he started fishing again. While Craig fished, his wife spent time with their daughter playing in the pool, walking around the gardens and of course visiting dad when he caught fish. Florence even fished the small lake with Craig and enjoyed seeing our pets and wildlife around the resort. On Craig's days off, it was family time, so they spent their days around the pool and took some trips out.
Craig caught some great fish while here with Amazon redtails to 55lb, Siamese carp to 105lb, Mekong catfish to 140lb and was even lucky enough to land five arapaima, with the biggest estimated at 400lb-plus. The whole family left happy and were really happy to hear that they will be coming back and staying again.
We had another return trip from the crazy Welshman, Noel Reese Davies, who singlehandedly pushed Chang beer stocks through the roof, instantly becoming guide Chris Pache's drinking partner in the bar in the evening. Noel fished well, and from day one caught some amazing fish with his first Siamese carp of the trip at 105lb before breakfast on the first day. This also led to a few celebratory cans of Chang in the swim. In total, Noel landed three carp over a ton with his biggest at 170lb. Other fish included Amazon and Asian redtails to 50lb. Noel even landed a cracking 170lb Mekong catfish after battling the beast for one and half hours. Like any holiday, the time goes too quickly, and it was soon time for Noel to head back home. It's always a pleasure, and we look forward to seeing you again next year for a few cold Chang beers and a couple more fish.
Once again the man himself, Stretton Honor, came to Thailand on a tour of all the top fisheries, working his way down from Chang Mai all the way here to Gillhams before finishing off his trip with a few days at Exotic Fishing Thailand. The first part of Stretton's trip was with his son, which was great for Stretton, as he doesn't get to fish too much with his son. Unfortunately his son Alex had gone back to England by the time Stretton got to us. Like every time before, Stretton was after his beloved Mekong catfish, although the Siamese carp were also on his hit list, probably due to the fact he's getting on a bit and the Mekong are starting to really hurt the old catfish warrior. Stretton caught a total of nineteen fish of five species including a new personal best big head carp at 45lb. Stretton also hit his target species with the biggest Mekong at 220lb and also landing Siamese carp with three over 100lb including one as a live feed on our Facebook page recognized by guide Nick as one recently weighed at 115lb, a short fish with immense shoulders looking like its got a lot more room to grow. Once again all good things must come to an end, and Stretton was off to fish with EFT Mike Bailey and finish his 28-day fishing frenzy from north to south Thailand.
Unfortunately that's all we've got time for this month. We'll see you again next month with more captures and stories of what's going on over here in paradise. As always, we would like to apologise to anybody that we missed out of the newsletter, as we can only write about so many. For those of you planning a return or first trip, please send us your enquiry via our enquiries page or email us at gillhamsfishingresorts@gmail.com
Tight lines from all of us at Gillhams Fishing Resorts. We hope your next fish is the one of your dreams, which it probably will be if you come to Gillhams!
`