Welcome to another month of captures here in paradise at Gillhams Fishing Resorts. We would like to thank all our readers and everybody that follows us on social media for all your support.
You'll see that we haven't written about anglers over here this month, as our report on fishing in Suriname has obviously taken up a lot of space. Instead I've just done the catch reports and added all the photos from September/October. While we're on the subject of anglers' photos, I would like to thank everybody who sends in their photos. Without them we wouldn't be able to have a Facebook page and other forms of social media. If anybody would like to see themselves on our Facebook/Instagram page or even on the website, please send your photos to gillhamsfishingresorts@gmail.com
We had some unfortunate news recently after we received a message from a regular of ours, Sue Kemp. Sue messaged us to let us know that she wouldn't be returning next year, as her husband Terry had lost his battle with cancer and passed away. Terry was a lovely guy and was a very keen fisherman who loved his time here at Gillhams Fishing Resorts. Terry was always talking about fishing here and regarded Gillhams Fishing Resorts as his favorite place to fish. It's a shame Terry never made it out for one last trip. For sure he's going be wetting a line and hauling monsters in that big lake in the sky. We would like to thank Sue for letting us know about Terry's unfortunate passing and would like to offer our heartfelt condolences to Sue Kemp and all of Terry's family and friends from everybody here at Gillhams Fishing Resorts. RIP, Terry… it was a pleasure meeting and fishing with you.
While were on the subject of unfortunate passings, many of you might have seen on our social media pages that our resort pet and customer favorite George the tortoise died after going in one of the stock ponds during a big storm and being unable to get back out. George had entered the water many times and would paddle or float around until he was taken out. Unfortunately we had a really big storm on this evening and we think with the rain coming down and bouncing back up off the water, poor George just couldn't keep the water out of his mouth and nose, and it was just too much for him. We had George for 11 years, and he was a real favorite with our customers. After posting on social media about what had happened, we were overwhelmed with the messages and great pictures we received from all our friends and customers with their best memories of a great animal.
Once again, we were off on another fishing adventure and our second trip of 2018 to South America. We had a last minute change of venue, as we were unable to go on our planned trip to Guyana due to a breach in contract with our original booking. We had been promised a certain trip but at the last minute everything was changed as well as extra money being added to the trip, so we had no choice but to pull the trip. It was looking like we might not have enough time to book another trip, as it was very last minute, but luckily our friends at Fish Finder in Suriname moved some bookings around and got us on at the end of the season.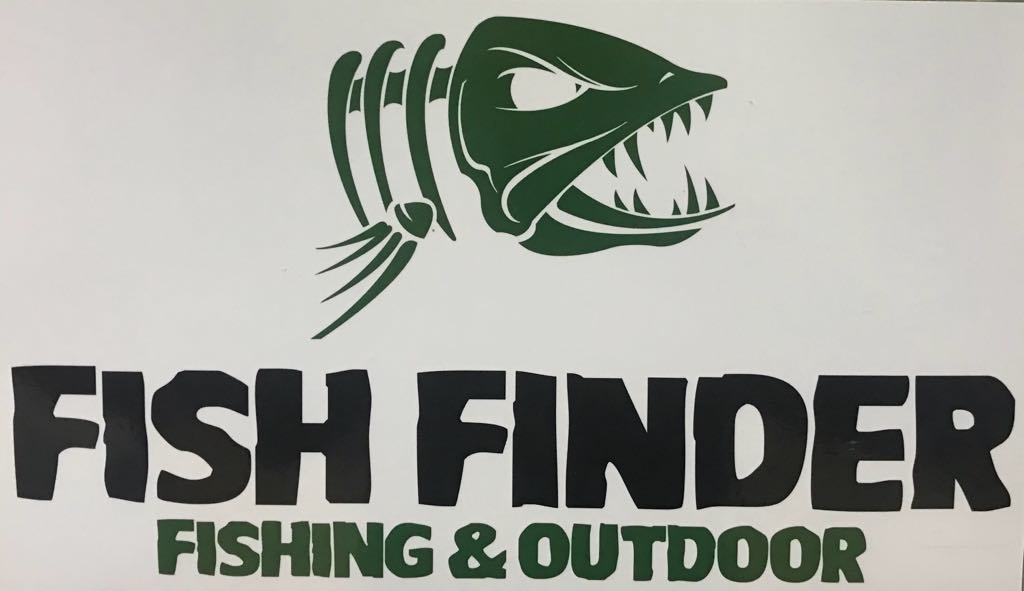 We booked Piraiba Lodge run and owned by Fish Finder based in Paramaribo, Suriname. Accompanying Stuart and me on the trip were Ian Breslin, Mick Smith, Andy Cartwright and Nick Peat. We knew the trip could be hard, as the rainy season was approaching leading to the water dropping and rising throughout the trip, plus we were the last group of the season, so people had been fishing up and down the river for the past few months before us. We have mainly been fishing Guyana the past few years with some great results, but service could sometimes be questioned with a penny-pinching mentality. Booking with Fish Finder, the first thing we noticed was how professional the operation was, from being picked up at the airport to the hotel they put you in before and after your fishing trip. The lodge was also very well maintained, and the boats, guides and food etc were excellent.
On arrival at the lodge, we were shown to our rooms and given a quick tour and shown where everything was. Armed with a cold beer, we then had a couple of hours to get all our rods set up before dinner was served. Once we had dinner, the lodge manager gave us what seemed to be his favorite part of the trips, his tall box talk on everything from food, fishing, boats and safety. We then arranged who was fishing with whom and which guides we would be going with, and then it was off for an early night.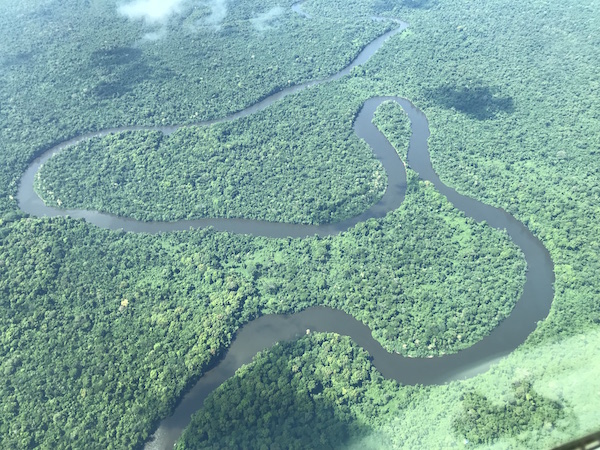 The first couple of days fished hard, but as the water was dropping, there were a couple good fish caught on day three with piraiba landed to 140lb. I was fishing with Nick on day four when he landed three piraiba to 160lb in a day. Even though the fishing was harder than usual and some people hadn't caught at the time, we were all buzzing with what had been caught and knowing that we had plenty of time with a total of 20 days' fishing.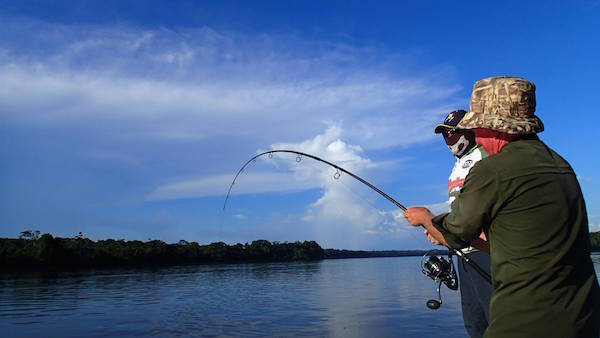 When we first arrived, we were told about another lodge three hours upriver that had been confiscated by the government due to its owner being locked up in the US on drug trafficking charges. We were told how the lodge sits at the bottom of the waterfalls that run through Guyana and down through Suriname. The lodge would be more basic and we would be sleeping in hammocks, but with the river dropping, we could have better fishing, as there are some very deep pools, which the fish will sit in.
The run to the new camp was stunning with so much wildlife around; even the river itself was getting pretty as we got closer to the falls with rapids and huge rocks scattered all up the river that tested the boatman's navigating skills. When we finally arrived we certainly weren't disappointed; the falls were stunning, and the closer you got, it was deafening with the sound of hundreds of thousands of tons of water crashing down from the river above. The lodge was awesome but had a very spooky kind of feel to it with many rooms locked up, and we found all kinds of things lying around including medical equipment and also what looked like blood-splattered net curtains and walls. After watching TV shows like Narcos, our minds were running away thinking what might have gone on here in its heyday like cocaine fuelled parties involving some very heavy individuals or even a darker side of things, which could explain the blood splattered rooms. Truth be told it was probably just an Eco Lodge and one unlucky customer had got a lure stuck in their hand while trying a spot of fishing, we will never know.
The place was amazing and quite honestly one of the most beautiful places I've ever seen. There were lots of other fishing opportunities there other than piraiba fishing: lots of creeks and rapids, which would be good for other species like peacock bass and wolf fish. We now felt that we were really fishing in the jungle. As much as the other lodge was nice, clean and organised with running showers, double beds, air conned rooms etc, this was now an adventure, and the fishing hours were also better for the fishing, as we were above the logging communities and had no real danger of a barge coming down the river at night and possibly losing its cargo in the river, which could lead to the boat crashing into trees that had fallen from the boats that were transporting them to logging sites accessible by dirt tracks to remove them from the jungle. We would fish from 6am till 12pm then again from 4pm through till 9 or 10pm, which were better feeding times for the fish we were targeting. We could also then rest in the heat of the day or take trips up the waterfalls, making for some great pictures and lounging in the cool pools while sipping an ice-cold beer… Life was goooood.

The rest of the trip was mainly spent at the falls, as everybody fell in love with the place, and of course the fishing was getting good, as the levels kept dropping. Two weeks into the trip and some great fish had been caught including piraiba to 200lb and also the golden lau, which were absolutely stunning. I had said prior to the trip that I wasn't bothered about the piraiba even though it was the main species on the river. I had been lucky enough to catch these beautiful beasts on other trips to over 200lb. My main target species were a double figure wolf fish and redtail catfish over 50lb. I had been lucky enough to get my redtail on the second day, which was estimated at 80lb-plus, and then I caught three wolf fish with the biggest weighing in at 13lb, making my wish list complete. However, I still wouldn't mind a battle with one of these powerful catfish. On day 15, I still hadn't caught one, and within the group there had probably already been about 20 landed including two golden lau. Then on day 16, I caught my first piraiba of the trip estimated at around 220lb, and over the next two days, I caught six more to 180lb.
The final count was as follows:
92 fish not including peacock bass or piranha.
30 Piraiba (lau lau) (six estimated over 200lb).
Five golden lau (biggest at 60lb).
48 redtail catfish (biggest 80lb x 2).
Five wolf fish (biggest at 18lb).
One shovel nose (8lb).
Three sting rays (biggest at 30lb).
Peacocks and piranha (lost count how many – biggest of both species around 8lb)
Stuart will be doing a full article on the trip in the Catch Cult magazine, and anybody that wishes to experience a truly amazing trip set up by a very professional outfit offering five-star treatment all the way please contact us for details or visit www.fishfindersuriname.com
So that's enough of all the nonsense… let's get down to business and find out what's been caught and which species have been landed. The anglers who visited us for the exotic fishing Thailand has to offer had some good fishing in Krabi during September with a total of 616 fish caught of 20 species, made up as follows: 28 arapaima to over 350lb, five arawana to 9lb, eight alligator gar to 55lb, 168 Amazon redtail catfish to 85lb, one Amazon stingray of 50lb, three Asian stingray to 150lb, 87 Asian redtail catfish to 40lb, three bighead carp of 35lb, four barramundi of 6lb, 37 black pacu to 55lb, three Chao Phraya catfish of 100lb, three giant gourami of 9lb, 26 Julian's golden carp to 45lb, 14 Mekong catfish to 240lb, 13 red bellied pacu to 20lb, three ripsaw catfish to 30lb, 206 Siamese carp to 155lb, one tambaqui of 40lb, three tilapia to 7lb and one wallago leeri of 45lb.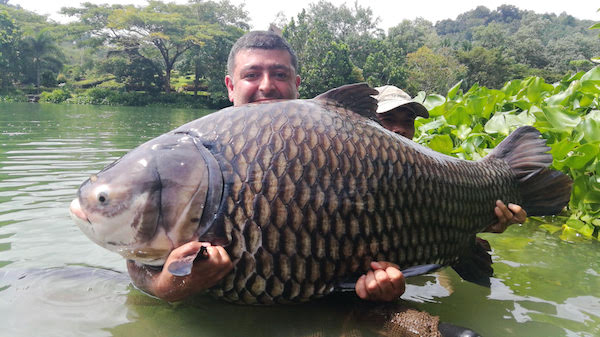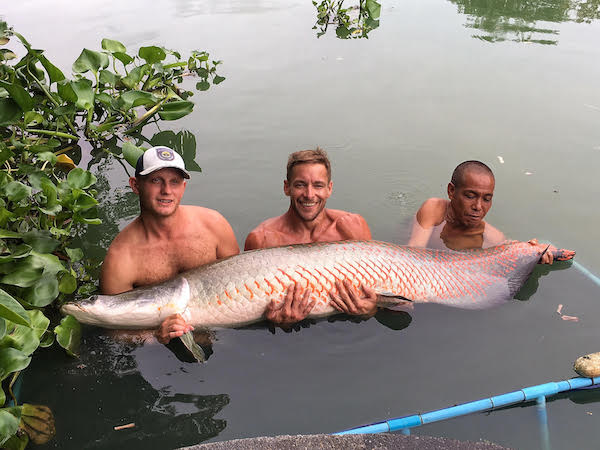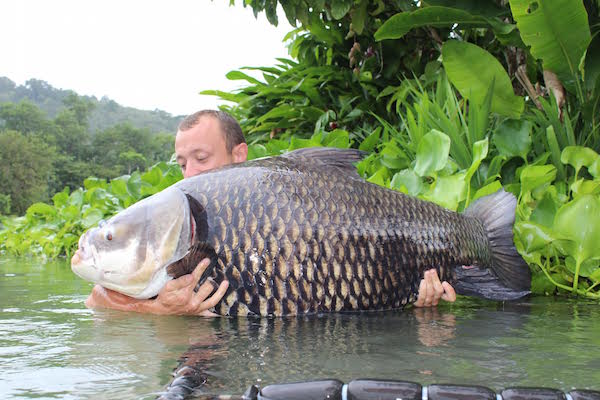 The anglers who fished with us through October also had some great catches. The fishing seemed to pick up slightly with the numbers up from the previous month. The fish aren't feeding as heavily due to the changeover in seasons; at the moment the weather's changing daily.
657 fish were caught of 21 species, made up as follows: 32 arapaima to over 430lb, four arawana to 12lb, 11 alligator gar to 60lb, 182 Amazon redtail catfish to 75lb, three Amazon stingray to 35lb, four Asian stingray to 130lb, 99 Asian redtail catfish to 60lb, two black shark carp to 20lb, one bighead carp of 45lb, six barramundi to 10lb, 38 black pacu to 45lb, two Chao Phraya catfish of 130lb, one firewood catfish of 20lb, 28 Julian's golden carp to 55lb, 27 Mekong catfish to 230lb, 18 red bellied pacu to 22lb, one ripsaw catfish to 35lb, two sorubim catfish to 30lb, 196 Siamese carp to 170lb, three tambaqui to 35lb.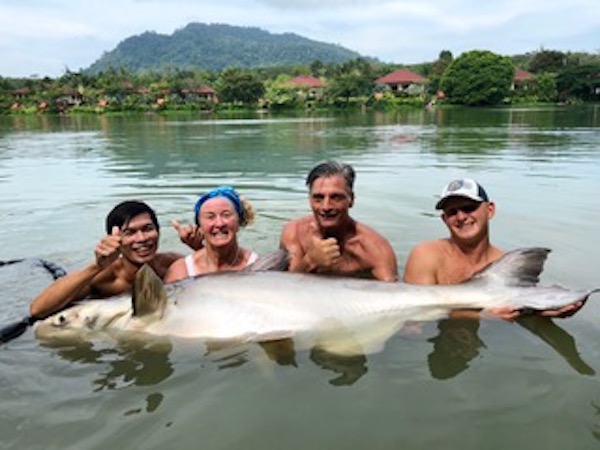 Unfortunately that's all we've got time for. We'll see you again next month with more captures and stories of what's going on over here in paradise. As always, we would like to apologise to anybody who we missed out of the newsletter. For those of you planning a return or first trip, please send us your enquiry via our enquiries page or email us at gillhamsfishingresorts@gmail.com
Tight lines from all of us at Gillhams Fishing Resorts. We hope your next fish is the one of your dreams, which it probably will be if you come to Gillhams!