Hi and welcome to the October 2016 newsletter, our monthly roundup of news, catch reports, fishing in Thailand and anything remotely connected to our little slice of paradise out here in Krabi.
Well it's been a very sad time here in Thailand, especially for the Thai population. As I am sure most of you know already, the king of Thailand, Bhumibol Adulyadej sadly passed away this month. Bhumibol became king in 1946 and was revered in Thailand as a demigod. He anchored the Southeast Asian country through violent upheavals at home and communist revolutions next door with a blend of majesty and a common touch. Prime Minister Prayuth Chan-o-cha was quoted saying in the New York Times that the king "…unified the hearts of all Thais. It is the greatest loss and despair in the lives of all Thais nationwide." Thailand has now entered a period of mourning for the next 12 months. Contrary to some of the news reports back home, most things remain the same; however, many Thai people are wearing black or white clothes, and it has been advised that people coming from foreign countries show some respect and don't wear bright flashy clothes out in public places. Restaurants and bars remain open, although some of the big outdoor parties have been cancelled. Everybody at Gillhams Fishing Resorts offers the royal family and the people of Thailand our sincere condolences.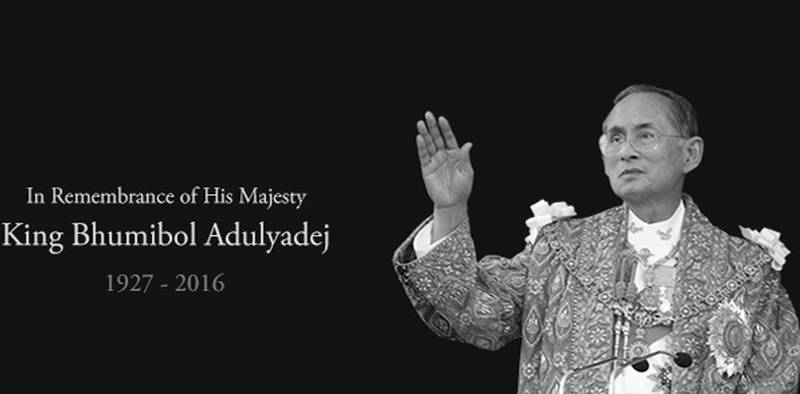 We have a new addition to the family here at Gillham's, and it's quite a sweet little story. One day guide Nick phoned up to say that a wild dog had come through a small hole in the fence. Now this is something we take very seriously, as you never know which diseases these wild dogs may carry. However, this wild dog was a puppy and a very small one at that! It seemed like it just had enough energy to crawl on site, and then it walked to a sala and just curled up in a ball. Sean went down and collected her and gave her some food and water. Then we all went looking for its parents or other puppies from its family, but we just couldn't find any of them anywhere, and we looked for three days whilst taking care of the little puppy. Sean spoke with Stuart, who is away fishing at the moment, and sent him a pic of the dog. Stuart said that he thought he looked quite cute and that we should keep him and take care of him. So, as the poor little thing had some health issues, Sean took her down the vet (where she stayed for a week) and now she is running around the lake, playing with Billy and seems to be settling in nicely. Her name is Mia, but personally I think she should be called Lucky.
The work continues on the spa and cooking school. It's starting to look really good now, and hopefully everything is on schedule.
October saw Lawrence's last month guiding here. He's jetted back home to carry his life on there and no doubt hit the rivers for a spot of fishing. There are of course plenty of girls in the local town now with broken hearts, but one was happy, and that was his girlfriend Mina, who he met out here, and he has taken her back with him. We obviously wish them all the best for the future.
Right, that's all the waffling finished, so best we get on with the whos, the whys and the flipping 'ecks from this month's fishing.
The anglers who visited us for the exotic fishing in Thailand had some good fishing in Krabi this month with a total of 569 fish caught of 23 species, made up as follows: 11 arapaima to 500lb, two alligator gar to 70lb, 64 Amazon red tail catfish to 60lb, 68 Asian red tail catfish to 40lb, 11 black pacu to 40lb, three tilapia to 8lbs, one chao phraya of 120lbs, two giant featherback to 15lbs, 17 Julian's golden prize carp of 35lb, 31 Mekong catfish to 190lb, nine Nile perch to 8lb, one ripsaw catfish of 30lbs, 287 Siamese carp to 170lb, four giant freshwater stingray to 140lbs, three red-bellied pacu to 20lbs, three wallago leeri to 15lbs, one zungaroo catfish of 10lbs, ten giant gourami to 8lbs, a firewood catfish of 22lbs, an Amazon stingray of 25lbs, two big head carp to 20lbs, three arawana to 10lbs and a giant snakehead of 12lbs.
Marc Pickering can't get enough of the Siamese carp here. He made a return along with his partner Alison and her daughter Vicki. He decided to give Sala 6 a good go on this trip. Things started very well for Marc, and he got amongst the Siamese carp straight away. By the end of his session, he had landed 36 fish including four over the 100lb-plus barrier, the biggest of which was 170lb, taking his career total to 13 over the 100lb mark. He also had a stunning 70lb Amazon red tail catfish, which he actually braced with a 130lb Siamese carp! The Asian red tail catfish were kind to him as well, and he landed a few over 30lb. His busiest day involved six Siamese carp to a 120lb and a Mekong catfish of a 130lb. The girls had a nice time too: they went to Chiang Mai for a couple of days half way through their stay and came back with some super photos with baby tigers, pandas and the like.
Last year Moira and Matt met Wez and Michelle out here, and they all got along like a house on fire, so much so that they rebooked and all came back again! It's going to be IMPOSSIBLE to mention every fish, but they caught loads! Matt had five Siamese over 100lb up to 170lb, plus loads of others, and he also helped himself to giant snakehead, which made him very happy! Wez had the odd Mekong or two, and so did his missus, Michelle. Wez also had a big arapaima over 500lb, and a good amount of Siamese carp. Moira had a cracking Hoven's carp and an Amazon red tail catfish. Michelle also landed a nice Amazon red tail catfish, a nice sized tilapia and a few good-sized Siamese carp, it's all there in the photos, it really was a mega haul!
Richard Wheeler loves to try and catch different species – the more the merrier as far as he is concerned. He gets on with the business of catching a few, quietly and without any fuss. He started off by catching the usual suspects including loads of Siamese carp up to 130lb, Amazon red tail catfish to 65lb, Asian red tail catfish to 30lbs, then a 120lb Mekong catfish, then an Amazon stingray of 30lbs wet his whistle. Then he changed swims and specifically targeted the big head carp, of which he had two to 30lbs, which made him more than happy.
American Jeff Lam came for a few days' fishing, and he certainly had a busy few days, with loads of Siamese carp to 110lb, a Mekong of 130lb, a few good sized Asian red tail catfish, red-bellied pacu and a superb arapaima of 160lbs. Jeff loved every minute of it, and I am sure we will see him again.
It's always nice to see father and son duo Rob and Sam Fenn arrive here at Gillham's, although this time we weren't expecting to see Sam, who only found out that he was coming three weeks before. I think when he found out that Rob was coming by himself, it was just a bridge too far! Rob had a nice time landing a few Siamese carp to 90lb, an arapaima and a 30lb Asian red tail. Sam had a zungaro catfish, a 130lb Mekong catfish, a 35lb Amazon red tail catfish, a black pacu of around 20lb and a couple of small Asian red tails, but the icing on the cake for him was a 170lb Siamese carp – lucky man!
Liam Wingfield made me laugh. He came with a party of four – his father and some friends. He had a somewhat laid back approach to his fishing, and, well, life in general really. Anyway, within a few days he had landed three Siamese carp over 100lb, two of which weighed 140lb-plus, he just stopped fishing then and said, "That'll do me" and that was that!
Steve Bristow and his partner Jo made a return visit to see us this month. They caught well like they did last time, and we managed to get one pic of Jo pulling a funny face, just like last time. Jo had Siamese carp to 170lb and muscled in a Mekong and some red tails. Steve had a wallago attu, a big Amazon redtail, a few Siamese carp and an alligator gar.
We'll see you all again next month, with more news of rod-bending MONSTER fish action!
For those of you planning a return or first trip, please send us your enquiry via our enquiries page
Best wishes and tight lines from us all at Gillhams, and we hope your next fish is the one of your dreams (which it probably will be if you come to Gillhams)!